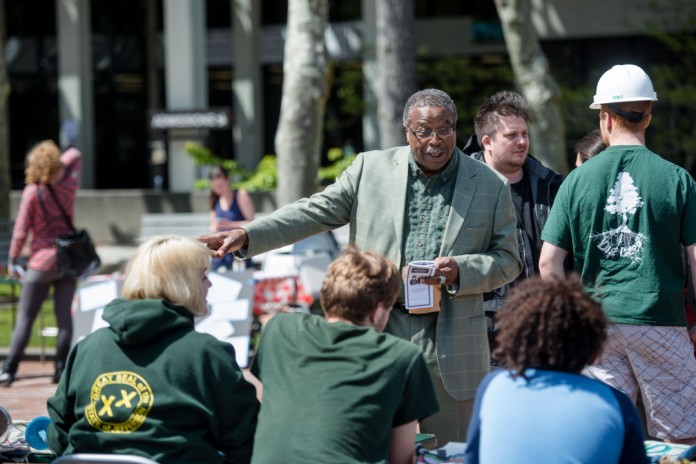 By Larry Maeder

The Evergreen State College has been serving students from Washington and across the nation since 1971. However, as the college nears its 45th birthday, it's also getting ready to say goodbye to an old friend. Evergreen President Les Purce, who has been involved in campus operations for more than half of the college's existence, is getting ready to hang up his title and pass the baton, but the legacy he leaves behind is one that will be remembered for generations to come.
Under Purce's watch, Evergreen has maintained high standards of excellence, continuing to garner national recognition for its uniquely interdisciplinary approach while weathering the challenges of economic recessions and long-term growth. Its successes extend beyond the Olympia campus as well, with academic programs serving Tacoma, Grays Harbor and tribal reservations in Washington. For Purce, the challenge is half the fun. "I have always enjoyed it best when things have been the most challenging," said Purce in a recent interview for the college's alumni magazine.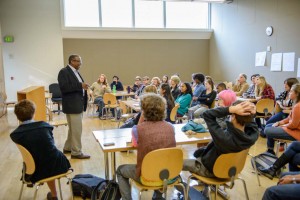 While the legislature cut higher education funding and imposed steep tuition increases during the recession, Purce — who was the first elected black official in Idaho, serving as both a city councilman and mayor of Pocatello — remained an active voice in helping the state recover from its tuition crisis, working tirelessly with legislators to regain some of the funding.
While Purce won't be on campus this fall to celebrate the victory he played an important role in achieving, thankful students will feel the benefits of his fight in their pocketbooks when they pay tuition. Thanks to recent legislative action, resident undergraduate tuition at Evergreen will decrease by 5 percent in the fall. It will drop another 15 percent in fall of 2016.
At the heart of Purce's fight were — of course — the students, but they've always been the motivation behind everything he has done. "Without question, what I've enjoyed the most is being with students, on field trips, in their programs, and just out on campus," Purce shared in "Evergreen Magazine." But his commitment to Evergreen students is something that extends into the community as well. He has always been busy in the community building partnerships with government, businesses and community groups, and student internships can be seen all over Olympia.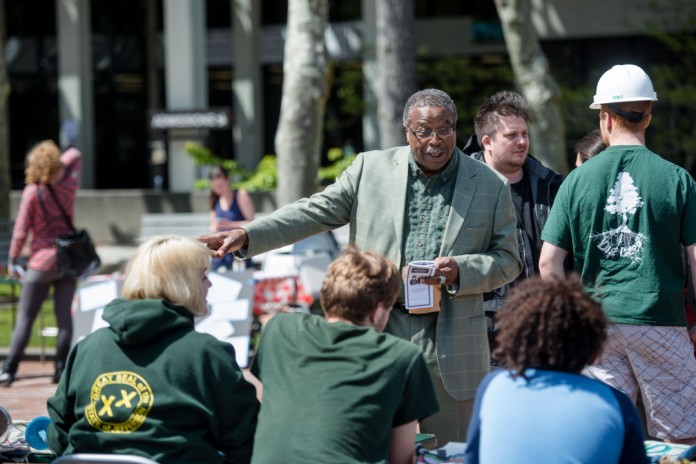 Part of being committed to students means being accepting of them. Purce always made an effort to make Evergreen available to everyone, no matter their economic or cultural background. One way that Purce achieved this level of accessibility was by promoting transfer agreements with local community colleges. "No other college offers transfer agreements that are designed like Evergreen's," he said. Students who graduate from a Washington community college with either a Direct Transfer Agreement Associate's Degree, Associate in Science-Transfer Degree or Technical Arts Transfer Degree are automatically admitted to Evergreen where they can then complete their bachelor's degrees.
In addition to the many programs Purce has championed at Evergreen during his time as president, he is also revered for the unique style and personality he brought to the job. He is loveable, informal and, at times, quirky. (You might catch him singing his classic song "Homegrown Tomatoes" while playing his ukulele at a student meeting. He sang it for me during the interview.)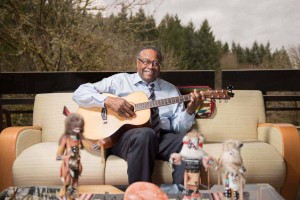 Purce will be remembered fondly by students, faculty and community members for his good nature and unwavering commitment to the college, its students and the community. As Purce prepares for retirement, the people he has touched over the years look back on his legacy and the path he's paved for his predecessors to follow. "Les is retiring at the top of his game. I am honored to call him friend, colleague and mentor," said former US Senator Dan Evans in "Evergreen Magazine."
Purce will remain at Evergreen through the summer before retiring with his wife, Jane Sherman. The couple plans to continue living in Olympia after retirement, where they look forward to enjoying hobbies like fishing, photography, spending time with their grandson and enjoying our beautiful city.