By Kelli Samson
Devotees of The Bearded Lady's gluten-free and vegan desserts may have felt a swell of panic when they noticed their shop at 412 Franklin Street in downtown Olympia had changed hands this winter. However, only half of The Bearded Lady's staff has moved on, as the remaining two employees have opened up under the name The Sweet Niche to supply the high-quality vegan and gluten-free goodies which so many in our community have counted on.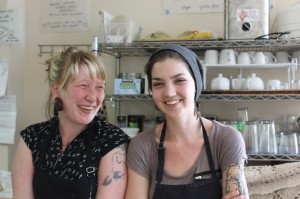 Melanie Shelton and Jordan Marsicek recently sold the bakery to Erin Zimmerman and her husband Patrick.  The couple is also partners with Zimmerman's former Bearded Lady co-worker, the gregarious Lauren Gabrielle.
"I've always wanted to open a bakery, but I sure never expected one to fall into my lap," says Zimmerman. She and Gabrielle used to joke about working in their own bakery together one day, and now it is a reality.
Shelton is now running the baking and pastry program at South Puget Sound Community College (SPSCC), and she and Marsicek are contemplating writing a cookbook based upon their Bearded Lady brunch recipes.
As it turns out, Zimmerman and Gabrielle are the perfect partners to run a business together. They compliment one another well. Zimmerman is the more reserved of the two, and she is perfectly content to be baking back in the kitchen. Gabrielle, on the other hand, is energized by laughing and mingling with customers, so she works in the front of the bakery.
"Lauren's focus is on the front and on ideas, while I am just thinking about the food," says Zimmerman. "She's such a people-person."
Zimmerman has always been a baker. She grew up in Lake Chelan with a lot of sisters. "On our birthdays my mom always made sure we each had a special, unique birthday cake. She also made homemade bread a lot, and she and my dad both cooked from scratch all the time," recalls Zimmerman.
"I've been working in the food industry since I was fifteen," adds Zimmerman. She went on to graduate from SPSCC's Culinary Arts program.
Gabrielle, who is from California's Bay Area, grew up with an adventurous cook for a mother. She herself came to the world of cooking when she became a vegan. "I had to learn how to cook for myself because there just aren't that many options out there," she explains.
These days, vegans, gluten-free individuals, and others with food sensitivities no longer have to depend upon their own skills in the kitchen if they want or need to eat a certain way. More and more restaurants, bakeries, and grocery stores have options friendly to all. The Sweet Niche fills a niche in Olympia (pardon the pun – I couldn't resist) in that it primarily caters to the vegan and gluten-free populations, rather than having just a few items that meet those customers' needs. People can come to the bakery to enjoy dessert with friends and will know that there will be plenty of appetizing menu items that fit their criteria. Their products can also be found at a plethora of other locations all over town, like Bar Francis, Obsidian, Olympia Food Co-op, and Batdorf & Bronson, to name just a few.
Zimmerman and Gabrielle themselves each possess quite the sweet tooth. "We promised each other we'd start eating more salads since we're constantly snacking on our treats and taste-testing," says Gabrielle. "The sticky buns are my favorite thing on the menu," she giggles. "I've finally put them into our weekly rotation," adds Zimmerman. "They'll be available on Saturdays."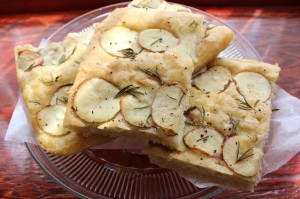 Zimmerman remains a fan of the pies. "I love all pies. I don't discriminate," she explains.
As for the customers, "everyone is going nuts over our cake-of-the-week, which is usually something really creative and decadent that we sell by the slice," says Gabrielle.
And if you don't have dietary restrictions? By all means, one can still enjoy any of the items for sale without missing the traditional flour or dairy ingredients. I can personally vouch for their cupcakes (don't get me started on the addictive frosting) and their focaccia breads (perfect texture and salted exactly right).
The Sweet Niche also accepts special orders for desserts with any type of ingredients. "It's important for people to be able to get exactly what they want," explains Gabrielle. "We want everything in our case to be as accessible to as many people as possible," adds Zimmerman.
What's next for The Sweet Niche? After they get into the rhythm of just surviving with a new business, Zimmerman and Gabrielle hope to be open for lunch. They have great ideas for grab-and-go savory hand pies and soups that they'd like to offer. They've also bought equipment for making their own vegan, soy-free, coconut-based ice cream.
Meanwhile, the two are grateful to their predecessors from The Bearded Lady for giving them their start, and also to the greater Olympia community. "There's such a great support network of other small business owners," says Gabrielle.
"Please come enjoy this space that we've made, and come hang out with us," invites Gabrielle.
You can visit The Sweet Niche Wednesdays through Sundays from 10:00 a.m. – 8:00 p.m., or follow them on Facebook and Instagram (thesweetniche). Please visit their website for more information. If you want to contribute toward their start-up costs, you can fund them via their site on GoFundMe.com.
412 Franklin St. SE in downtown Olympia
(360) 943-6235