By Kelli Samson

When my daughters and I visit the Olympia Timberland Library, we often like to end our trip with a jaunt across 9th Avenue. There we find the chickens in their run at The Commons, a public garden adjacent to the bed and breakfast called Fertile Ground. We sit on the tractor sculpture and laugh at the hens as they scratch up bugs and pester one another.
The history behind this space is a storied one. The home was built in 1908 by W.N. and Ellen Bailey, who ran it as a boarding house during the Great Depression. Following the Baileys, the Wisniewski family owned the home from 1936-1988. Bill and Josephine Wisniewski owned the Liberty Cafe downtown, which is an infamous part of Olympia's history because its kitchen was barreled through by a runaway train in 1959.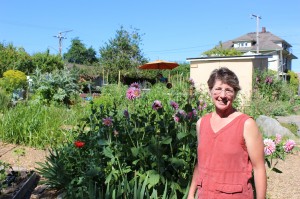 When Karen Nelson and Stanley Stahl first purchased the home in 1988, they had a vision of creating an urban oasis of green living that they could share with the entire city. "I wanted to create something that would enhance the image of Olympia as a sustainable city," recalls Nelson. "Right from the beginning, I knew this was a stewardship."
While they rented furnished rooms to students from The Evergreen State College (TESC) for the next ten years, they also got the house placed on the National Historic Register.
Decades and numerous changes later, the home is called Fertile Ground and serves as a bed and breakfast. Stahl has since pursued other endeavors, but Gail O'Sullivan and Nelson have been running the inn together since 2000. "After years of renting to students, we decided we would start a business where we could get paid for cleaning up after people," laughs Nelson.
In 2010 they began renting the adjacent lot and the small home now known as the Eco House.
Nelson's goal has always been to run the business as a non-profit, "demonstrating urban sustainability and resilience on a neighborhood scale." This finally came to fruition when The Fertile Ground Community Center, a Washington State non-profit, was formed in 2005. "Our idea was to hold the space and invite the community to use it," Nelson explains. "We try to connect with our community in as many different ways as we can."
The bed and breakfast side of things is about as environmentally friendly as you can get, right down to the organic bedding made by local company Holy Lamb. Nelson and O'Sullivan also own the bed and breakfasts Union Space and the Bamboo Bungalow.
The lot adjacent to Fertile Ground is known as The Commons at Fertile Ground. It's open to visitors from dawn to dusk and is a space for people to escape the bustle of downtown. It has been slowly and lovingly turned into an enchanting garden, in great part due to work from The Stone People, The Northwest Eco Builders Guild, and the internships of TESC students. "Evergreen was really an excellent partner for us in getting our business started," credits Nelson, "and they still are."
Kids, especially, are invited to enjoy the garden and learn about our connection to the earth. "We really want to focus on children and education," says Nelson. This is where their garden programmer, Karen Ray, came in last summer. Ray is a former student of the Edible Schoolyard in Berkeley, California.
"My long-term goal is to have some kind of educational kitchen and garden. My kids went to Lincoln Options Elementary School, and I managed the garden when they were there and just loved it. Spending my day with kids in a garden is about as much fun as I can imagine. You can see them really developing an appreciation for fresh food. They will eat anything that they have a hand in growing," shares Ray.
In the summer, The Commons presents their Seed to Table summer camps, which are week long camps for children ages five to 12. Kids learn about gardening, composting, and cooking with their bounty every day of camp. Fertile Ground also hosts an all ages art came during the summer.
During the fall and the spring, The Commons has a preschool garden program that is 45 minutes long, one morning a week. "That has been really sweet," says Ray. "We usually read a garden-related book, and then we explore the garden."
"It's showing them a lifestyle that's based on sharing and focused on our connection with the land and with each other," explains Nelson. The Commons at Fertile Ground also recently hosted students from Komachin Middle School to educate them on green building. They also have a building set from local start-up Bilderhoos, which kids can use to create their own building.
Additionally, The Commons boasts The Food Nook, a small, hyper-local general store that is open Monday through Friday from 11:00 a.m. – 2:00 p.m. Here, folks can come by for grab-and-go goods from local businesses such as OlyKraut, Lucky Lunchbox, and Eight Arms Bakery. Since Fertile Ground is a non-profit, all monies from these community programs are earmarked toward, hopefully, one day purchasing the lot where The Commons lives, along with the Eco House.
Currently, the Eco House is being used as a shared office space and a meeting place that is available for rent. Renters of the office space pay a low fee in addition to putting in volunteer hours at The Commons or Fertile Ground.
The Commons at Fertile Ground is always looking for donations of time, money and expertise. Learn more about The Commons by visiting their website, their Facebook page, or by calling gardener Karen Ray at 360-786-9297. More information on Fertile Ground can be found on their website or Facebook page, also.
The Commons at Fertile Ground is located at 311 – 9th Avenue SE in downtown Olympia.