Submitted by Thurston County
BNSF Railways started construction today on the train trestle that crosses Rainier Road Southeast—one day earlier than expected—which means a one-mile section of the popular Chehalis Western Trail is now closed for approximately two months.
BNSF Railways will be working this summer to replace the trestle that crosses Rainier Road Southeast just south of the Indian Summer Golf Course. The railroad company plans to coordinate the trestle replacement work with other construction projects and railroad closures in the area over the course of the next eight to 10 weeks. During that time, the one-mile section of the Chehalis Western Trail will be closed, and barricades will be placed near the construction site.
Crews are not expected to be actively working throughout the entire two-month closure, but the area is still considered an active construction zone, so bicyclists and pedestrians are advised to avoid the area or find an alternate route.
"The bottom line for us is that this is BNSF's project, and they control the schedule, not us," said Thurston County Parks Manager Kerry Hibdon. "It's a real shame that it comes right in the heart of summer when the trail is used the most, but safety is our number one concern here, so that section of the trail will be closed until BNSF completes their project."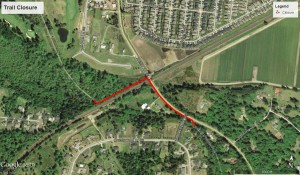 While the one-mile section of the Chehalis Western Trail will be closed for the duration of the project, Rainier Road Southeast will remain open to traffic. During active construction periods, drivers and others using Rainier Road Southeast should expect traffic to be reduced to one lane at times, and are asked to slow down and take care in the construction zone to help keep construction crews safe.
Hibdon also reminds trail users that the trail will not be safe to use in that area, even when there are no construction crews actively working. "This will still be an active construction site with hazards like equipment, materials, temporary supports, even holes in the ground. For safety's sake, we ask that people obey the signs and stay out of the barricaded area until construction is completely finished."
More information about the Chehalis Western Trail closure near Rainier Road Southeast is available on the county's Public Works Department website. To check on project updates and to view a map of the closed section of trail, go to www.co.thurston.wa.us/publicworks and click on the "Parks and Trails" header.