By Mary Ellen Psaltis

I've found a potent antidote to the blues that creep into life occasionally. It uplifts the spirit and feeds my body. You can get this prescription for free. The dosage involves frequenting the farmers markets around Thurston County. My recent visits renewed my faith that people care about what they eat and how they live. I've been energized with live music, raw foods, stellar crafts, abundant plants and connecting with friends, both old and new.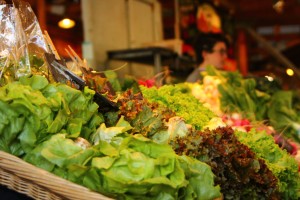 If your current habits may take you to a single market location, I am urging you to branch out and make a point of seeing the others. East to west, north to south, we have farmers markets brimming with vegetables, crafts, baked goods and other locally sourced products. Each venue has its own personality.
Small farmers grow enough to fill their stand and CSA bags, but not usually enough to do business with a large scale grocer. The crispy radishes and leafy greens displayed at the stall were in the ground earlier that morning. Invest your dollars with local neighbors who have crafted jewelry, soap, clothes and so much more. Meet the farmers, artists, and bakers. You'll make new friends.
With the varying locations and times, you can reap the bounties of the Pacific Northwest throughout the week. Most have websites and Facebook pages. Here's a brief overview:
Downtown Olympia Farmers Market
The Olympia Farmers Market is 40 years old – no wonder it feels like a long-time friend. We already know there will be organic vegetables, cookies, music and crafts but it's still fun to walk the stalls and absorb the sights and sounds. It's also all about the relationships.
Roberto Perez, co-owner with Saul Serrano of Los Tulenos, has been serving us his Mexican food at the Farmers Market for 16 years and for those of us who have been around longer than that remember him for two decades at Las Palmas at South Sound Center in Lacey. "I love this country because it had more opportunities than my own." Thanks, Roberto, for keeping the burners going all these years.
Location: Downtown Olympia at 700 Capitol Way North
Open: Thursday – Sunday from 10:00 a.m. – 3:00 p.m.
Web: Visit the Olympia Farmers Market website here.
West Olympia Farmers Market Market
The neighborhood location welcomes small, local vendors such as Leland Harmell of Rawk Star Creations, a raw food artisan. I adore his sprouted sandwiches. Made with love (that's on the label) and organic ingredients, this is the sandwich I wish I made myself – chewy, tasty and fun. You will find music, picnic tables, plant starts, canned fish and more than you might imagine. West Olympia Farmers Market  Manager Jennifer Dres is on hand to help in any way she can or contact her at wolyfarmersmarket@gmail.com. 
Location: West Central Park – corner of Harrison and Division
Open: Tuesday from 4:00 – 7:00 p.m.
Web: Visit the West Central Park Market site here.
Tumwater Farmers Market
Power up with Zoe Juice Bar, brewed coffee or organic loose-leaf tea. The Tumwater Farmers Market offers a bountiful variety. Come hungry for barbequed pulled pork or vegan sandwiches. There's music here too and a balloon artist. Looking for consciously raised meat and poultry? Try Moir Country Farm. This year the thematic events run the gamut from dahlias to dogs and bees to poultry.
Location: Capitol Blvd. and Israel Rd.
Open: Wednesday from 11:00 a.m. – 2:00 p.m.
Visit the Tumwater Farmers Market website here.
Yelm Farmers Market
Entering its fourth season, the Yelm Farmers Market is poised for an excellent season. Children's events and music are part of each week.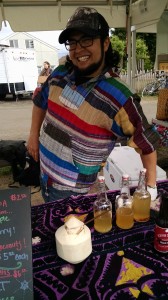 Location: 17835 St Route 507 SE (by Stewart's Meats)
Open: Sunday from 10:00 a.m. to 3:00 p.m.
Web: Visit the Yelm Farmers Market site here.
Tenino Farmers Market
There are a lot of special events this year on the schedule at the Tenino Farmers Market.  Try the Blue Ribbon Pie Contest with "Pie BUY the slice" fundraiser and The Great Pumpkin Contest.
Location: Historic downtown Tenino, near Olympia Street at 213 Sussex Avenue West
Open: Saturday from 10:00 a.m. to 3:00 p.m. through September
Wed: Visit the Tenino Farmers Market site here.
Shelton Farmers Market
"We're tickled and we're back," said Norma Obremski owner of Pure & Natural. This season the Shelton Farmers Market is overflowing to a second street around the corner. The Saturday market is quickly becoming a friendly destination spot with the range of vendors and offerings. Market Manager Shellie Rusinko and her energetic board have revitalized the market with more vendors and events. Come for lunch. The Taxman Jack Bartz is behind the big, green barbeque egg. Follow your nose.
Location: Downtown Shelton at 3rd and Franklin
Open: Saturday from 9:00 a.m. – 2:00 p.m. through September.
Web: Visit the Shelton Farmers Market site here.
Please note that the Lacey Community Market is closed for the 2015 season.