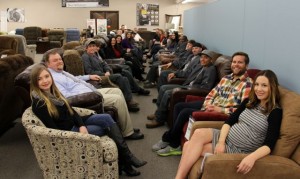 Imagine this: The year is 2008. The country has just entered a state of economic turmoil. You have, for the past two years, been selling furniture online out of a makeshift warehouse — your garage. Rather than panic at the sign of recession, you push forward and persevere. At the start of an economic downturn, you, a young entrepreneur, take a leap of faith and open shop in the community that you live in and love.
This is the story of Jeff Olson and his business, Hawks Prairie Home Furnishings.
When Jeff Olson and his wife, Stevie, opened Hawks Prairie Home Furnishings in 2008, the country had just entered what would become its greatest recession since the Great Depression. It would not have been surprising for the small startup to do as so many other businesses did during this time, but Hawks Prairie Home Furnishing's isn't a story of a small business that went belly up, it's a story of small business that endured.
Since its opening, Hawks Prairie Home Furnishings has grown from a small outlet staffed by one employee to two expansive fine home furnishing stores backed by a full-time staff of more than 25. "We've never been afraid to take risks," says Jeff of his nearly decade-old business. And, his daring approach has worked, carrying Hawks Prairie Home Furnishings through a recession safely to success.
Because Hawks Prairie Home Furnishings isn't a chain store, the furniture outfitter has always been able to provide its customers with quality, personalized service — setting the store apart from its bigger competitors. The locally owned company strives to help customers pick pieces that they truly want to buy. Providing this kind of service is what has allowed Hawks Prairie Home Furnishings to grow. Hawks Prairie Home Furnishings has grown so much in fact that, in order to keep up with demand, earlier this past winter Jeff, Stevie and the entire Hawks Prairie staff celebrated the opening of their second location, Northwest Home Furnishings, in Olympia.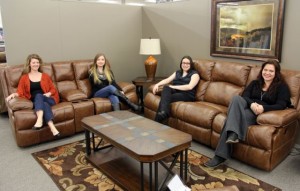 Excelling in service, Hawks Prairie and Northwest Home Furnishings would not be able to provide the outstanding customer experiences without a top-notch staff. Jeff says that over the past eight years, he and Stevie have worked hard to cultivate a team of driven, enthusiastic and positive employees. "We have dedicated and hardworking employees and we owe all our success as a business to being able to grow, even in tough times," says Jeff.
Of course, with the fun work environment Jeff and Stevie have created for their employees, it's hard not to bring a good outlook to work. "We feel creating a fun and positive work environment makes our employees happier and helps them be the best at their specific job, whether it's answering phones, being a sales associate or delivering furniture with the crew," Jeff explains.
One way that Jeff and Stevie have created a positive work environment is through their partnership with Morningside, a local nonprofit providing employment services to individuals with disabilities. Hawks Prairie and Northwest Home Furnishings have employed two staff members through Morningside. By creating job opportunities for disabled people in the community, Hawks Prairie and Northwest Home Furnishings are able to help people in need while creating a diverse and enriching workplace for the entire Hawks Prairie and Northwest Home Furnishings staff.
"Leroy has been working with us for nine months, helping in janitorial in both stores and warehouses," says Hawks Prairie and Northwest Home Furnishings' Service Manager, Lorie Gizinski. "He always has been helpful and caring toward his coworkers — everyone loves having him around."
Brandy, a part-time employee who came to Hawks Prairie from Morningside, had hopes of being a sign spinner. During her time at Hawks Prairie, the part-time sign spinner's cheery personality was instantly contagious. "She worked part-time and made great friends with the permanent sign walker during her stay," says Lorie.
Hawks Prairie and Northwest Home Furnishings' partnership with Morningside is more than just a testament to the type of environment Jeff and Stevie work hard to maintain, it's a general statement about the couple's commitment to the community.
"We believe in not only supporting our local economy but being involved in our community," says Jeff. In addition to providing employment opportunities for people of varying skill levels and abilities, last year Hawks Prairie Home Furnishings donated $33,000 in cash, products and gift certificates to the many local charities it supports. Over the years, Hawks Prairie Home Furnishings has made donations to groups like Concern For Animals, Community Youth Services and Boys & Girls Clubs of Thurston County, just to name a few.
If you ask Jeff Olson how he went from a hopeful online furniture salesman to a successful multi-business owner during a hard-hitting recession, he'll probably give you a couple of answers, but, at the heart of his business has always been the community that he loves.
You can learn more about Hawks Prairie and Northwest Home Furnishings by visiting the stores' website or by visiting Hawks Prairie Home Furnishings in Lacey Monday through Saturday, 11:00 a.m. to 7:00 p.m., and Sunday, noon to 5:00 p.m., or Northwest Home Furnishings in Olympia, Monday through Saturday, 10:30 a.m. to 7:00 p.m., and Sunday noon to 5:00 p.m.
Hawks Prairie Home Furnishings
8221 Martin Way East, Suite J
Lacey, WA 98516
360-455-8845
Northwest Home Furnishings
400 Cooper Point Road SW
Olympia, WA 98502
360-338-0332