Submitted by Thurston County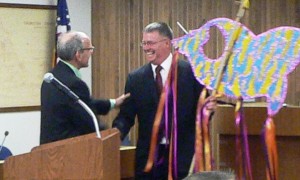 Thurston County Commissioners today proclaimed Wednesday, April 22 to be Earth Day in Thurston County and celebrated the event with the fanfare, music and dancing that have become the hallmark of the county's annual Earth Day recognition.
"Our Earth Day proclamation is our chance to thank the people in our community who really do the heavy lifting when it comes to protecting the environment," said Commission Chair Cathy Wolfe. "There is no government, no institution that can accomplish our environmental protection goals alone. We need partners in the community just like the wonderful people who joined us here today. It's great to see so many people in our community who embrace the environmental protection effort on Earth Day and every day of the year."
Commissioner Bud Blake said, "I think it's important to remember that protecting the environment is serious business. No matter where you live in Thurston County, you need clean water to drink, you need clean air to breathe, and you need clean soil and clean water to grow the food you eat every day."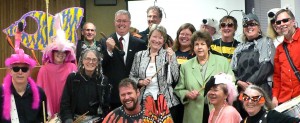 "I always look forward to our annual Earth Day celebration—it's so much fun and our guests always bring such spirit with them," said Commissioner Sandra Romero. "This celebration is well-deserved in our community. Thanks to our partners and volunteers throughout the years, I think we can say we've truly accomplished a lot since the first Earth Day in 1970. That said, we know there's so much more we can do to protect our air, our water, our forests and our prairies. But when we put community first, great things can happen."
Wednesday's Earth Day proclamation event included presentations from:
To view more pictures and video of today's Earth Day celebration at the Board of County Commissioners meeting, visit the Thurston County Facebook page.