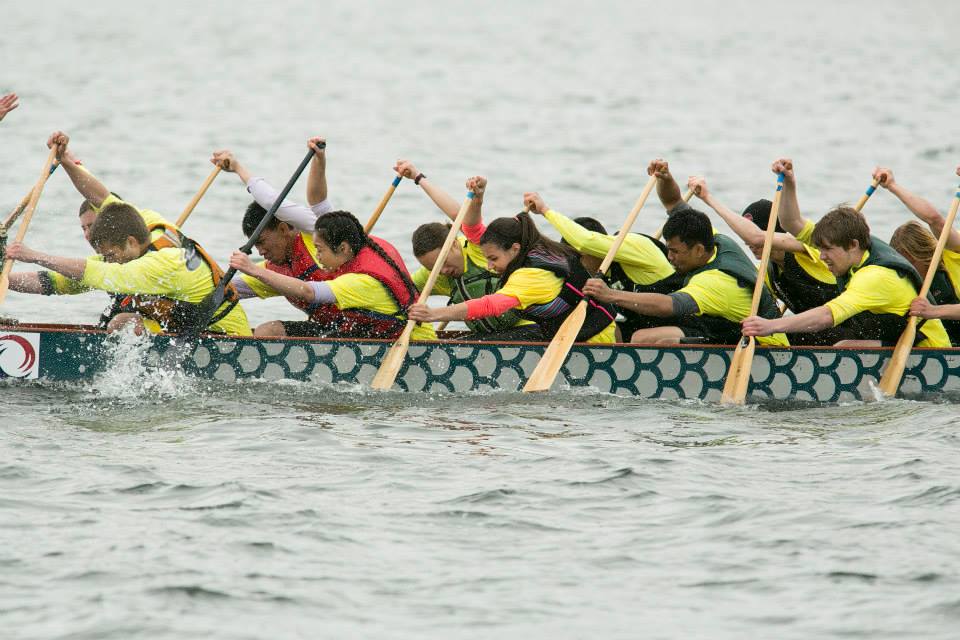 By Katie Doolittle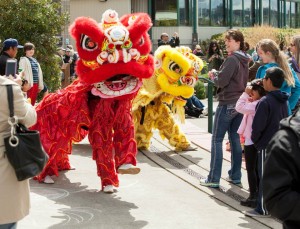 April heralds a return of the dragon boats to Olympia and, with them, a whole day of free fun for spectators of all ages.
Hosted by Saint Martin's University, this annual festival celebrates athleticism, artistic expression, and cultural exchange. Case in point: it's the only sporting event I can think of that begins with a joint blessing from a Catholic friar and a Daoist priest. That's just one of many special touches that render this festival both unique and fascinating.
The event occurs in Port Plaza on the last Saturday of the month, which is April 25 this year. An official welcome begins at 9:00 a.m. by Saint Martin's University President Dr. Roy Heynderickx and Joe Williams, honorary chair of the Dragon Boat Steering Committee and Chairman of the Board of Trustees at Saint Martin's University. The fun wraps up at 4:00 p.m. with an awards ceremony and closing remarks. Kathleen Thomas, Dragon Boat Festival co-chair, notes, "This is a very family-friendly event, not only because it's free but also because it's an all-day event so people can come and go as they please."
It's worth planning ahead to experience certain items on the festival agenda. The boats are adorned with carved dragon heads and tails, and each dragon's spirit and power must be awakened for the occasion. This occurs at 9:10 a.m., during the traditional Dotting of the Eye Ceremony. Directly thereafter, the boats will be blessed by Fr. Peter Tynan, O.S.B., of Saint Martin's Abbey and by Wu Wei Lin Daoshi (Chris Grabowski) of Seattle's Ginkgo Grove Daoist Center.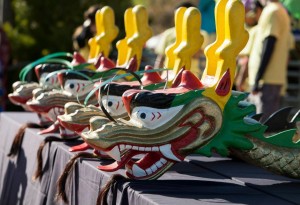 Performances begin at 10:15 a.m. and will continue throughout the day. Thomas gives a preview: "Performances this year will include a traditional Dragon dance and Lion dance performed by Olympia Kung Fu and Tai Chi Club, the Taiko Drum Group from River Ridge High School, the Crow Drummers, Saint Martin's University students, the Olympia Kung Fu and Tai Chi Club, and Guma' Imahe. The closing and awards ceremony begins at 4:30 p.m.
My appreciation for the Taiko drummers is enhanced by the fact that students built the drums and often compose the music as well. Their effort and commitment add extra flare to what's already an auditory delight.
And as the parent of young children, I can attest that the visually stunning Lion dance never fails to delight our whole family. You can be sure we'll enjoy the Dragon dance, too, a special addition this year to celebrate the festival's 10th anniversary.
Sally Henry, Dragon Boat Festival co-chair, offers insight into the actual racing, which begins at 9:30 a.m. and continues through the late afternoon. "We have three divisions, including competitive mixed, competitive women's and community teams.  The minimum team size is sixteen paddlers, one drummer and one steersperson." All team members must work together to speedily navigate the course, which is 250 meters in length.
Come join the other sports fans lining the waterfront to cheer on teams with funny, punny names like "AWC Blazing Paddles" and "Strokes of Genius." Hoping to watch for awhile? Follow the lead of experienced aficionados and bring along a folding chair.
Josephine Yung is vice president of International Programs and Development (OIPD) at Saint Martin's University. According to Yung, the festival grew from the university's "long history of educational and cultural exchange with higher educational institutions in the Pacific Rim countries." In 2005, a local Dragon Boat club approached OIPD about organizing a race. Yung and her department enthusiastically embraced the opportunity. "We wanted it to be a fun, family-oriented, and community-building event. We thought the festival would be a great way for Saint Martin's to give back to the community."
This original vision remains at the heart of the festival, even as it grows exponentially. As Yung notes, "In 2006, we had 13 teams participating in the race.  This year, we have 48 teams.  Of the 48 teams, two teams are from Saint Martin's sister universities in China, the Shanghai Maritime University team and the Shanghai University of Traditional Chinese Medicine Team."
Another honored guest is Consul General Luo Linquan from the Consulate-General of the People's Republic of China in San Francisco. Also attending the event will be Port of Olympia Port Commissioner George Barner, Jr., City of Lacey Mayor Andy Ryder, City of Olympia Mayor Stephen Buxbaum, and City of Tumwater Mayor Pete Kmet.
All in all, this free event is well worth your time. As Thomas sums it up, "The colors, sounds, and movements of the whole festival will keep those who are young, and young at heart, engaged in the festivities."
All photos courtesy of Saint Martin's University.