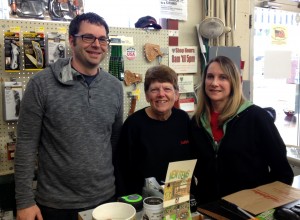 The last time we made an emergency run to the hardware store it was for wood stain. We'd run out mid-project. And, while there we picked up a few other things – odd sized halogen lightbulbs for the kitchen, a pipe fitting for a leaky hose-bib, and some chapstick. Yes – home improvement projects are tough on the lips, too.
Luckily, we could step inside 109-year-old Olympia Supply Company on Columbia Street in downtown Olympia and get all we needed and more. The vibrant blue storefront showcased a rainbow of wheelbarrows out front and Radio Flyers in the windows and begged for further investigation.
Parking is easy and ample, something many people don't immediately associate with its downtown location. "There is parking all around the building, tucked on the edge in our lot as well as street parking," shares longtime office manager Kathy Waltermeyer. Access from I-5 is a snap from the Capitol Way exit and its park-side location, across from Capitol Lake, allows shoppers to extend their visit with a stroll lakeside.
"People sometimes think of us as a last resort," Waltermeyer shares. "Someplace to go when they can't find something, but we really want to be the place you start." The deceptively vast store, with warehouse space in the rear and aisle after aisle of goods, is a treasure trove of items needed to complete small "honey-do" projects all the way up to major renovations.
Not only are the shelves well stocked, but the store can special order nearly anything you need and includes a wide variety of on-site services that harken to their "old-fashioned" roots. "People don't know that we offer so many services such as rescreening windows and sharpening scissors and tools," says Waltermeyer. In today's market of cheap goods and a disposable mentality, Olympia Supply retains the philosophy of yester-year, advocating fixing things that are broken and caring for, and selling, things of quality and value.
The store's shelves provide inspiration and solutions to your project needs and the staff are equal to the task of helping you find anything. "We have a small crew here," shares Waltermeyer. "We all wear many hats. We are in tune with who walks through the door and are ready to help."
One familiar face to Olympia Supply team is Sandi. Most days you'll find her behind the register. If you need something, she'll know where it is. She's been with the family-owned company since 1999 and, according to Waltermeyer, "remembers the part numbers better than anyone in the store." You might also catch a glimpse of "Uncle Ben," the second generation Bean owner of the store. Now in his 90s, Ben stops by nearly every day just to "check on things."
Olympia Supply Company's roots are in the construction materials business. Founded in 1906 by Earl Bean, and currently owned by his grandson Jeff Bean, the store began by supplying builders with construction materials during our area's growth at the turn of the century.
As the business grew and changed, the need to expand to a retail hardware store, serving the needs of the community, became clear. Store manager Jeremy Lauritzen was an instrumental part of that change and continues to bring innovative ideas and strong leadership to the team. Now, part of the True Value family of businesses, Olympia Supply provides just about anything you could need – including chapstick.
While you'd expect to find paint and lightbulbs, tools and hardware, the store carries a surprising array of goods and rotates stock seasonally. With spring nearly sprung in Thurston County, the store is setting up its annual seed display including Ed Hume Seeds alongside Irish Eyes Organic Seeds. And while the store doesn't carry live plants, it can supply just about all your garden needs from pots and soil to gloves and hats. Come fall, the garden area will be transformed with seasonal décor and a dizzying number of holiday lights.
"Our gift cards are very popular for Mother's Day and Father's Day," shares Waltermeyer. "People are surprised we offer a wedding registry service." Newlyweds may be excited to set a fancy table with new china, but chances are they will be mowing, pruning or fixing a leaky faucet long before the china is unboxed.
My best find in the store? The Georgia Boot Romeos my husband loves at a price I can't beat, even online. The popular work shoes are in front, next to the Bogs boots and Radio Flyer wagons and just down the aisle from the well-stocked canning section. You never know what you'll find, but you can be sure it will be a good value backed by their customer satisfaction promise.
A trip to Olympia Supply Company accomplishes more, though, than helping you check items off your list. The historic photos, impeccable customer service, and old-fashioned hardware store feel transport you to a time when neighbors gathered and lent a helping hand. You may, like me, recall trips to a similar store (or this very one) holding tight to the hand of your grandfather, mother or father. The reasons past generations shopped at a locally owned mercantile are the exact same reason people shop at Olympia Supply today – for the warm smile, the expert knowledge, the community roots and the unexpected items you never knew you needed (like my new chapstick).
Olympia Supply Company
625 Columbia Street SW in downtown Olympia
360-357-6659
Open Monday – Friday from 7:00 a.m. – 6:00 p.m.
Saturday from 8:00 a.m. – 5:00 p.m.
Sunday from 9:00 a.m. – 5:00 p.m.