By Kate Scriven

The brightly painted blue and orange building of Olympia Supply is hard to miss.  The cheery façade, located on Columbia Street in downtown Olympia, may have gotten a facelift in recent years, but the company on the inside has remained pretty much the same for the past 108 years.  And, for the last 22 years, Kathy Waltermeyer has been an integral part of it all.
You might recognize the petite redhead and grandmother of 11 if you frequent the store.  Although she's officially the Office Manager, Kathy's seen helping a customer as often as she is found sitting at her desk.  "Yes, I'm the Office Manager, but really, I'm the Store Mom," she laughs.  I have a feeling she keeps the guys in the shop in line pretty well.
Kathy is originally from Las Vegas where she met her husband while cruising on Fremont Street (yes – really!).  The couple had four children in Nevada and relocated to Olympia in 1981 for her husband's job.  They fell in love with the Northwest right away. "We love to fish and camp and hunt.  This was just a perfect place to raise our family," she shares.  Her job at Olympia Supply was another part of that perfect fit.
Olympia Supply was founded in 1906 by Earl Bean as a supply company for the area's growing industrial and construction industries. Today, the thriving retail store is run Earl's grandson, Jeff Bean.  "There is so much family history here," shares Kathy.
That history includes the antique tool wall alongside historical photos depicting three generations of Bean family members, who have run the business from the start.   Among the images are numerous flood pictures – evidence of the effective use of Capital Lake and the small downtown dam to control the fluctuating waters of the Deschuttes River.  And don't miss the 1912 brass cash register on the back counter.  Ask Kathy to give it a crank – it still rings.
Nearly thirteen years ago, current store manager Jeremy Lauritzen joined Olympia Supply and brought with him new and innovative ideas.   Chief among these was turning the contractor focused company into a retail hardware store, offering customers all the merchandise they need for nearly any project along with the old-fashioned service and know-how that is hard to come by in big box stores.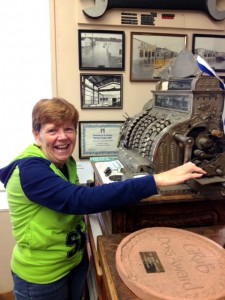 "We hadn't anticipated what was going to happen industry-wide with the slowdown in local construction, but Jeremy came at the right time with a younger concept that has really helped us survive through economic change," shares Kathy.
Opening the store to the public and offering construction, garden and household goods allowed the store to continue serving current customers as well as many new faces.  "We are seeing a whole new generation of customers embracing the DIY mentality, trying to save money by doing projects themselves," Kathy explains.  "It's really great that we can guide them to what they need for their project and help them move forward."
By staying agile and embracing change, but retaining the store's core values of customer service and community, Olympia Supply has flourished.
"Customers are fascinated by the history around them and the feel of an old-fashioned hardware store," she explains.  They are also surprised when they venture past the swinging doors into the warehouse section. The volume and variety of goods and services is astounding.  From pipe fitting to blade sharpening, rope and chain by the foot to electrical supplies, customers can find just about anything they need for projects.
As much variety as the warehouse offers, the front of the store offers even more.  Items range from Georgia Boot 'Romeos' and Boggs to Radio Flyer tricycles and wagons; from canning supplies and cast iron skillets to paint and home décor items.
"One of my favorite parts of the store is the canning section," shares Kathy.  "The guys always say, 'Get Kathy!' when a customer has questions about household goods and I love being able to show them all we have to offer."
There is a unique feel when you walk in the store – part nostalgia, part "shop local", and part curiosity for what you might find.  For Kathy, it's also about location.  "I love being part of the downtown neighborhood.  I love the lake and often wander the storefronts of downtown on my lunch break."  And she knows that many customers echo her feelings, shopping purposefully in the downtown core.
The Bean family has been engaged in their community since the beginning as well.  The business gives back consistently through area non-profits.  For example, Jeff Bean has served on the board of GRuB, worked closely with the Hands On Children's Museum as well as LOTT Clean Water Alliance.   The store counts the City of Olympia and the State of Washington among their best customers, retaining the commercial and industrial connections that were the root of the business.
Next time you need a light bulb, a bag of potting soil, a present for your gardener mom, fittings for fixing those leaky pipes, or just about anything on the "honey-do" list around your house, look to Olympia Supply.  Like me, you'll probably wander the aisles, losing track of time, remembering days past when a trip to the hardware store was like visiting a neighbor.   And don't forget to say hello to Kathy.  She's the one with the red hair and the big smile.
Olympia Supply
625 Columbia Street SW in downtown Olympia
360-357-6659
Hours: Monday through Friday from 7:00 a.m. – 6:00 p.m.
Saturday from 8:00 a.m. – 5:00 p.m.
Sunday from 9:00 a.m. – 5:00 p.m.