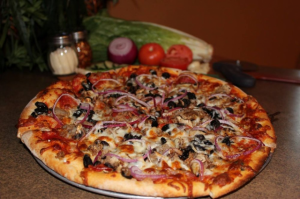 "I love pizza. I want to marry it, but it would just be to eat her family at the wedding." In this, as most things, comedian Mike Birbiglia is 100-percent right. There's nothing better than being shoulder to shoulder with family and friends over a magical, cheesy pizza.
Locally—and literally—the pizza hot spot is Infernos Brick Oven Pizza. A family affair created and owned by brothers Brad LaRue and Clint Owen, they specialize in hand-crafted pizzas with brick fired, lightly crunchy crusts.
Owen explains that "being a family owned restaurant we are able to develop our own unique recipes."
"All of our dishes at Infernos are made from scratch, fired to perfection, with fresh, not frozen ingredients. We don't even own a freezer," Owen continues. "We have delicious, fresh food, with many healthy and gluten-free options. Our mission is to create a pizza that compares to no other and provide an excellent, fun-filled experience for our valued guest. This is not a franchise or corporately owned businesses—this is a family business built in the community we love."
Owners of several other local businesses, including Line-X of Olympia on Capitol Boulevard, the family began developing the Infernos idea back in 2005. In 2007 their Tumwater location opened followed by a Lacey restaurant in 2011.
Long-time locals, the brothers strive to be more than just a dining destination. "Infernos Brick Oven Pizza is very involved in communities in many ways. Not only do we hire, train, and employ many of the community's young adults, we also give back," describes Owen. "Infernos sponsors many events, activities, and sports in a variety of disciplines and areas, from Tumwater and Black Hills to Lacey. We have sponsored school and organized sports: football, basketball, baseball, soccer, volleyball, rifle club, American Made Drill Team, fast pitch, and cheer. We have also donated to church auctions and Race for the Cure to name a few."
"We believe that investing in our communities, young adults, and kids is a great way to give back to those who have helped support our businesses," adds Owen.
Favorite recipes are often named after their creator or biggest fan. Owen describes "Brad's wife's famous artichoke dip – now there is one to try — it's so good! Or the Chicken Club, Clint's favorite, or the LaRue pizza" featuring bleu cheese, steak, onions, and mushrooms. With both dine-in and take-out menus available online, you can streamline your visit by studying the many options beforehand.
Both locations also feature a variety of daily specials including daily drink and food offerings, Margarita Monday, Thirsty Thursday, military day, kids eat free night, and date night. At the Lacey location they have an exciting new lunch menu, as well as a private gathering room for parties, sports events, and gatherings.
For updated photos and specials, visit the Facebook page for the location nearest you. Both Lacey and Tumwater listings will make your mouth water.
Actor Kevin James declared that "there's no better feeling in the world than a warm pizza box on your lap." I disagree on one small point: the only thing better is having that fresh, warm pie delivered to your table at a welcoming restaurant where someone else is stuck with the dishes.
Infernos is located at 8825 Tallon Lane Northest in Lacey or 111 Tumwater Boulevard Southeast in Tumwater. Why cook tonight when you could buy fresh, local, and delicious?