By Holly Smith Peterson

The initial idea was for a simple bed-and-breakfast in the heart of downtown Olympia. The era was the late 1980s, when friends Gail O'Sullivan and Karen Nelson were looking for a small business opportunity in which they could use their creative skills. At the time, Karen was a career homemaker. Gail had a Master's degree in library science, as well as accounting experience.
"Originally we wanted to create a nonprofit, something that would be the city's so-called 'demo site' for urban sustainability," Nelson said. "Then ten years flew by and we realized that was still our dream, so we partnered and opened in fall of 2000. We were doing something completely innovative for the travel industry."
As the story goes, the friends were managing a vacation rental in an historic home at 311 9th Avenue. The owner suggested that downtown needed a budget place to stay, and insisted that the friends use that site for their lodging. Along the way, a few things changed in the vision; namely that the duo, after seeking business advice, decided to make it a for-profit venture. But what they stayed true to was the theme of sustainability from start to finish, and in daily practices.
When it opened, Fertile Ground Guesthouse was the first "green" lodging in Olympia — and it still is today. And, from the get-go, the B&B has never lacked for guests.
"We connected with The Evergreen State College to get student groups, and they thought it was very cool that we did things like make our own natural plaster and incorporated sustainability into some of the renovations," Nelson said. "The natural outgrowth was that the parents started staying with us."
Over the past decade and a half, the Fertile Ground campus has spread to more than just the original three-bedroom guesthouse. Last year they opened the "bunk-and-breakfast" Ground Inn at a nearby home, and there's a business incubator-type of building for professional offices, meetings and social gatherings, with an open lot for kids' classes and camps.
"Altogether, we chose the name because the idea was that you could 'ground' at the place," said O'Sullivan. "We also liked the image of the ground, like dirt, which is symbolic of sustainability."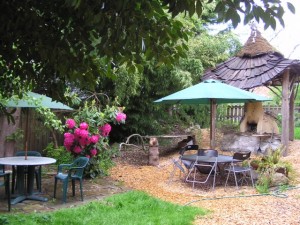 Indeed, she adds, sustainability continues to be the most important focus at all of the properties. From careful garbage and recycling practices to having an eye toward the packaging around standard products for guests, it's a simpler way of living that follows the more progressively sustainable standards of many international lodgings.
"'Oasis' is the word that we hear a lot – 'The oasis in the heart of downtown,'" Nelson said. "What you need is right here, and you feel like you've found something special. People appreciate the attention to detail."
The friends have kept to their motto through gradual, continual changes that not only increase their sustainable practices but also bring out the classic beauty of the historic building. Nelson remodeled the entryway last year to remove layers of old wallpaper and give it a chic, modern look; as an artist, it's also her personal gallery. In the kitchen, O'Sullivan spent months revamping the details to bring out the original natural wood.
"As we worked, we discovered and restored a lot of the beauty to the house," O'Sullivan said. "It's a registered historic building, so we take a lot of care in what we do, and we think about ways to keep that in harmony with its history."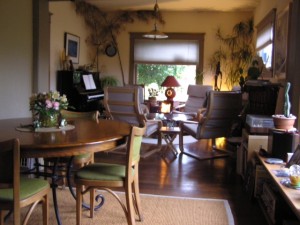 Another unique aspect to Fertile Ground is the duo's attention to health issues, both with food and allergies. Cleaning and restroom products are purchased with sensitivities in mind, and the kitchen is ready for all types of dietary needs. The adjacent property, another respite area for the lodgings, also has gardens and fruit trees from which guests can pick in season.
One of the most important joys of running Fertile Ground Guesthouse, though, is overseeing the non-profit, multi-function site next door at 9th and Adams. Called the EcoHouse and remodeled by Northwest EcoBuilding Guild, its uses are myriad (and range in cost): personal offices ($50/month), conferences and meetings ($15/hour), and children's summer camps.
"Half of our energy goes into that space, which gets leased for parties, meetings, field trips, office space, and a lot more," Nelson said. "The non-profit part of what we do always has to be mentioned."
"The garden is the penultimate part of the non-profit side of the business," said O'Sullivan. "It's our effort to keep growing sustainability in downtown Olympia, and what this whole experiment has amounted to."
Day by day the friends continue to build on enhancing the purpose of the Fertile Ground complex in Olympia. As they looked back on the lodging's change and expansion over the years, though, success and satisfaction with what they've created there hasn't really taken them by surprise.
"I was a career homemaker, and I have always loved looking after and taking care of families and homes, so I'm not surprised that I'm an innkeeper now," Nelson said. "I never thought about minimizing the importance of paying attention to all of the details. This job takes all of my skills."
Said O'Sullivan, "I never thought that I'd be an innkeeper —- but I always made the breakfast and loved having friends to breakfast, so that's a large part of what I do here. I also take care of the the accounting side and the technological areas like the webpage, so we are very complementary to each other."
Yes, the work is difficult and has long hours most days, they admit. But that's no different than it is for any other small business owner. And the rewards, they emphasize, far outweigh any worries or challenges that might be up the road.
"My litmus test questions are: Does what you do sustain you physically, mentally and spiritually? Does it provide what you need for personal nourishment?" asked Nelson. "We do a good job of working together and managing all of that so that we don't have to do everything. The advantage of creating a sustainable business is that you can have a partnership where you've worked out a common level of trust."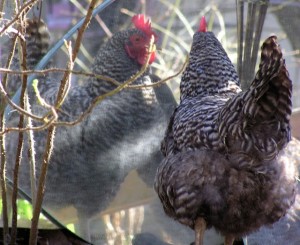 O'Sullivan, the principal cook and breakfast-maker for the Guesthouse, said that she most enjoys the conversations she has with guests.
"I get to talk with people every morning," she explained. "There's an amazing intimacy in a space like this where people feel safe and comfortable."
For Nelson, the ultimate paycheck is simply the surprised, and very positive, reaction of guests who truly understand the mission of running a sustainable-minded lodge.
"When you have a guest who is telling you they notice the little things you're doing to promote sustainability — and that they appreciate what we've created here, and they're being nourished by the experience," she said, "that's really the big reward."
To learn more or make a reservation, visit Fertile Ground Guesthouse online or call 360-352-2428.