The United States military is undergoing significant changes, and the downsizing and cutbacks that are part of any war drawdown are having an appreciable impact on the local families of Joint Base Lewis McChord (JBLM). An Army study estimated that approximately 9,000 active duty servicemembers stationed at JBLM will be leaving the service annually over the next three to four years. Notably, among veterans planning to leave the military nationwide during this same period, an estimated 13,000 servicemembers per year plan to transition to civilian sector jobs in the greater JBLM area.
This burgeoning population of transitioning workers represents a sizable potential workforce. However, servicemembers often struggle to frame their military experience in a way that easily translates to civilian opportunities. Fortunately, there are multiple agencies focused on providing solutions. Of note, the Pacific Mountain Workforce Development Council (PacMnt), which is a workforce development organization dedicated to cultivating business opportunities in western Washington, has been actively pursuing solutions to effectively utilize the influx of hirable veterans.
In response to the need to help warriors transition, PacMnt built a coalition with Thurston County Chamber of Commerce and Thurston County Economic Development Council, two organizations that had previously collaborated with PacMnt on a project to help employ spouses of servicemembers. Additionally, they tapped Morningside, a non-profit based in Olympia whose mission is to support clients with disabilities in securing and retaining meaningful, integrated employment.
The allied partners proposed and received a two-year National Emergency Grant, funded by the Department of Labor to establish a pilot program, Camo2Commerce. This program aims to foster job opportunities for veterans by educating civilian employers, to prepare servicemembers to transition and enhance their skill sets, and to identify strong matches between an employer's needs and potential employee profiles. The grant requires that participants are currently on active duty at JBLM and are conducting a job search in the Puget Sound area.
Wounded warriors and those with other disabilities comprise a particularly vulnerable segment of the target demographic. Jim Larson, Morningside President/CEO and a PacMnt Board Member, had been searching for ways to empower transitioning warriors with disabilities because he feels that Morningside is uniquely positioned to assist these veterans.
In Camo2Commerce, Larson "saw the opportunity to help servicemen and servicewomen with disabilities find jobs in our community." Larson identified Mark Moffett to lead Camo2Commerce's efforts with disabled veterans, given his experience with both the military and civilian aspects of their challenges and opportunities.
A former active duty soldier, Moffett spent three years as a company commander in the Warrior Transition Battalion, a battalion at Madigan Army Medical Center that is dedicated to caring and advocating for ill and injured servicemembers and expediting their reintegration or relocation to the civilian sector. Since moving to reserve status with the National Guard in 2012, Moffett has served as a Project Manager with Morningside. Moffett now conducts outreaches to identify transitioning warriors who may benefit from the Camo2Commerce program, largely by interfacing with the Warrior Transition Battalion and through use of the Integrated Disability Evaluation System (IDES).
Participants enrolled in Camo2Commerce have access to a wide variety of workshops and training opportunities. The workshops run the gamut from one-day events to 12-week programs meant to teach hard skills. Topics include IT helpdesk, cloud computing, human resources, and classes for those with medical experience. A recent wire splicing installation class enrolled 10 students, and nine of them were placed immediately into full-time positions upon completion of the certificate. Case managers help their attendees focus in on one or two desired skill sets and set attainable goals.
Camo2Commerce also employs job developers who market transitioning servicemembers directly to job opportunities. Further, program enrollees are equipped with clothing and/or tools as appropriate for their target field of employment, and case managers assist with the preparation work for interviews and for the actual transition itself.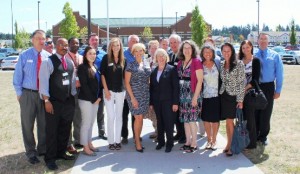 One aspect veterans with disabilities may require additional assistance with is in navigating the IDES system. When a medical discharge is underway, the End Time of Service can be hard to estimate while the request is being processed. Moffett communicates with various departments to determine an actual out date and tries to expedite processing when a job offer is in hand. This improved transparency and support also helps reduce the stress that servicemembers who have been primarily focused on their medical needs may experience when their discharge is suddenly imminent.
In 2014, there were 512 enrollees in the Camo2Commerce program, 187 of whom have been placed in jobs thus far. To date, Morningside has made 50 referrals for job placement services. The goal for 2015 is to complete 900 enrollments and 720 placements, with a grant renewal anticipated if successful.
As Moffett shares, "it is highly rewarding to successfully partner a veteran with an employer and aid in the transition to civilian life while allowing him/her to continue to care for their family."
In addition to the innovative and skilled staff, Larson is quick to credit the welcoming, open business community in South Sound with the success of Camo2Commerce. Through his work with Morningside, he has been impressed with how well employers in our area respond to need and are willing and motivated to support causes and people. Connecting disabled veterans to meaningful employment is a cause that will benefit us all.
For more information, contact the JBLM Camo2Commerce office at (253) 967-0319.