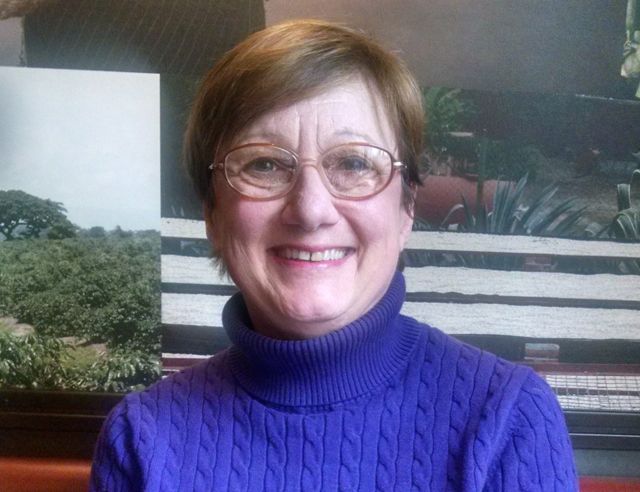 By Mary Ellen Psaltis
Step into the kitchen with Lee Ann Ufford, and allow yourself a ride with her quietly adventurous demeanor. Whether you want to plan a dinner party or have fun with a new recipe, Ufford is ready. If you aren't one of her fortunate friends coming to her home for the neighborhood supper club, find her instead at the Bayview School of Cooking located inside Storman's Bayview Thriftway.
In Lee Ann's next class, she will focus on "get your hands into the pot (stickers)." Lee Ann will show you how to make traditional Japanese gyoza and a Northwest gyoza with chicken and asparagus plus a fried Korean dumpling called Yachae Mandu – and that's not all. Learn what is Yangnyeom Ganjang (and how to say it.) The class includes sauce, rice and a special cucumber salad. Yes, you will eat your handiwork there, but still have a few to take home.
Ufford suggested she is a Jack-of-all-Trades at the cooking school. She does not specialize in a particular kind or style of cooking, but travels the gamut from French to German to using the bounty of her beloved Northwest. "How lucky we are to live here," she smiled. After moving about the U.S. every three years and traveling abroad (her husband, John, was in the military) she delights in locally grown produce and the availability of seafood.
She wasn't always in the kitchen. Her mom deemed her "too messy to cook," but after getting married, Ufford decided cooking was important. Sit-down family dinners with their two children became an integral part of life. In those days, she even made her own granola. Every month she challenges herself to come up with three new recipes. Three weeks into January, she was already up to eight. "I have files of recipes," says Ufford. Some come from magazines; others from restaurants. Ufford enjoys cooking something she never made before or trying out a new technique. Recently she made a salad from farro, which is an ancient grain with a nutty flavor and great versatility. Another find: Nancy Silverton's Golden Chicken Thighs with Charred Lemon Salsa Verde. (I'm getting hungry now.)
Years ago, Ufford prepared food for private parties with up to 125 guests. "It never occurred to me people would pay me to cook," she said. But, she thoroughly enjoys her time at Bayview School of Cooking and has been assisting and teaching for six years. Also, her baking donations to the Tacoma Opera auctions are legendary. The Banana-Nut Extravaganza Cheese Cake (my name, not her) garnered $450.
Her intention with Bayview's cooking classes is to create a learning experience where people walk away and feel they can plan an entire party. "I really like to teach and share," she notes.
Take a few minutes to look at the upcoming classes at Bayview School of Cooking. There will be a Spring Dinner Party. And – doesn't this sound like great fun – A Day at Downton. Yes, it's a tea with small sandwiches, scones and other treats. "I'll be cleaning my silver," Ufford told me. She also owns lots of dishes. Expect an informative history lesson to accompany the class. It might be about the ways dishware changes with the times and more. It all sounds fascinating.
Would you like Lee Ann's best piece of culinary advice? Before you cook, make your detailed shopping list and then shop for groceries. It sounds obvious enough, but you really want to have everything in your kitchen before you start to cook.
Her parting thought is this: If a recipe does not go well for you, there is no need to feely badly. It might just be the recipe. Some are written better than others. Get a better recipe and have another go at it.
Check out all the cooking school classes at Bayview by clicking here. You'll get to watch these recipes being prepared before you experiment at home.
Eat Well – Be Well
Here's a bonus: Maybe we didn't get to eat at Lee Ann's dinner party, but you can make her dessert for yourself. It's Cornmeal Pound Cake with Poached Pears and Rosemary Syrup. The simplest plan is to make the cake in a bread-pan and eat it as is. Plan B is to fancy it up with the broiled peaches that can be made two days in advance. Luxuriate with Plan C with the addition of the rosemary syrup.
Cornmeal Pound Cake with Poached Pears
This recipe is based this on a recipe from chef Gabrielle Hamilton that was featured in Bon Appetit magazine.
Pears:
3 cups water
2 cups sugar
1 cup dry Riesling
3 sprigs fresh rosemary (4-6 inches long)
1 vanilla bean, split lengthwise
¼ tsp. whole black peppercorns
8 small or 4 very large pears (Bosc work well), peeled and cored
Combine all ingredients except the pears in a large pot. Stir over medium heat until sugar dissolves. Add pears and bring to a boil, turning pears occasionally. Reduce heat to medium low, cover and simmer until pears are tender, 15 to 20 minutes. Chill pears in syrup until cold, at least 3 hours. (Can be made two days in advance. Cover and chill until ready to use.)
Cake:
1 cup all-purpose flour
1 cup yellow cornmeal
1 cup (2 sticks) unsalted butter, at room temperature
1 1/3 cups sugar
¼ tsp. salt
5 large eggs
1 tsp. vanilla extract
Preheat oven to 325. Butter and flour a 9×5 loaf pan. Whisk flour and cornmeal in medium bowl to blend. Crack eggs into small bowl and beat just to blend. In mixer bowl, beat butter until light and fluffy. Gradually beat in sugar and salt. Drizzle in eggs by tablespoonful until incorporated. Mix in vanilla. Add dry ingredients in 3 additions, beating just to blend after each addition. Pour batter into prepared pan.
Bake cake until top is browned and the tester in center comes out clean – about 1 hour, 15 minutes. Let cool in pan 15 min. Turn out onto rack and cool completely. (Can be made one day in advance. Wrap cooled cake in foil and store at room temperature)
Rosemary Syrup:
1 cup sugar
½ cup water
8 rosemary sprigs, each 4 inches in length
Bring sugar and water to simmer in medium saucepan over medium-high heat, stirring until sugar dissolves. Add rosemary sprigs. Simmer until syrup reduces slightly, about 5 minutes, occasionally swirling pan. Remove rosemary and discard. Reserve syrup.
To serve:
Cut browned ends off of cake. Cut cake into ½ inch slices. Cut each slice diagonally in half. Arrange 2 halves on each plate. Drain pears; place 1 pear (or ½ of large pear) next to cake. Drizzle each plate with reserved rosemary syrup.