Submitted by The Evergreen State College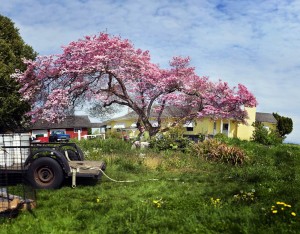 Galerie Fotoland is pleased to present Kirk Jones' The Urban Farm–an ongoing effort to document many of the Portland metro area's urban farms and farmers.
Jones' passion is examining the environments that we surround ourselves in—"the structure of our housing, and how we co exist… some of the most interesting people and lives can be right next to you and the most exotic places just over the hill somewhere close." Jones' observation of beauty and nature in unexpected places comes through in The Urban Farm, where Jones says what interests him most is the variety of farm settings. "Some farms are only side yards hidden within inner Portland neighborhoods – just beyond a normal looking fence there could be 2 acres of working farmland." Jones goes on to explain that the images of the farms and landscapes double as portraits of the farmers themselves.
For the past five years, Evergreen alumnus Jones has been making photographs with the Gigapan System, creating high-resolution
panoramic images that can be printed in very large format and provide exceptional detail. He prefers a slower work pace, which allows for more an engaging and deliberate process. He likens this high tech approach to photographers of the past, working with large, heavy and unwieldy equipment.
Jones has shown extensively around Portland and the Northwest. He recently received two commissions by Portland's landmark Pittock Mansion and the Lan Su Chinese Garden. This January, his series on Northwest logging will be included in The Meaning of Wood at The Seattle Convention Center. He has been published CNN.com, BonAppetit.com and NYTimes.com. He is a 2014 recipient of the Bronze Award in the Epson International Pano Competition.
For more information on this series or to see more of Jones' work please visit his website.
Galerie Fotoland is an exhibition space supported by Evergreen's Photoland.
The gallery is open during normal school hours most days of the week. For more information regarding this show and others at Galerie Fotoland please contact Briana Martini at marbri14@evergreen.edu