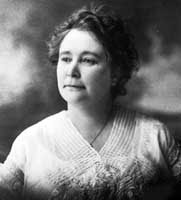 By Jennifer Crooks

Ada Sprague Mowell is an important figure in the history of Olympia and Thurston County. In the early 20th century she was active in community life and left a large mark on the region.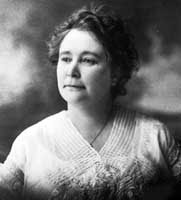 Ada was born in Ada County, Idaho, to Alfred D. and Wihelmina (Sager) Sprague on November 22, 1867. Moving to Thurston County in December 1869, the Sprague family, including Ada and her nine siblings, eventually settled on a homestead on Black Lake. However, times were far from easy. Albert died in 1875, leaving the family in difficult straights. The older children and their mother took over care of the farm. Ada was a good student and the family's children moved into Tumwater each winter to attend school.
At a young age, Ada became a teacher. Graduating from the University of Washington, she taught in Thurston County schools for over a decade, ending her career as principal of Lincoln School in Olympia. A much smaller school than its modern offspring, Ada also taught a full load of classes.
On June 15, 1898, Ada's life changed directions upon her marriage to 37-year-old Dr. John Wilson Mowell. Though the Mowells had no children, Dr. Mowell had one son from his previous marriage to Shelley Earl Mowell (1884-1965). Dr. Mowell was very active in community affairs, serving on the Olympia City Council and as Olympia Health Officer. He aided in the establishment of Industrial Insurance and was the first Medical Director of the Washington State Industrial Insurance Commission, from 1911-1917. Dr. Mowell maintained an active medical career until his death on July 7, 1925.
Ada Mowell needed little encouragement to be just as or more active in community life as her husband. She had a determined character. For example, in July 1897 she climbed Mount Rainier in a large party including her future husband. Ada was described by lifelong friend Goldie Robertson Funk as "full of a conquering laughter—you know, the kind that hurdles obstacles, reduces difficulties, and makes everybody feel better. But more than this: she came of a blood stream charged with the desire and the will to know and to do; she was eager to get from Life all it could be made to give." Over her long lifetime, Ada Mowell was a member of the Ladies' Relief Society, Woman's Club of Olympia, Civic Improvement Club, Eenati Club, History Club, Thurston County Educational Club, and the Tuberculosis League. In addition, she helped organize the Daughters of the Pioneers and was a charter member of their Thurston County chapter.
Through her extensive club memberships, Ada became involved in many contemporary issues. A Progressive Republican, she supported social reforms such as women's suffrage.  While her husband worked for Industrial Insurance for workers, Ada Mowell supported efforts to ban child labor. For example, at the June 1903 annual Washington State Federation of Women's Clubs conference in Everett, Mowell presented a paper entitled "Child Labor."
The biggest impact Ada Mowell made was through the Woman's Club of Olympia. Becoming a member in 1898, she immediately took an active role. Serving first as Corresponding Secretary, she would eventually serve as Recording Secretary, Trustee, Custodian, and Parliamentarian. She also served as chair of many Departments, such as Arts and Crafts, Travel, and International Relations.  Most significantly, she was president for eight terms, 1901-1903, 1909-1911, and 1914-1918. She did all this despite suffering several life-threatening illnesses over the years.
During World War I, Ada Mowell served as the Chairman of the Woman's Work Committee of the Thurston County Council of Defense, making her both the sole woman on the Council and the head of the county's "Minute Women" volunteers. In this role she helped implement government homefront programs during the war period. This included promoting voluntary rationing, selling Liberty bonds and raising money for the Red Cross. After the war Ada was a leader in the Minute Women Association of Thurston County which ran for decades promoting patriotic causes.
Ada Mowell died on January 6, 1953 but her legacy continues.
Perhaps a good way of thinking about her impact is to use her home as a metaphor. The Mowell house, 200 Union Avenue, was built in 1907. A classic Foursquare, it was considered one of the finest homes in Olympia. Over time, the building has gone through extensive renovation, but it survives and now serves as the headquarters for the Washington Council of Police and Sheriffs. Like the house, Olympia has changed very much since Ada Mowell's time yet her legacy survives through the continuing contributions of the groups she shaped and supported such as the Woman's Club of Olympia.
Ada's philosophy can be best summed up by her simple statement that "I couldn't belong to any group and not do my share." She certainly did more than her share and Olympia has reaped the benefit.