By Gale Hemmann
The last days of summer are upon us. As families prepare for back-to-school and busy schedules ahead, you may find yourself yearning to maximize these last few days. One way to enjoy family time without spending much money is to have a "staycation."
Staycations have been gaining popularity in recent years because they offer a chance to unwind and enjoy the fun of a vacation without ever leaving town. Whether you plan to literally stay at home and do activities together or take a day trip somewhere, there are tons of ways you can plan to spend your staycation right here in Thurston County. This seasoned "staycationer" explored some unique options and themes for staycations that are easy, affordable, and most importantly, fun.
Planning the Perfect Staycation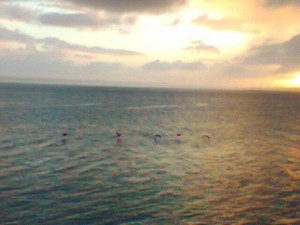 A little planning goes a long way when it comes to creating the ideal staycation. Sure, you can be spontaneous – but having at least a rough idea of what you want to do in mind is helpful. Involve the whole family in the decision-making – pick a theme or activity that is interesting to everyone. Check out the hours of and get directions to places you may want to visit.
Prepare ahead of time: Go shopping to get any groceries or supplies you may need. Take care of any chores and last-minute "to-do" items before you unplug. Clear the calendar, just for a day or weekend. The goal of a staycation is to relax, and you want to be able to just focus on enjoying the time together with minimal distractions. And of course, here in late-summer Washington, it's always helpful to have a back-up plan in mind in case of weather changes.
Your options are literally limitless. Of course, you will tailor your staycation plans to best suit your family's interests and kids' ages. The key element is this: do something you wouldn't ordinarily take the time to enjoy. Here are some ideas for sending summer out with style.
Staycation Ideas:
Backyard Camping: One option is to head to a local campground for an end-of-summer trip that is budget-friendly. But you can also have a "campout" right at home. You can set up tents in your backyard or even in the living room (or have kids make a blanket tent). Kids can sleep in sleeping bags, and you can make camp foods. You can make microwave S'mores and eat easy "camping" foods like hot dogs or veggie dogs and hot cocoa. During the day, you can take a nature walk in your yard or at a local park. You can also tell "campfire stories" around a flashlight. Get creative: You can make up silly camp songs, give your family camp a name, and make up camp nicknames for each other to use throughout the day or weekend.
Tourists in Your Own Town: Pretend you are tourists visiting Olympia for the first time. See everything with fresh eyes. Where would you go? What would you do? Use this day as an excuse to get out and see something you've always been curious about, but never had the time to stop by. Visit a new park, a new part of town, or a historical landmark. (Thrifty Thurston checks out local kid-friendly museums here.) Talk with kids about what you see throughout the day that makes your town interesting. Have fun with it: pick up little souvenirs, take plenty of "travel photos," and even create a trip itinerary for the day. It will make you see your hometown with new eyes and will show kids you can find adventure without going far.
We will be hiking the Ellis Cove Trail in Priest Point Park in the Spring.

Pajama Day: If you're looking for a more relaxed pace, you can have a family "Pajama Day." A family I know takes time out of their busy schedules every once in a while to do this and unwind. The rules of pajama day: Everyone stays in their pajamas all day. You eat breakfast-themed foods (kids can help make fun-shaped pancakes, for example). You can play family board games (or make up one of your own), watch movies (or make up a play), read together, or just sit around and talk. Quiet, low-key family days like this can be amazingly restorative. Getting to spend time at home together, without having to rush around, is a rare treat for many of us.
Hit the Beach: As someone who grew up in the Northwest, one of my favorite ways to unwind at any age has always been to go to the beach. There is something about the vast swaths of sand, soothing waves and wind in your hair that feels timeless and free. Have kids help pack a picnic lunch, throw in some sunscreen and towels, and hit of the many beaches in Thurston County or beyond. (Check out ThurstonTalk's pick of local beaches here.) I have always enjoyed the quiet town of Westport in Grays Harbor County too, about an hour's drive from Olympia – walk the sand, get an ice cream cone, and climb the famous tower overlooking the ocean.  Find even more beach ideas on GraysHarborTalk.com.
Get Out Into Nature: Time spent in nature is beneficial to our health and overall well-being. The whole family will benefit from a day outdoors hiking or walking. Put on your hiking shoes and hit one of the kid-friendly (and dog-friendly) trails listed here. And older kids might enjoy a longer hiking day trip.  Check out some great tips and destination ideas here. It doesn't matter how far you go, just that you're out spending some time in nature. You can identify different plant species, birds and other things you see along the way.
Go out for an espresso or a sweet treat. Traditions Café in downtown Olympia offers ice cream, espresso, and more. It is conveniently located across from Capitol Lake, so you can take a walk afterwards.

Go Swimming: When my niece and nephew come to visit, the top items on their agenda: swim, swim, and swim some more. What better way to end the summer than with a splash at a local beach or pool? Find ThurstonTalk's pick of outdoor swimming spots here. Another memorable option is the Tenino Rock Quarry Pool. And if it's a cooler day, check out these indoor pools, including Discover Aquatics. Try somewhere you've never been before – that will add to the sense of adventure and novelty.
Splurge on a Sweet Treat: One way to get something special to eat without the cost of a full meal is to take the kids out for dessert. It's a "sweet" way to top off the day. Get ice cream in a hand-made waffle cone and enjoy the old-school, family-friendly charm at Grandpa's Soda Shop. Get a hand-crafted milkshake or Italian soda at Mud Bay Coffee Company (you can stop in or visit the drive-thru). You can also enjoy the frozen yogurt at locally-owned Twisties in Lacey. Or, try a healthy, eco-friendly popsicle from the Oly Pops cart in downtown Olympia (both Twisties and Oly Pops sell no-sugar-added flavors as well, for any diabetic family members).
Another idea is to check the ThurstonTalk's weekend event calendar for a range of upcoming events. The ideas are endless – no matter what you'll do, you'll have a change of pace and some great family time while going easy on your budget. Older kids can burn off some energy before the school year starts and hopefully everyone will have a memorable time.
Who knows? Your staycation might be so much fun that you make it an annual tradition. Make sure to find some kind of little mementos along the way to save as a reminder of your staycation. It will be like holding onto a little piece of summer memories as the fall approaches.