By Stacy Fisher
I have always been an avid swimmer and was eager to start our kids swimming at an early age.  These winter days (ok, fall and spring sometimes too) don't always inspire me to dig out the suits and towels and head to the pool.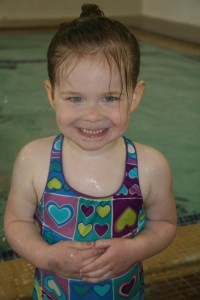 Each time we head off to a pool, though, I am reminded about how much fun my kids have floating through the water.  It quite simply is a sensation that cannot be matched in our little plastic pool in the yard (although I DO love those too) or in the bathtub.  Recently, though, my kids and I have been trying to swim more, improve our abilities and just get rid of some energy… and it is still awesome even in the winter.  Really.
Luckily, we have many indoor pool options in Olympia.  Many clubs even offer very inexpensive day visits for families and they offer special events as well.  So, dig out your suit and flip-flops from the back of your closet, and dive into one of these popular pools in our area.
South Sound YMCA – Olympia Downtown Branch
Our Olympia Downtown Branch offers some very unique ideas to inspire families to dive in.  Start with swim lessons and then progress to competitive swim team, lifeguard classes, or synchronized swimming.
A daily pass for non-members is $10 per family. Try one of these upcoming family friendly events:
Flick and Float
On the third Friday of each month, you can bring the whole family down to the pool, grab an inner tube, and enjoy a movie while you swim and float.  The next Flick and Float is scheduled for February 15th at 7pm and the movie playing is Ponyo, which seems particularly well suited for a family swim.
"This is a great inexpensive activity and just a really fun night," states Youth Development Director, Tanya Bowers-Anderson. Family quality time is important these days.  "There are not many places that a family can go and everyone can enjoy their time.  Use the pool or use the gym," continues Bowers-Anderson.
Easter Egg Dive
Coming up on March 29th, the Easter Bunny will be visiting the pool and kids can dive for eggs to win prizes.  This event is geared for children over the age of five.
For additional pool information, including open swim times, click here.
Location
510 Franklin Street SE
Olympia, WA 98501
Phone: (360) 357-6609
South Sound YMCA – Briggs Community Branch
The Briggs Community Branch has two pools, including the large Main Pool that offers a variety of classes, open swim and lap swim times.  The second Activity Pool, is a wonderfully warm, family friendly pool.  The Activity Pool schedule can be found here.
Similar to the Downtown branch, for $10 non-member families are welcome to swim for the day.  The Briggs Community Branch offers family changing rooms and showers and comfortable facilities.
Location
1530 Yelm Highway SE
Olympia, Washington 98501
Phone: (360) 753-6576
Discover Aquatics
The saline pool at Discover Aquatics is kept a little warmer than most (89 degrees!), so little ones can concentrate more on having fun than on getting the chills.  In addition to the variety of classes they offer, families can enjoy open swim time on most Fridays and Saturdays for $7 per person or $20 per household.  They also offer Parents Night Out on a monthly basis, where your kids can enjoy supervised pool time, pizza and a movie while you are out enjoying yourself as well.
Location
110 Delphi Road NW, Ste. 102
Olympia, WA 98502
Phone: (360) 867-9283
www.discoveraquatics.com