Eleven years ago, Heath Howerton started Sunrise Landscaping out of a shed in his parent's backyard. He was freshly graduated from Washington State University, having studied business entrepreneurship and landscape architect design. He got right to work building his landscaping business and never looked back.
Today, Sunrise has approximately 40 employees including two landscape designers, an architect, and a certified arborist. His tree service, which includes removal, chipping, limbing and animal tree rescue (that's right cat owners!) averages three jobs a day, five days a week, and his design and install team produce over 300 landscapes a year.
Today, instead of working out of a shed, he has one of the best business locations in Thurston County, right on Martin Way.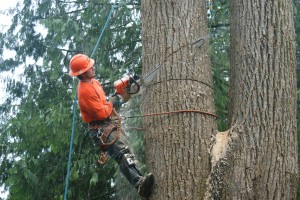 How did Howerton's backyard business grow so quickly and survive the 2008 economic downturn that hurt so many other local businesses?
Early on Howerton created a simple business plan, which included offering the best service in the region, and focusing primarily on residential landscape design, tree removal and lawn maintenance in Thurston County. He says that he is able to do this by hiring well. "I have some of the most incredible installers that I could ever imagine. They can do anything that is involved in landscaping. I can't say enough about them," said Howerton. "We also pay the best rates and hire trustworthy staff that go through background checks. We want homeowners to feel comfortable with our crew," he added.
Dana Encheff is a licensed landscape architect as well as a local artist, and is on the Sunrise team. His landscape designs are beautiful to look at on paper, but are even more beautiful when they come to life as a vibrant, thriving garden. "Our designers are the best and are perfectionists. I've learned a lot working with them," said Howerton.
Howerton is also committed to investing in the community. "We buy our landscaping supplies and plants from local suppliers rather than from large corporations," Howerton described.  "We could save more money if we bought from those larger nurseries, but we believe in supporting local businesses. Also, the quality of their products is outstanding."
Business really began booming for Sunrise when he opened his gallery and showroom on Martin Way. Howerton created an outdoor design studio displaying different options in landscape design, including water features, decks, patios, flagstone walkways and fire pits. Step inside the office and you'll see photos everywhere of completed projects — everything from outdoor kitchens to ladder trucks taking down tricky trees. "We like people to come in and look at our idea books, look around the gallery and walk along our beautiful flagstone paths," said Office Manager Lynnette.
She said that many people don't really know what they want their yard or lawn to look like until they see some ideas. The gallery is a great place to start, and it doesn't cost a thing to look. "For most homeowners the process starts when they give us a call and we send a designer out to look at the project. Sometimes they want a design and other times just a quote. Usually, the project takes a few weeks from the first phone call, to the quote and the work. Our team is very efficient. Tree removal is similar. We can get a crew out to a homeowner very quickly," she said.
Homeowners call Sunrise for a variety of projects, and recently Howerton and his team have been enjoying fun projects like wood fired pizza ovens, swimming pools and outdoor spas, but they also work on more serious projects like shoreline mitigation, erosion control, retaining walls and stump grinding.
"In the beginning, when I started out, I did a lot of lawn mowing, weeding and spring cleanup. That tapered off over the years, but now we're getting many requests for maintenance work again. We do one time or annual contracts. Homeowners love knowing that we'll take good care of their lawns and gardens," he said.
Howerton and his crew can take on just about any project that customers send their way. "Just yesterday a woman stopped by and asked if we'd take down a dilapidated shed on her property that was close to falling over. I told her I'd send a team over to take care of it for her," he said
And right there is the real secret behind his success. His team has the tools, knowledge and manpower to do just about any project a homeowner could want.
Sunrise Landscaping & Tree Removal
6325 Martin Way E, Olympia, WA 98516
(360) 556-3002
Specialties:
Tree removal
Landscape Design
Yard/Lawn Maintenance
Pools & Spas