By Douglas Scott

Backpacking with our families can be an amazing experience. As each mile passes, both children and adults will begin to drift away from their daily rituals and become entranced by wilderness. Being able to sleep outdoors and be miles away from the stresses of life can be wonderful, but how do you backpack properly with kids? Backpacking means being far from home and far from the comforts we experience day to day. Camping in the woods can make a family closer and stronger, if done properly and will impart the importance of protecting our natural onto future generations.  If you haven't experienced backpacking with your family in Olympic National Park, you should give it a try.
Olympic National Park is home to some of the best backpacking experiences in the country, right in our own backyard. As the fifth most visited National Park, you would think that backpacking in this gorgeous area would be crowded, but crowds are the last thing you will find here.  While many families can be seen taking day hikes, trekking a few miles further along a trail can open up a beautiful, natural wonderland.
Backpacking is not as popular for those with kids, so that is why I have put together a list of the best beginning backpacking trips for kids, as well as rules and tips for backpacking with your family.
Practice Hiking and Camping
It might seem odd to practice walking in the woods, but backpacking and hiking are completely different activities. When a child hikes they typically carry little, if any, of their gear, water or snacks. While backpacking, having them carry anything will let you focus on carrying the essentials. By hiking with small packs on, both you and your child will get used to carry weight on their backs while walking on not-so-flat surfaces. For great hikes for children to get ready for backpacking, check out the Family Friendly Guidebook offered by Exotic Hikes on Amazon and as an e-book.
To help get used to sleeping outdoors, take three or four days leading up to your trip to sleep in the tent. Preferably, do this in all sorts of weather to reassure both you and your child's belief of the weather-proofing of your tent.
Plan an Itinerary
Every backpacking trip with children needs to be planned and over planned. Checking out maps, seeing if there are creek crossings and locating backcountry campsites with bathrooms are all needed activities, most of which can be found via the Olympic National Park website, specifically the backcountry map section.  First time backpacking for children should be no more than a few miles a day, unless you know they are ready and capable to do more.
Once you have the needed resources, let your kids help plan. Including them will give them a sense of ownership of the trip, even if it is just for finding places to have snacks. This is also a great educational opportunity to teach them map reading skills and practice simple math.
Once you have made a realistic and detailed itinerary, make sure you leave a copy with a loved one, a neighbor and anyone else you can trust to contact the proper authorities if you don't return home as scheduled.
Permits
The red-tape of backpacking can be quite frustrating, depending on where you plan to camp. Some locations require prior approval to certain sites, while other locations are first come-first serve with a simple permit you attach to your bag. Either way, the best people to contact to find out what permits you need are at the National Park Service Wilderness Information Center and the National Forest Service Office.
Enthusiasm is Contagious
Your first family backpacking trip is sure to have some stressful moments, but the way you respond to adversity will make or break your child's experience. Your mood and the way you carry yourself will directly impact how your child reacts to the tiredness and strangeness of being away from home for an extended amount of time. If you and the rest of your family appear to be having a great time, your children will eventually start to take joy in the same activities. Kids are a lot more resilient than we give them credit for, so the more upbeat you are about the experience, the more they will think they should be happy too.
Check the weather
Not much else can ruin a backpacking trip like terrible weather. Avoiding rain altogether in the Pacific Northwest is nearly impossible, but the heavy rains and strong winds can be avoided with a simple check of the weather. When checking the weather, it is important to remember that predicting the weather in more remote areas is hit and miss. Your best bet for accurate weather forecast is from the National Oceanic and Atmospheric Administration, better known as NOAA. The site takes a bit of time to get used to, but spending an hour exploring how to work it will save a few miserable days and a lifetime of bad weather memories

Know your terrain
Knowing your terrain is incredibly important, as being able to prepare for upcoming hills or creek crossings can make backpacking with your child much easier. Going to http://caltopo.com/ , finding the right topographical map and printing it out not only lets you have the map with you at all times, but also can be a great learning tool for your child while hiking. A pro-tip is to keep the map in a ziplock or clear sealable bag at all times – that way you can still use it while it is raining.
What should you bring?
Packing for a backpacking trip is one of the harder things to figure out. Not only do you need a good, comfortable and waterproof backpack, but you also need food, cooking gear, sleeping bags, a tent and clothes. All of this gear will need to fit into a backpack or two, with your child realistically able to carry very little. Depending on the age of your child, it isn't too much to ask them to carry their sleeping bag and maybe a little food. More than that and they may not be able to handle it, physically and mentally. The rule of thumb is to carry about 20% of your body weight. This article by REI does a good job giving advice on how to pack your pack properly.
Aside from the obvious essentials, it is important to bring a few other things to ensure a good trip. A water purifier is a must, as staying properly hydrated is important for your mental and physical health. Sure, you might be bringing a stove and will boil water to drink, but being able to drink cold water right away has true value. Bringing iodine tablets and something to flavor water is also an excellent way to quickly purify water. Besides a water purifier, bringing a wide variety of foods will help make meals more exciting and reenergize both you and your child. Nothing is worse than hiking all day and finding that none of the food you brought sounds appetizing. Bringing salt and pepper or tabasco can help a meal taste better as well. Mountain House makes a wide variety of freeze dried foods that are light, easy to make and for the most part delicious. Make sure you bring snacks like gummy bears, jolly ranchers, dried pineapple, jerky and trail mix, as eating will boost energy and moods as much as water.
Footwear
Having good shoes and comfy socks is important for every aspect of backpacking. You will be on your feet most of the day, carrying more weight than you are used to over terrain that is not flat or level. That is why having good shoes for you and your child is extremely important. Hiking boots or shoes should be worn quite a few times before going on a backpacking trip, as most pairs need to be broken in.
Entertainment
Inevitably, there will be a time between dinner and bedtime when you will need to occupy your time in the woods. Normally, you could take a walk around camp and explore, but after a day of backpacking, sitting around camp might be more appealing. If you do just want to sit around camp, make a fire, play cards or tell stories about your childhood. Your kids might not seem interested, but it was at moments like this that the world's history was passed down to future generations. This is special time for you and your family, free from distractions and perfect for that illusive family bonding time.
Safety
Safety while backpacking is important, which is why bringing a first aid kit and knowing how to use it is required. If you do already have a first aid kid, double check to make sure all the supplies you need are in it. Backpacker Magazine put together a great and simple list of what you should have for emergencies. Remember that cell phones will more than likely not work, so communication with the outside world is limited. That is why leaving a detailed itinerary with family, as well as sticking to the itinerary you gave to the rangers will be incredibly important if an accident were to occur.
Where to Go
Best Olympic National Park Beginner Backpacking Trips Near Thurston County
Upper Dungeness to Royal Lake
Directions to Trailhead: http://goo.gl/maps/fP24q
Distance: 14.6 miles
Camp Sites: 2 sites nearly 7 miles from trailhead
Best Camp Area: Royal Lake
What Makes it Great:  There aren't many backpacking destinations better than Royal Lake, especially not at just 14 miles round trip. Sure, you do have to hike 7 miles in a day to get to the first of two campsites, but once you are here, all the work will be worth it. With sweeping views behind you of the Royal Basin visible from camp, as well as walking past the amazingly gorgeous Royal Basin Falls, backpacking up here is the closest thing to perfection you might experience for the time and effort. With numerous deer and marmot sightings, spending a few days at Royal Lake will be great for family bonding. Be aware that this area is extremely sensitive to human use, so be careful, smart and follow all posted rules.
More Information: http://www.wta.org/go-hiking/hikes/royal-basin
Dosewallips River to Honeymoon Meadows
Directions to Trailhead: http://goo.gl/maps/hvgrT
Distance: Up to 29 Miles Round Trip
Camp Sites: Every 2 to 3 miles
Best Camp Area: Honeymoon Meadows
What Makes it Great: While the trail steadily climbs from 600 feet above sea-level to nearly 4,000 feet, the views and trail make this a fun experience for the whole family. Campsites are spread out more than anywhere else in the park, and for the first five miles the trail follows an old road that was washed out. The beginning sections of this trail are super easy and great to start backpacking on. For more advanced trips, continue up in elevation to Honeymoon Meadows near the base of the glaciated Mount Anderson. With great sunrises and sunsets, as well as deer, elk and a possible bear sighting, this region is the perfect place to get hooked on backpacking.
More Information: http://www.nps.gov/olym/planyourvisit/west-fork-dosewallips.htm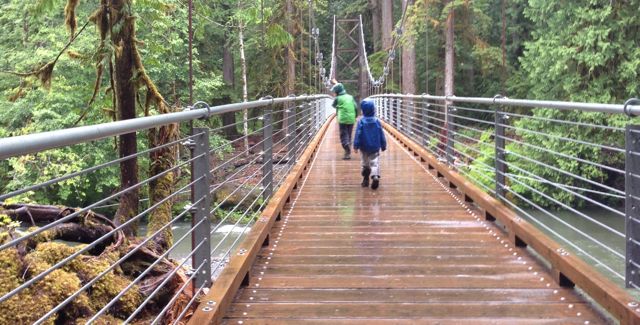 Staircase to Home Sweet Home
Directions to Trailhead: http://goo.gl/maps/00fWk
Distance: Up to 24 Miles Round Trip
Camp Sites: Every 2 to 4 miles
Best Camp Area: Nine Stream
What Makes it Great: Staircase is commonly done by youth groups and boy scout groups, but don't let the popularity fool you into thinking this is an easy trek. Skirting the Skokomish River the entire way, this well-maintained trail is perfect for those looking to get a little more from backpacking. With campsite every few miles, taking your time to get to Home Sweet Home Camp, which sits near First Divide is an incredible experience. Even if you don't make it to Home Sweet Home camp, the tower fir and cedar trees along the route will impress everyone. Highlights also include bridge crossings over creeks and the Skokomish River.
Quinault's Graves Creek to Enchanted Valley
Directions to Trailhead: http://goo.gl/maps/g5oL5
Distance: 27 Miles Round Trip
Camp Sites: Every 3 to 4 miles
Best Camp Area: Enchanted Valley
What Makes it Great: This backpacking trip is the quintessential backpacking experience of Olympic National Park. Following the always gorgeous Quinault River, head through old growth timber, across beautiful cascading creeks and even cross a deep box canyon on a wooden bridge on your way to a waterfall-flanked valley. While the main draw of this hike tends to be the Enchanted Valley Chalet (now sitting precariously on the banks of the Quinault River), the entire region is known for elk, bear and waterfalls tumbling down the rugged cliffs on the opposite side of camp and the river. Sitting here is truly a magical family backpacking experience that everyone should have.