Submitted by Amazon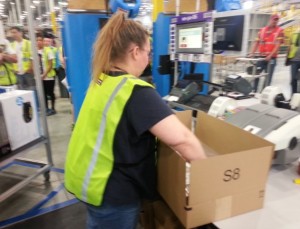 Amazon confirmed today that its new 1 million-square-foot fulfillment center in DuPont, Washington, has shipped its first customer order, a reversible outdoor tarp, to a customer in South Carolina. Amazon has hired more than 150 full-time employees at the fulfillment center and expects to continue hiring.
Median pay inside Amazon fulfillment centers is 30 percent higher than jobs in traditional retail stores. Employees also receive a comprehensive benefits package, including health care, 401K and company stock awards. Amazon offers full-time employees innovative programs like Career Choice, where it will pre-pay up to 95 percent of tuition for courses related to in-demand fields, regardless of whether the skills are relevant to a career at Amazon.
To find more information about Amazon's hiring plans for the DuPont fulfillment center, click here.
The fulfillment center specializes in shipping large items, such as canoes and televisions to Amazon customers.