Submitted by Amazon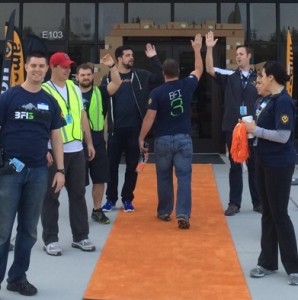 Amazon rolled out the orange carpet last week to welcome new employees who are to begin working at the DuPont, Wash. fulfillment center.
By the end of summer, the 1 million-square-foot fulfillment center expects to hire hundreds of associates who will pick, pack, and ship large items to customers—anything from canoes to televisions.
And due to neighboring Joint Base Lewis-McChord, one of the largest military installations on the west coast of the United States, more than 50 employees with military backgrounds currently fill hourly and salary positions at the DuPont fulfillment center.
This is just one example of Amazon's robust recruiting program, which has an ongoing commitment to hiring veterans and military spouses across the country.
Median pay inside Amazon fulfillment centers is 30 percent higher than jobs in traditional retail stores.
Employees also receive a comprehensive benefits package, including health care, 401K and company stock awards. Amazon offers full-time employees innovative programs like Career Choice, where it will pre-pay up to 95 percent of tuition for courses related to in-demand fields, regardless of whether the skills are relevant to a career at Amazon.
Individuals looking for information on applying for a position at Amazon should visit www.AmazonFulfillmentCareers.com.