By Kate Scriven
The weather begins to warm, the daylight stretches well into the evening, watermelons are in the stores, and the kids are (finally) out of school.  It's officially summer.  While we relish the BBQs at home and backyard slip-and-slides, we also hit the road in search of adventure near and far.  When planning this year's day trips and weekend getaways check out all that Thurston County has to offer.  Even if you've lived in Olympia, Lacey, Tumwater or beyond all your life, a day of "playing tourist" is worth your while to explore some of the counties best kept secrets as well as its most beloved favorites.
Family Friendly
Olympia and the surrounding cities are characterized by their family-focused vibe.  From our many festivals and parades to the abundance of parks and trails, the county as a whole is set up for families to enjoy.  A highlight is the popular Olympia Farmers Market.  The only market in Washington State that is vendor owned and operated, the 38 year old anchor of the Olympia waterfront includes 7 restaurants, live music, fresh produce, hand-made retail items, seafood and much more.  The waterfront boardwalk and newly revamped Percival Landing Park make it a perfect day trip for your brood.
Bring the bikes or boots and explore the nooks and crannies of Thurston County on one of the many dedicated hiking and biking trails.  The Chehalis-Western Trail is paved and lengthy for longer bike rides as is the Woodland Creek Trail.  Numerous parks throughout the county include wooded areas and nature trails perfectly sized for little legs and many end with the reward of time on the beach. End the day back downtown strolling the avenues lined with unique local shops and family-friendly restaurants.
For the Kids
One of Olympia's newest venues is the Hands On Children's Museum.  This award-winning museum is as fun for adults as kids.  The vast open spaces and interactive exhibits designed for toddlers through teens make the museum worth the drive.  Opened last fall and expanding throughout the summer is the Outdoor Discovery Center with driftwood forts, a Puget Sound "beach," and an interactive stick sculpture by artist Patrick Dougherty.  Plan your visit to the HOCM during their annual Sand in the City event to view professionally crafted sand-castles and attend the weekend-long beach party designed with your kiddos in mind.
And don't forget to throw in the swim suits.  Adjacent to the museum is the East Bay Public Plaza sporting a man-made "stream" complete with bronze salmon and otters frolicking among the boulders.  Kids can cool down while adults learn about this first, and only, recreational water feature in Washington State using reclaimed water.  Visit LOTT's WET Science Center just next door where kids and adults alike can learn where their water goes when it disappears down the drain.
Learning and Honoring
Olympia is Washington State's Capital, and with that distinction comes a host of opportunities to learn first-hand about our government, visit the impressive buildings that house it, and take the time to reflect on how our state (and nation) became what they are today.  Kids love racing up the capitol building steps, but are stilled once entering the rotunda.  To stand and gaze at the inside of the dome is an experience not to be missed.
On the capital grounds are numerous memorials to visit offering opportunities for discussion and reflection about those who gave their lives so ours could be better.  Visit the Korean War Memorial, Washington State Law Enforcement Memorial, POW/MIA Memorial, WWII Memorial, Winged Victory Memorial (in memory of those who served in WWI), and the Vietnam Memorial.  With the campus' downtown location, pair your government learning with window shopping or locally made sweet treats from local bakeries and ice cream parlors nearby.
Off campus, the county is teeming with historical museums and buildings.  Visit the Crosby House for "living history" lessons.  Take in vintage aircraft at the Olympic Flight Museum.
Hit the Water
A true highlight for any journey to the Puget Sound's southern tip is simply enjoying the area's natural beauty, which is often best seen from the water.  Bring your own boat south and dock at Boston Harbor Marina and enjoy a beer on the deck, rent a kayak or stand-up paddle board (SUP), or view the spectacular 3rd of July Fireworks show.  Come closer to town and moor at Percival Landing where you can walk to terrific restaurants, theaters, and shopping.
Coming by car?  Opportunities abound for kayak and SUP rentals and public beaches are perfect for picnics and tide-pool exploration.  When in Thurston County, find the water.  It's one of our most precious resources.
"Don't Miss" Events
Thurston County's summer months are packed with festivals, fairs, and fun.  To access a full list for 2014, click here.  Want a sneak peek?  Here are a few of our favorites:
Only in Thurston County
Some things in Thurston County are uniquely ours, like the Mima Mounds Natural Area Preserve.  These round, dome-like mounds found in a protected prairie area are a mystery to scientists and a delight to visitors.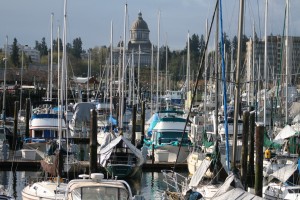 Wolf Haven International is one of only a handful of places dedicated to preservation and conservation of wolves in their natural habitat.  Visiting the wolves, hearing them howl, is a highlight for any visitor.
Strawberries.  The glorious, dark-red, juice dripping down your wrist kind of strawberries.  It's true that strawberries grow all over the world, however Thurston County residents know that come June, Spooner Berry Farm's strawberries appear at roadside stands and you get them while you can.  The flavor can't be adequately described in words.  Just know that they are worth the drive.
Summer is beginning and there are weekends just waiting for you to discover the treasures of Thurston County whether you are visiting from across the country or just across town.  This list is just the beginning of exploration, excitement and enjoyment found at the far end of the Puget Sound.