By Katie Doolittle

Spring in Tumwater on a sunny Sunday afternoon: pick-up trucks and SUVs speed down Deschutes Parkway while a nearby woman in full Victorian mourning garb waves at passing cars.
This visual incongruity is par for the course at Crosby House, a local historical landmark situated beside a freeway onramp. The private-residence-turned-museum is open April through October. Once a month, local living history enthusiasts provide a special interactive experience for visitors.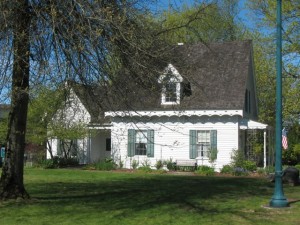 Beverly York is the force behind the living history program. After touring Crosby House several years ago, she felt inspired enough to contact the museum operators, Chapter #4 of the Daughters of the Pioneers. "[The house] had such a wonderful story to tell of its first family," York recalls. She wanted a chance to bring that story to life. Accordingly in 2010, York and three others "donned our 1855 clothing, brought our handiwork from the era, and shared with visitors. Visitors were very interested in what we were doing. Our hostesses realized the value of reenacting on their site."
The reenactors' passion is truly inspiring. Their research goes far beyond that of an armchair enthusiast. In addition to internet and library research, they teach one another through associations, events, and publications. They also share the oral histories and traditional skills passed down through their families.
Much of the information traded between living historians comes from little-known and/or local sources. For instance, when York is at Crosby House she portrays Mrs. Mary Lincoln Crosby, a sea captain's widow and mother of the home builder. As part of the effort to fully embody her "character," she's tracked down papers written by maritime trading scholars in Portland. Such meticulous investigation is necessary, as reenactor events are "visitor-led." That means that reenactors must respond to visitors' interests, which cannot necessarily be anticipated in advance.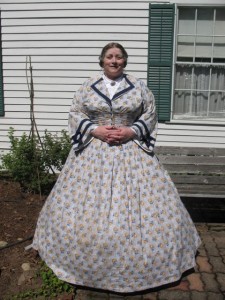 "We do our level best to portray people honestly and fairly, not to bring in our own modern day assumptions," says York. One question that guides her own research and reenactment is "How would we like to be portrayed a hundred or a hundred and fifty years from now?"  She also notes, "All reenactors are a work in progress. We love to share our journey of discovery, so when you visit a reenactment please do ask questions!"
Then, of course, there's the fashion.. a whole research area in and of itself.
York clarifies, "Reenactors work hard to recreate clothing from their era. It's called 'period correct clothing,' not 'costume.'" In other words, the living history enthusiasts at Crosby House aren't just mimicking a look. Their outfits are historically accurate–yes, down to the underwear!
No, I'm not kidding. Accurate undergarments are important for several reasons. First, nearly every Victorian woman from age 16 to 60 wore a corset. "The whole look 'hangs' on it," York says. Also, period-correct clothing must be tailor-made to suit the individual, meaning that living history participants must learn to sew. Petticoats provide great practice for beginners. "It's a good way to learn. No one sees them and you will learn a lot by making them."
When I meet her, York is wearing a blue floral day dress that she made herself. "How do you drive in that?" I wonder aloud.
York smiles. "I have a van, which does fine accommodating the full hoop skirts," she says. Not surprisingly, she has several amusing stories about being out and about in nineteenth century ladies' wear. York recalls one particular morning. "A dear friend and I stopped by McDonald's to grab breakfast. A man and his son asked if we were a special religion or something."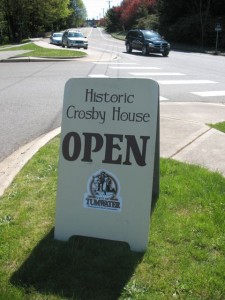 She continues, "I love the way people respond to my dressing as an 1860s lady. It softens them up considerably. They open doors. They take time to stop and visit, wanting to know more."
"What is 'the point' of living history?" I ask.
Of course there's the general enjoyment and resulting camaraderie that comes from pursuing any interesting hobby. Additionally, reenacting provides a unique opportunity to learn about and share the lessons of the past. York says that, through appreciating the past, we can avoid our predecessors' follies while preserving their knowledge and adopting their positive behaviors. "Essentially, the call for 'shop local,' 'eat real foods,' and 'eat in season' are buzzwords today. Then, they didn't talk about it. They just lived it." She adds, "They worked and gardened, which was good for the soul. They didn't have a membership at a gym–they walked a lot." Ultimately, York believes that reenacting encourages "a simpler, more enjoyable and sustainable lifestyle" and thinks it can help us to "appreciate all we have, realizing we don't 'need' most of it."
Do yourself a favor and visit Crosby House this season. York and her fellow living history enthusiasts are well worth the trip!
The Crosby House is open April through October on Friday and Sunday, 1:00pm to 4:00pm. A $2 donation is suggested. Check the Crosby House Facebook page for up-to-date information about on-site living history events.