By Laurie O'Brien

When my husband and I first moved to this area in 1997, we heard about a wonderful place just a few miles from our home. Wolf Haven International has been working for wolf conservation and education since 1982. They offer year round programming, but for various reasons, it took us almost 16 years to make the trek out to Tenino to visit this unique Thurston County attraction.
I'll cut to the chase and state up front that if you haven't made the effort to visit Wolf Haven, you should bump it to the top of your list of things to do. This is a one-of-a-kind facility, drawing locals as well as out of state and international visitors to our area.
The public is invited to visit Wolf Haven during their regular operating hours. Sanctuary tours leave the gift shop every hour on the hour, and, except for large groups, reservations are not taken. Knowing that the first tour on Saturday was scheduled to start at 10 a.m., my husband and I, plus an out of town guest, arrived early hoping to be part of the first group.
We were lucky to be the first visitors of the day.  Without any other visitors, we were rewarded with a private tour. Our guide, Trista Coomes, has been a volunteer at Wolf Haven for two and a half years. Her passion for educating the public about the role wolves play in the ecosystem was evident as she gave us a one hour condensed course in wolf biology and ecology. Included was information about why wolves are still considered an endangered species, and why reintroducing them into the wild has been controversial.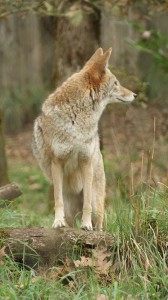 There are over 50 resident animals at Wolf Haven, but only nine pairs are part of the sanctuary visit. Because wolves live in packs in the wild, and because they mate for life, each enclosure at the sanctuary is the home to one male and one female. Each animal has a unique story, but all are captive born and most were privately owned before coming to Wolf Haven.  According to Trista, rescuing captive born wolves from roadside attractions and living life alone in a cage is "… the most important part of what we do. Wolf Haven is able to provide them with proper care and companionship with other wolves."
The first pair of wolves visitors encounter consists of London and Kiawatha, the alpha pair of the Wolf Haven pack. Trista explained that London came to them via a Hollywood stunt man who thought he could train a full blooded wolf for film work. He quickly learned that while a domestic dog is willing to submit to a human, a wolf's instinct is to continually challenge for dominance. Adding to the confusion is the wolf's natural instinct to retreat when approached by humans. Because of this, most of the wolves we see in movies are either wolf-dog hybrids, or they have been computer generated.
Also included in the tour are Mexican grey wolf and red wolf pairs. Both of these subspecies were near extinction before conservationists intervened, and Wolf Haven is now one of only a few pre-release breeding facilities for these rare animals.
Although wolves are natural predators of coyotes, a pair of captive born coyotes also has a home in the sanctuary. Because they exist in their own enclosure and don't breech into the wolves' areas to compete for food, Carosal and Cody are able to live in relative harmony with the pack. But, Trista tells us, they do manage to occasionally raise the hackles of the wolves in the area next to theirs simply by teasing them, running back and forth near the double fence that separates the two areas.
One of the lessons learned during the tour is that for a long time coyotes only lived in the southwestern part of the United States. When the wolf population was decimated in the late 1800s and early 1900s, coyotes began moving north and east and now inhabit nearly all of North America, occupying areas where wolves used to live.
After our official tour was finished, we took a short walk through the Wolf Haven prairie and Mima Mound habitat, adjacent to the sanctuary. Exploring the hidden tangle of roots and branches under the magnificent grandfather tree located across the field was the perfect end to a wonderful morning.
Wolf Haven encourages photography but extra equipment cannot be brought into the sanctuary except on special tours designated for that purpose. I was in amateur photographer heaven the whole time we were there, and I invite you to take a look at some of the photos I captured.
Now that we finally made it out there, I can hardly wait to go back to Wolf Haven. Next time, I think we'll go in the spring. The early winter months are perfect for seeing the wolves in their winter coats, but now I want to see the wild flowers in bloom on the prairie. What an incredible gem we have right here in our own backyard. Visit. You won't regret it.
To learn more about Wolf Haven, click here.  Wolf Haven is closed for the month of February and hours of operation for all other months can be found here.