By Tom Rohrer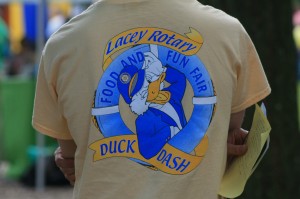 Seeing people come together for a day of fun is a special community experience. That experience can be bolstered if such an event is for charity.
For 25 years, the Lacey Rotary Duck Dash has raised funds for local and international charitable causes while providing a day full of prizes and entertainment to the local community.
On Saturday, June 7, 12,000 rubber Ducks will hit the water at Tumwater Falls Park, giving participants a chance at a wide variety of prizes.
For $5, community members can purchase an individual duck and be in the running for prizes such as a Ford Mustang, a paid vacation to Hawaii, flat screen televisions and gift certificates to local restaurants, among many others. Ducks will be dropped at 4:00 p.m. and a winner won't be drawn until a least 50 have crossed the finished line.
After another large turnout at last year's event and with an impressive collection of prizes on tap for Saturday, Rotarians are pleased with the current state of the event.
"Our Duck Dash wouldn't be success without sponsors and we have some great ones that allow us to have all prizes donated," said Lacey Rotary Public Relations Chair Kelly Golob. "100 percent of every dollar spent on ducks goes to a charity and I think that's part of the excitement.  The community has really been supportive and we like to give that support back."
Only charities and causes with a direct connection to Lacey Rotary are selected, making the groups international and local efforts even more impressive.  The Thurston County Food Bank, Boys & Girls Clubs of Thurston County, South Sound YMCA and Big Brothers Big Sisters of Southwest Washington are among the many recipients, while community projects such as overlooks on the Chehalis Western Trail receive funding as well.  In addition to the local donations, the Lacey Rotary has provided scholarships to students in Mexico and funded clean drinking water facilities in Africa.  Like all other branches of Rotary International, the Lacey chapter also fundraises towards eradicating polio worldwide.
"It's a global impact we're having but you can see the effect we're having locally as well," said Golob, who was on the construction crew for the Chehalis Western Trail overlook at Smith Lake.  "We're extending our reach but we know how important our local organizations are as well."
Adding to the celebratory atmosphere at the Duck Dash is the array of entertainment and food vendors.  Local high school and middle school bands will be performing throughout the day, as will Rich Wetzel's Grooving Higher Orchestra.  There will be a kid's zone featuring a fishing pond.Food options include barbecue, Mexican cuisines and fair style type food.  Falls Terrace Restaurant will be a new addition to the food selection and patrons can purchase coffee from a local vendor as well.
"It's nice for our club to offer a day and an event like this that people can come out and enjoy. Part of reason we do this is to provide a community event like this where people can get out and do something," said Golob, a member of the Lacey Rotary for the last four years. "As a Lacey Rotarian, I'm proud we've been doing this for 25 years and that the community has gotten out to support it.  There are other types of fairs out there but this has a unique feel to it."
Throughout the year, Lacey Rotary members visit local schools and organizations they've donated to, providing Rotarians an opportunity to witness firsthand the impact they've had on the community.
"We want to know where our support is going and how these (causes) develop," said Golob, a chiropractor, practicing at Tumwater Chiropractic Center.  "It keeps us connected and shows (the Rotary members) what's needed and who we can help.  All of these organizations have a direct connection to us and we take those connections very seriously."
Being a part of the event for nearly half a decade has given Golob a greater appreciation for the area he grew up in and the people who make it special.
"All of the support we've received, it says a lot about the community and the character of all the people in it," he said. "It gives me a lot of pride to be involved in Lacey Rotary, to be from the area and to call it home as well."
For more information on the event, please visit https://www.facebook.com/Duck.Dash.