By Gale Hemmann
"I have gone to my favorite bookshop for years, always finding the one book I wanted – and then three more I hadn't known I wanted." If you, like me, are a book lover, you can identify with this quote by author Mary Ann Shaffer. With the quest for some new reading material in mind, I set out on a "book tour of Thurston County," to discover and share our area's independent bookstores.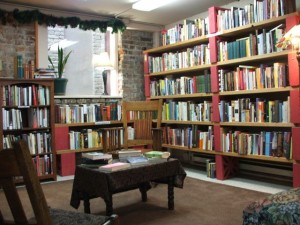 With the advent of the e-book, chain retailers and online shopping, it's a testament to Thurston County readers that we're able to support so many successful, locally-owned bookstores (many of which have been around for decades). There are many reasons to shop local, and books are no exception: every purchase you make at your local bookstore helps them thrive.
What's more, I found that our local bookstores offered carefully curated selections, dedicated staff and welcoming atmospheres (and even a resident pet or two). Each store is unique, with its own specialties, and every store I visited offers used books, which are both budget- and eco-friendly.
If you haven't set foot in a local bookstore for awhile, you'll be surprised.  They are finding many ways to keep up with the times, from searchable online inventories to stocking the latest hit series.
This ThurstonTalk writer hit the pavement in Olympia, Lacey, and beyond to explore the best of what our local bookselling community has to offer. Here are some highlights from the road.
Olympia
Browsers' Book Shop: This charming bookstore is tucked away on Capitol Way, and has been a go-to spot for local bibliophiles since 1935. One of the area's oldest businesses, a trip here is perfect pick-me-up for the avid reader. With soft music playing, helpful staff, and Daisy the dog ready to greet you, you'll enjoy browsing their large selection of new, used, rare and out-of-print titles. Their local history section has some real gems, and their literature, poetry and children's sections are also robust. Owned by Jennifer Stewart, this shop is happy to help you find what you're looking for. And if they don't have a title in-store, they will special order it for you or notify you when it comes in.
Orca Books offers an impressive section just for kids.

Orca Books: This downtown Olympia classic recently celebrated 20 years in business. With a schedule chalk-full of author readings and events, a diverse and fascinating book selection (both new and used), and a knowledgeable staff, it's easy to see why. Engaging book recommendations by the staff dot the shelves, helping you find a new favorite. Orca Books offers a large section just for kids, good for hours of exploration. They also feature an array of handsome journals, locally-made greeting cards, and more. You can browse their inventory and shop online (they also sell Kobo e-books through their website), and they're happy to do special orders. Looking for some bookish company? They host the Orcapod Reading Group and the Orca Writes group for creative writing.
De Colores: De Colores (meaning "of colors" in Spanish) is Olympia's multicultural bookstore and it is a treasure. Locally owned by Griselda and Robert Perretz-Rosales, this cozy, unique shop features books on world cultures, books in just about every language, and bilingual books for children and adults. Originally staffed by volunteers, they are truly community-minded, hosting cultural events throughout the year. A local fixture since 2002, De Colores is highly worth stopping by for a visit if you're looking for some globally-inspired literature, learning a new language, or looking for a gift. They also feature CDs and handmade craft items.
Lacey
Lassley's Paperback Exchange offers a generous trade-in system.

Lassley's Paperback Exchange: I stopped in at this customer favorite, which has been around since 1989. Family-owned by Dan and Debra Lassley, they feature a broad selection of gently used paperback titles sure to whet any reader's literary appetite. As I browsed the amply-stocked shelves (over 150,000 books total), I found the sections well-organized by category and alphabetical order. They feature rare and out-of-print titles, as well as complete series in many genres. Clean and user-friendly, with a generous trade-in system and a hearty children's section, I could see why people come from all over Puget Sound to shop here.
Yelm
A Novel Bookstore: Nestled in the bucolic community of Yelm, this compact bookstore has been around for seven years and offers a little of just about everything. Owned by Bob and Janice Maddox, they are stocked wall-to-wall with used books, specializing in complete fiction series and hard-to-find titles. They also feature nonfiction, children's books and holistic healing titles, with new books added daily. The bookstore has a laid-back vibe and Bob was happy to show me around. They also offer a trade-in program for store credit. A Novel Bookstore is located right across from the pleasant Yelm City Park – why not meander over there to read your new literary finds?
Also, don't forget your local college campus bookstores for unique book finds and more. The Evergreen State College's Greener Bookstore, for example, carries much more than textbooks, including a selection of general interest books, art supplies and a variety of other items you won't find anywhere else.
Another budget-friendly option for finding books is to swing by the "Friends of the Timberland Regional Library" used book sales, held regularly at branches across Thurston County. You can pick up great used books from other readers in our community, and help support the library too.
So, what did I find at the end of the book trail? As I drove home from my last bookstore visit, I reflected: I had gained a few surprising new finds, picked up a couple of gifts for loved ones, and added quite a few titles to my "to-read" list. But I was also reminded of the pleasures of browsing a good used bookstore on a rainy spring day, the excitement that comes from discovering something unexpected, and just how cool and hard-working our local booksellers are.