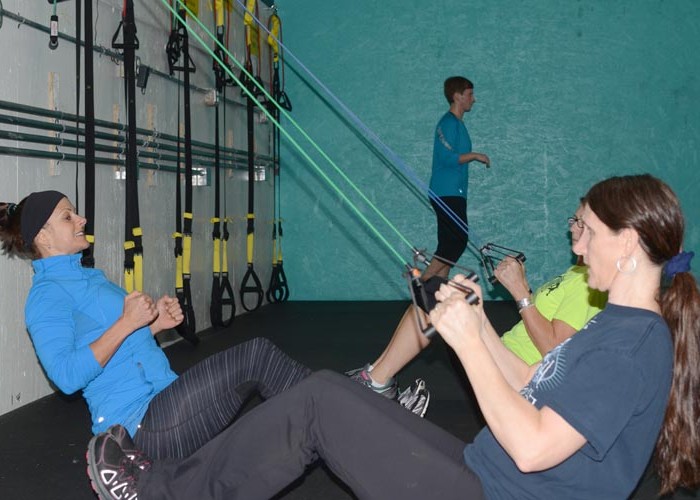 Have you been working out for a long time but feel like you have hit a plateau?  Try a high-intensity group fitness class to make a breakthrough.
A barrage of recent studies has shown that high-intensity interval training (HIIT) can quickly and efficiently decrease body fat, improve muscle tone, and increase cardiovascular endurance.
A wellness center in Oregon conducted a recent study recruiting 21 adults to participate in a HIIT group exercise program three times a week for ten weeks. The average class lasted 30 to 45 minutes and participants were told to take mini-breaks outside the structured rest periods. At the end of the study, participants showed reductions in body weight, body fat percentage and body mass index. The group also experienced reductions in circumference measurements of the upper arms, chest, waist, and hips.
Edge Fitness in Tumwater can help you reach your fitness goals through group high-intensity interval training. The facility offers tons of opportunities for private, small group and partner training sessions as well as larger group HIIT boot camps for all fitness levels.
Amanda Price-Salazar, owner of Edge Fitness, is a certified personal trainer, nutritionist, transformation coach, and motivational speaker. She understands the importance of proper exercise and nutrition habits and shares her knowledge, encouragement, experience and skills in promoting a life-long healthy lifestyle.
Price-Salazar has helped clients take their fitness to the next level with guidance tailored for their fitness goals.
"I had a client last summer that hadn't done a lot of strength training, but did a lot of cardiovascular walking and workout videos," Price-Salazar said. "She decided she wanted to run her first five mile race."  Price-Salazar reports she went from an average 12-minute mile to a 9.5-minute mile after attending one small group training session and one boot camp class weekly for 12 weeks.
Her client felt stronger, more energetic and significantly improved her overall range of motion. These results came from adding one group training session and one boot camp class each week to her training program.
Anyone can participate in boot camps and small group personal training. The oldest person in Price-Salazar's boot camp/training program is 70 years old and the youngest is 11.  She is a stickler for good technique, proper form, and provides modifications for those new to her programs or who are dealing with any type of previous injury, ensuring they get an effective workout.
Edge Fitness welcomes everyone.  "It's a boot camp for people of all ages and all fitness levels."