By Gale Hemmann

Formed in 2012, the Olympia Film Collective already boasts a hearty array of accomplishments. They have created seven short films, and are working away on new projects. They won two awards at the Tacoma 72-Hour Film Competition. And, perhaps most importantly, this eleven-member group is revitalizing film culture in Olympia and around South Sound.
I sat down with three members of the collective at Batdorf & Bronson recently to hear how they came together and learn about their current work. In talking with Riley Gibson, Jeff Barehand, and Syd Boyle over a cup of coffee, I got to experience a microcosm of what it's like to be in the group. The discussion was lively and animated, with a clear sense of the group's camaraderie and enjoyment of each other's company. The group is focused and united in their efforts, yet not afraid to discuss diverse viewpoints with each other. They tell me that this foundation, of friendship and a serious love of filmmaking, is what brought the group together and what enables them to be so productive.
The idea behind the Olympia Film Collective (OFC) is that it is a group to help local filmmakers connect and support each other, while working on shared projects and building a vital local film scene. The group is open to everyone. In addition to the three members I met with, the group also contains Russell Brooks, Dylan Glockler, David Barehand (brother of Jeff Barehand), Ryan Walker, Jeremy Pawlawski, Josh Lalley, and brothers Brandon and Trevor Cartwright. Each member brings film experience and a unique set of skills to the table (from scriptwriting to acting to logistical organizing), and collectively, they have quite a strong set of filmmaking chops.
Their saga started with their debut film, "The Sweet Sorrow." Filmed in downtown Olympia, the movie brought the group together and inspired them to form a collective. (The initial group members met through a Craigslist ad, and met new members at various venues around town – everyone just naturally "clicked.") Their films are diverse, ranging from funny to serious, and all share the group's mission of "capturing the beauty and vibrancy of the Northwest." The film "S.O.S.," which was partially shot at Procession of the Species, was entirely written and produced in 72 hours. Their films feature professional-grade cinematography, talented actors, and innovative story lines that reflect the unique culture and flavor of Olympia.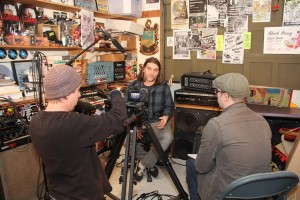 OFC debuted several short films at the Olympia Film Festival's "Locals Only" event last fall to much audience fanfare. They also led a workshop on creating your own jibs and dollies (filmmaking equipment), with the goal of empowering other local filmmakers. This is but one example of their community-minded spirit. The group also networks as widely as possible with other filmmaking groups in Tacoma and beyond.
The group is currently working on production of a music documentary called "20 A.C.," about life in the South Sound music scene twenty years after Kurt Cobain's death. Filmed in Olympia and Grays Harbor County, the film features interviews with five area bands and is directed by Josh Lalley. On April 25, the bands will come together with the OFC members for a unique event at Olympia's Capitol Theater as part of Arts Walk. The bands will play live, including covers of Nirvana songs, and OFC will be there recording for additional footage for the movie. The event is open to the public and proceeds will help support OFC's work. The group is excited about the event, and it promises to be a great showcase of local entertainment for Olympia music-lovers.
Other upcoming projects include their first full-length feature film, "Water's End," shot in film noir style (with Syd Boyle and Jeremy Pawlawski co-writing the script). OFC member Jeff Barehand is in the pre-production stage of "End of the Road," about a cop on a Native American reservation. OFC also supports individual members' projects – there's no "auteur ego" here, only cooperation and support.
Olympia has always been home to creative artists of many persuasions. While Olympia has produced several notable independent films in the past, the group felt there was a need for a cohesive film effort that would bring together all local filmmakers. By sharing resources and coming together for projects, they are able to make high-caliber films, and have a great time while doing it. They pool their equipment, take turns with various roles in the filmmaking process, and definitely share some laughs along the way. Their "collective" model ensures that everyone's voice is heard and everyone gets to participate.
OFC says local businesses have been terrific in supporting their work. They are truly grateful for the downtown businesses who have offered filming locations (including the Brotherhood Lounge, McCoy's, and the Volcano Vapor Café), A-1 Rentals for their generous help with equipment, and Pizza Time for donating food to feed a hard-working crew.
OFC would love to have more people join their efforts. They are looking for directors, writers, actors, crew members, and also unique stories for film scripts. They are also looking for business sponsorships for their upcoming projects (this is truly a do-it-yourself operation, and all forms of support are welcomed, from meeting space to financial backing). The group encourages anyone who may be interested to get in touch with them.
To learn more about OFC's work, check out their website to watch their short films and trailers –each is full of surprises and takes a different look at aspects of life in South Sound. You can also catch their work on YouTube, and follow them on Facebook and Twitter. You may see this dynamic group around town, shooting one of their upcoming films – or, better yet, you can get involved in the action.