By Gale Hemmann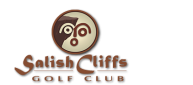 Banjo. Fiddle. Mandolin. Guitar. Whether you are a seasoned bluegrass aficionado or totally new to the genre, you want to hear the music of the Oly Mountain Boys. Serious about music and fun, the Oly Mountain Boys (OMB) are happy to provide you with an introduction to bluegrass, Pacific Northwest style. The five members of this high-octane group share a love for bluegrass music that is infectious, and their musical chops have helped them gain a strong following in Olympia and beyond.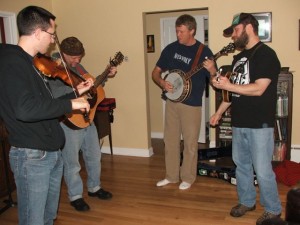 The band invited me to stop by their weekly rehearsal to interview them and hear them play. Arriving at Josh Grice's home in West Olympia, Grice (fiddle) and Tye Menser (lead vocals and banjo) invited me to sit down and talk before rehearsal started. They shared with me the band's history, passions, and current projects.
OMB formed in 2008, and they've worked a robust performance schedule ever since, as well as producing several live and studio albums. The five musicians come from diverse walks of life (Menser is an attorney by day; Grice works for the Washington State Department of Ecology), but they all bond over their shared love of bluegrass music.
The band members are especially excited to talk about their forthcoming album, White Horse (planned release in spring 2014). A major undertaking and a ground-breaking conceptual album, White Horse tells the life story of a fictional Washingtonian named Charlie McCarver. The album will be accompanied by a booklet with art and writing about Charlie McCarver contributed by local artists. The project aims to honor the historical tradition of bluegrass singing about the lives of everyday people, while in a local Washington setting. To the band's knowledge, this is the first time such a project has been undertaken, and they are clearly excited. Menser wrote the first three songs for the album over two years ago, and the band will be launching a Kickstarter campaign to support the album in February.
As Menser and Grice talked bluegrass and set up their instruments, the rest of the band members came in for rehearsal: Phil Post (bass, Dobro, vocals), Derek McSwain (mandolin and vocals), and Chris Rutledge (guitar and vocals). An affable and laid-back group, you can immediately see why the five musicians enjoy playing and hanging out together. The band began picking and singing, working on songs from White Horse. They throw it down with style and soul, making you want to get up and dance (even the bluegrass novice will find themselves instinctively tapping their toes).
All of the members of OMB are passionate musicians. They each bring years of musical experience to the table, from an eclectic variety of genres. In addition to playing with OMB, Post (who hails from the Ozark region) also plays with the klezmer band Erev Rav. A classically trained musician, Grice plays violin with the Olympia Symphony Orchestra, and Rutledge is a former electric guitar player.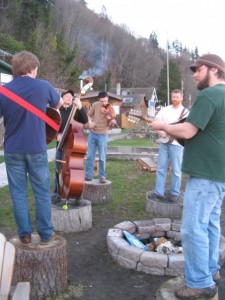 The band has worked hard to get where they are. They have served as regular performers at several local venues over the past six years, including the McMenamins Spar Café, Tugboat Annie's, and their current spot, the Pig Bar at South Bay BBQ in downtown Olympia. (They play regular Thursday-night spots to a filled-to-the brim house.) While they love these local gigs and consider their local fan base the absolute backbone of their success, they are also excited to have the opportunity for even broader exposure. OMB will be embarking on their first West Coast tour in February 2014, playing several shows in Oregon and California. Though the instrumentation may be complex, their mission is simple: spread the love of bluegrass to as many people as possible.
As Menser notes, bluegrass is a distinctly American musical genre, originating in Appalachia in the 1940's out of country music roots. It has since been infused with musical influences ranging from rock to jazz, and the genre saw a revival in popularity in the 1990s, drawing many younger musicians into the bluegrass scene. Today there are many different schools of bluegrass, including traditional, progressive, bluegrass gospel, and even "newgrass."
When asked if they identify with any particular genre of bluegrass, OMB says they eschew traditional labels in favor of their own blend of bluegrass – a little rock 'n' roll, and described by the band as everything from "revolutionary bluegrass" to "dreamgrass." They perform a good number of traditional songs (about half, by Menser's estimate), but are sure to mix it up at their shows with their original compositions.
When asked about their future vision of the band, Grice and Menser agree that the band wants to keep playing music together for as long as possible. Menser would like to see the band continue getting opportunities to play new audiences and gain exposure; Grice hopes the band will "keep reaching further" with their music. McSwain loves touring, and Rutledge loves playing local shows. Menser noted that in today's era, the band can write and record music in Olympia, and still get exposure to a broad audience: "There are no limits. We just want to let the band take off."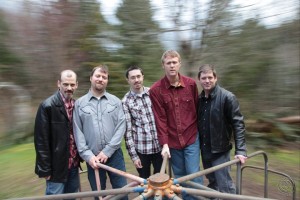 The Oly Mountain Boys are quick to extol the many virtues of bluegrass music. Menser says it is "timeless," because it is social music, can be played anywhere, and unites people around the common human need for music with lyrics about everyday life and a soul-stirring sound. Bluegrass offers room for improvisation along with underlying instrumentation and song structures that are unchanging, making it "a dynamic soundscape," as Menser notes.
I, for one, am a bluegrass convert.
To support the Oly Mountain Boys, you can visit their website for a list of upcoming shows, sign up for their newsletter, and read more about the White Horse album. You can also join them on Facebook and catch some of their music on YouTube.