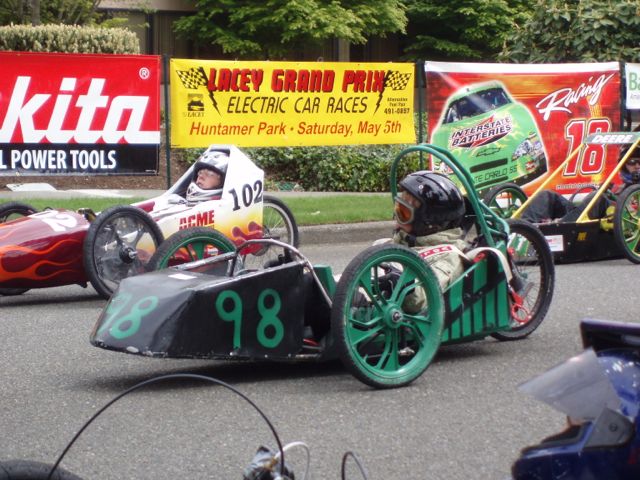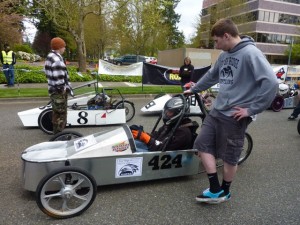 When the City of Lacey started their Alternative Energy Fair over 15 years ago, the technology showcased felt almost like science-fiction.  But now homes are powered by solar and wind power, cars fueled by biodiesel, hydrogen, and electricity, and no-one bats an eye.  Schools which once focused on the basics of reading and writing now offer students entrance into the awesomely titled Robotics Federation.  With the exceptional now commonplace, the Fair's founders realized it was time to re-charge things to highlight our amazing local educators, students, businesses, and talent.
Graeme Sackrison retired from the Employment Security Department and is now a self-proclaimed "compulsive volunteer."  During his 13 years on the Lacey City Council and time spent "engaged in city events" he discovered the Fair's founding event: River Ridge's electric car race, the 'Electrathon'.  This humble race soon became the Alternative Fuel Fair and then the Alternative Energy Fair.  But now that such things as green power and zero-footprint are commonplace, the founders decided to turn towards the vital new trend of STEM education.
STEM is an educational focus on the topics of Science, Technology, Engineering, and Math.  The results of this training can be seen locally in the global success of the Saint Martin's University Engineering program, Sunset Air's award-winning designs, and the LOTT Clean Water Alliance.  Says Sackrison, STEM is "important in economic development" and as such local groups, schools, businesses, and engineering firms are all invited to participate in this year's Lacey S.T.E.M. Fair & Grand Prix Electric Car Races on Saturday, May 3, at Lacey's Huntamer Park.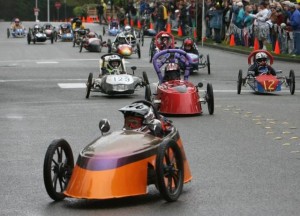 Carl Schlegel has been racing electric vehicles for 13 years, and teaching locally for almost 20.  He's currently a teacher at River Ridge High School and his students are the legacy of those first Electrathon inventors.  When attendance at the Alternative Energy Fair started to drop, he wasn't ready to "pull the plug on the kids" and is now a key player in the transition.  He believes that this shift will show the public that it's "just not shop programs anymore" but all too often "the public has no way to see that.  This will showcase some of the things these schools are doing."
Some of those things include internationally recognized robotics clubs, middle school experimental aircraft designs, and "things people can do, not just attend."  The fair will spotlight hands-on demonstrations and the work of award winning teachers like George Christoph.  Says Schlegel, there will be "as many things as we can do to showcase STEM—a lot of really neat stuff is going around."
Applications are still being taken for potential participants, relevant business promotions, and cars for the Electrathon America Lacey Grand Prix.  Questions and registration details can be directed to Jeannette Sieler at jsieler@ci.lacey.wa.us or 360-438-2631.  For more information, click here.