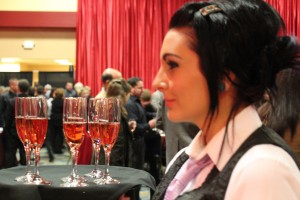 With the holiday season wrapped up and tidily put away, it's time for a little pre-Valentine's, adult-oriented celebration.  We all know the Lucky Eagle Casino as one of our region's go-to entertainment hot spots, but they are so much more.  For many years, they have been a hub of community service and charitable partnership benefitting many, many local organizations.
The management and staff of the Lucky Eagle strive for amazing customer service.  Their CEO John Setterstrom also believes in incorporating "charitable giving into the organization and the employees have really responded.  I think that's just one of the things that makes Lucky Eagle unique. We all live and work here, so it's natural to engage in our community."
This mindset is behind the upcoming partnership with the United Way of Thurston County for a winemaker's dinner and fundraiser called Straight from the Heart.  On January 25, the casino will host an evening of fine dining, wine pairings, silent and live auctions, and fellowship, all benefitting the work of the United Way.  For the first time in the event's five year history, tickets sold out weeks in advance.
Paul Knox, executive director of the United Way, eagerly looks forward to the night's festivities.  Says Knox "Straight from the Heart is about community members joining together to support United Way's mission to improve the lives of vulnerable families and individuals.  United Way helps fund over thirty programs at our nonprofit partners across Thurston County.  More importantly, we are engaging government and business colleagues to focus resources toward common goals together.  We are also recruiting and placing hundreds of volunteers with organizations across the region. In the challenging economic times everyone is facing, Straight from the Heart helps meet needs beyond what our individual donors and workplace campaigns are currently providing."
Lucky Eagle Food and Beverage consultant Shawn Ellis is designing the event and his years of skill and study are readily apparent.  He has designed and opened over 40 restaurants internationally and held directorship positions within 3 5-star hotels.  About the event, Ellis said "I was delighted to answer the call this year from the events original creator Mr. John Setterstrom.  Together with his very capable team at Lucky Eagle Casino we have endeavored to give the evening a new twist using artisan food and wine sourced from small farms and ranches.  The ability to both give back to the community through helping United Way and assist local growers is one of the more satisfying things I have had the pleasure of being involved with."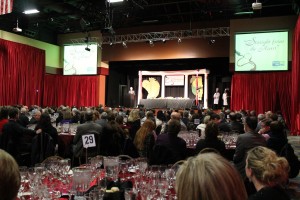 Pablo Bellon, Lucky Eagle's coordinator for this event, is excited for the evening's special guests as well as "an evening of heritage hand crafted foods, elegant wines, and good company. Straight from the Heart features special guest Michael Madrigale who was voted 2012 Sommelier of the Year from Food & Wine and Wine Enthusiast magazines. Before the meal is served, guests have the opportunity to bid on a wide variety of fantastic silent auction items. Later in the evening, guests may also participate in a dramatic and festive live auction emceed by local radio personality, Jerry Farmer."
After a long season of holiday gifts and family celebrations, it's good to remember those who aren't so blessed.  Events like Straight from the Heart allow us to reach out and benefit our neighbors while enjoying local celebrities, foods, businesses, and organizations.  That's certainly a win-win scenario for everyone involved.