Submitted by Providence St. Peter Foundation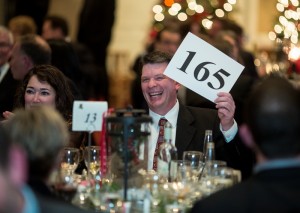 The 26th annual Christmas Forest raised a record $626,000, which benefits the mission of Providence to provide health care to all, with special concern for the poor and vulnerable. During the five-day event, more than 4,100 visitors visited during public viewing to see the trees and wreaths that were decorated by dedicated volunteers, many who have been involved for more than 25 years. During public viewing, 20 different artistic groups from the community delighted attendees, including Entertainment Explosion and Olympia Youth Chorus. It is estimated about 300 volunteer participated, contributing more than 10,000 hours to make the Forest a reality.
The 29 trees, 13 wreaths and other specialty items were auctioned off at the Gala Auction and Dinner, held Friday, Dec. 6. Also during the Gala, more than $228,000 was raised to create a permanent Cancer Survivorship Clinic. The Cancer Survivorship Clinic is designed to promote physical, psychological, spiritual and social well-being for those diagnosed and living with cancer.
"Everyone is thrilled," says Kasia Konieczny, director of Oncology Service Line for Providence Southwest Washington. "We've started to pilot survivorship care plans and the process for creating them. We're poised to hire an advanced registered nurse practitioner as well, who will help provide these new services when the pilot is complete. We are so grateful that the community has embraced and championed this effort for our patients."
Many of the trees and wreaths were donated back to the community. They can be seen in places such as the Thurston County Animal Shelter, SafePlace, and multiple locations at Providence facilities including the Emergency Center, Chemical Dependency Center and Pediatric Unit.
"We live in an amazingly generous community," says Ken Anderson, who, along with his wife, Nancy, co-chaired Christmas Forest this year, and own Coldwell Banker Evergreen Olympic Realty. "Everyone at Providence is inspired by this outpouring of support."