Submitted by Port of Olympia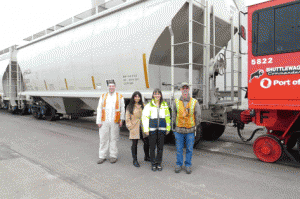 Port of Olympia is proud to announce the loading of the 100th rail car of 2013 on December 17, which is an all-time high for the Port.  The previous record for rail cars handled in recent history was 878 in 2004.
Compared to last year, the Port has tripled the number of rail cars handled.  The average this year has been about 85 cars per month.
The increase in rail car volume reflects the Marine Terminal's growth in business and jobs.  Through week 50 of 2013, Marine Terminal longshore hours are 68,000 which equates to 32 full-time jobs.  This more than doubles the longshore hours of the same period last year.  And, it beats the previous all-time high of 59,000 hours in 2004 for the same time period.