Submitted by Sunset Air Inc.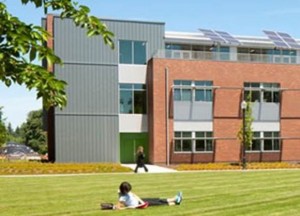 The newly completed engineering building at Saint Martin's University in Lacey, WA is the highest-rated LEED-certified building in the Western Hemisphere. The project met the most stringent of LEED© requirements, gaining Platinum status, with oversight by Sunset Air Inc.
The three-story Fr. Richard Cebula, O.S.B. Hall (Cebula Hall) was awarded 97 out of 110 possible LEED (Leadership in Energy and Environmental Design) points. Worldwide, the building placed third for all LEED-NC v2009 (newly constructed) buildings, only behind structures in Australia and the United Arab Emirates.
As LEED Administrator, Sunset worked with the design team to set sustainable design priorities and goals. Sunset Air led conversations on enhancing performance, heightening efficiencies, reducing environmental impact, and improving job site recycling/construction waste management efforts. Sunset Air's Ryan Cuoio, P.E., LEED A.P. ensured adherence to LEED standards throughout the design and construction process.
"LEED certification, given by the U.S. Green Building Council, is a prestigious designation for buildings with features that demonstrate environmental stewardship and social responsibility. These are also core values for Saint Martin's University and we are pleased to have been called on to share our expertise for their project," says Sunset Air's CEO-President Brian Fluetsch. "Congratulations to Saint Martin's University for demonstrating to others the affordability of employing green building techniques."
Remarkably, the construction cost of the building was $225 per square foot, dispelling the notion that LEED Platinum buildings cost an additional 15 percent or more than similar, non-sustainable buildings. On college campuses, construction costs for non-LEED-oriented laboratory buildings typically start around $275 to $400 per square foot, and go up — sometimes significantly.
"Cebula Hall is living proof the implementation of green building techniques can be economical," says Joseph Bettridge, P.E., vice president and director of engineering with Sunset Air. Bettridge, who was project executive during construction of the project, adds "It doesn't take a lot of 'green' to be green — just smarter choices and the commitment to optimize the design for the maximum benefit at the lowest cost."
Cebula Hall not only houses the Hal and Inge Marcus School of Engineering, the building itself is also a lab. Sunset Air designed and installed Innovative features that include: a geothermal ground loop, coupled to water-source heat pumps and in-floor radiant heating and cooling; a 90% efficient heat recovery ventilator that provides tempered ventilation to the entire building; a large roof-top solar panel system, allowing students to study tracking devices, solar orientation and the production of solar energy; and a photovoltaic array that produces more than 15 percent of the building's power, as well as provides power back to the electrical grid.
Additional innovations include a rain garden and open structure design so students can see the building systems at work. An interactive, online dashboard (http://buildingdashboard.com/clients/stmartin)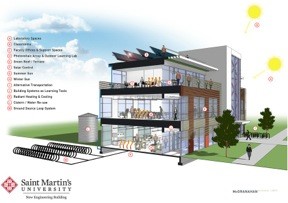 lets students instantaneously track all energy usage for the building.
Zella Kahn-Jetter, Ph.D., P.E., dean of the School of Engineering, describes Cebula Hall as a learning environment that is second to none — a high-tech building that functions as an interactive laboratory, designed with learning in mind. "With this wonderful facility, we are showing our students that they can be outstanding engineers and, at the same time, they can leave the world a better place than the one they came into," says Kahn-Jetter. "This is the kind of engineer Saint Martin's University aims to create."
Sunset Air is no stranger to high-level LEED certifications. In 2006, using just emerging multi-discipline design alternatives, Sunset's sales and administration building was awarded the first LEED Gold award for a privately owned and occupied building in Washington State. They are also one of only a handful of companies, thirteen to be exact, that are ESCO certified in Washington.
ESCOs (Energy Savings Companies) provide a broad range of comprehensive energy solutions including design and implementation of energy savings projects, retrofitting, energy conservation, energy infrastructure outsourcing, power generation and energy supply, and risk management. Sunset performs in-depth analysis of properties, designs energy efficient solutions, installs required elements, and maintains the system to ensure energy savings.
In addition to Sunset Air, the design and construction team for Cebula Hall included: McGranahan Architects(Tacoma, WA); Forma Construction, formerly Berschauer Phillips Construction Company (Olympia, WA); Sunset Air(Lacey, WA); PCS Structural Solutions (Tacoma, WA); andSCJ Alliance, formerly Shea Carr Jewell (Olympia, WA).Carrier, the world leader in heating, air-conditioning and refrigeration solutions, was the supplier for all the buildings HVAC needs.
Sunset Air Incorporated was founded in 1976 and has grown into one of the premier mechanical companies in the Northwest, employing nearly 200 people. As an integrated energy services company, Sunset Air provides a complete range of commercial and residential services including heating and air conditioning (HVAC), energy audits, cost/benefit analysis, engineering and design, maintenance and service agreements, monitoring and verification, energy management systems, warranty enforcements, refrigeration, metal fabrication, gas fireplaces, ventilation, windows and doors.