By Jennifer Crain

As a kid, Leatta Dahlhoff learned to work with her hands. Childhood asthma and allergies kept her from long hours of outdoor play, so her caregivers put a crochet hook in her hands or sat down to pore over the periodic table with her.
The projects piled up: crocheted potholders and flowers gave way to shorts, shirts, and dresses she sewed herself.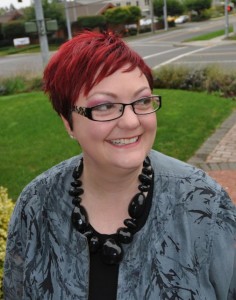 When other kids were still bringing teddy bears in for show-and-tell, she was showing her classmates how the energy in a pickle could power a light bulb.
Dahlhoff, who works as a toxics reduction specialist for the Department of Ecology, owes her parallel career as a community volunteer to those productive childhood afternoons. Eventually she started donating her handmade projects to local charities: her introduction to volunteering.
"It's always been in my life," she says. "Giving back. Helping others."
Her personal motto, "Inspire Change," has led her to volunteer with no fewer than 14 local organizations. In many of these, she serves in leadership positions. The 37-year-old chemist is one of seven women named as the YWCA's 2013 Women of Achievement.
Far from being scattered, Dahlhoff's many volunteer commitments have a common theme: empowering women and children. Through work with groups such as the Girls Without Limits! program through the YWCA, Community Youth Services, and Be The One, Dahlhoff has inspired young scientists, worked for restorative justice (juvenile diversion) for youth, and promoted one-one-one mentoring in the community.
Most of Dahlhoff's hours go to Zonta Club of Olympia, where she has served as President since 2012. The organization pools resources to help local nonprofits whose work is consistent with their vision of equal treatment for women and children. Last year they awarded 14 grants to organizations such as Keystone Crisis Nursery, Monarch Children's Justice Advocacy Center, The CIELO Project, Family Education Support Services, Family Support Center, SafePlace, Olympia Free Clinic, Thurston County Family Justice Center, Senior Services for South Sound, Boys and Girls Clubs of Thurston County, and the YWCA.
They also sponsor service projects and raise public awareness of social issues that affect local women and children.
"We envision a world where women's rights are recognized as human rights and every woman is able to achieve her full potential," says Dahlhoff. "In such a world, every woman is literate, has access to education, healthcare, legal, and economic resources on an equal basis with men."
She stresses that "women's issues are men's issues, and men's issues are women's issues," saying Zonta focuses on the interconnectedness of people. If women are treated unfairly, it's bad for families and for society at large.
Zonta's engagement with the underreported issue of human trafficking is a good example of their work. The group is a founding partner of the Thurston County Coalition Against Trafficking (an initiative under the statewide organization Washington Engage). Dahlhoff says a presentation by a local survivor opened her eyes to the extent of the problem in our region. Interstate 5 is a major artery in human trafficking and efforts to understand the matter and legislate in a way that doesn't punish victims are emerging slowly.
"There aren't accurate numbers because no one's tracking it," Dahlhoff says. "It's unreported and no one wants to know about it or acknowledge it."
The Zonta Club, whose advocacy efforts focus on projects that are nonpartisan and nonsectarian, has helped tackle the issue by advocating for legislation to make human trafficking a felony in Washington State as well as 14 bills related to children and trafficking. (Find out more here.) They've also raised public awareness by holding vigils and by lending financial support and volunteer hours to anti-trafficking events.
Dahlhoff says she's compelled to act on behalf of other people because of her own mentors, those who loved, challenged, and believed in her as a child and young adult. Her mother took her to cultural events and Zonta Club meetings (yes, she's second-generation Zontian). The original Leatta, her grandmother, was also an original Rosie the Riveter: she became one of the first female welder at Puget Sound Naval Shipyard – at age sixteen. Her father helped her wire science experiments and fielded all her questions.
"My dad was the strongest person I ever knew, my anchor, my compass," she says. "He loved the question 'why?'"
When Dahlhoff became an adult, the tables were turned. For 13 years she was the caregiver for her father, who passed away four years ago. In subsequent years she cared for her grandmother, who died earlier this year. Her father's congestive heart failure eventually stole his ability to speak, a fact that makes Dahlhoff even more resolved to use her voice on behalf of others.
Dahlhoff's work is extraordinary but she doesn't believe her efforts are beyond the scope of any citizen. She suggests each of us shift our thinking to become aware of what we can do in the margins of daily living to relieve the suffering and difficulties experiencesd by others. Don't know where to begin? Join or contribute to a group where good work is already happening, she says.
"There are organizations out there that you can be a part of, where you become part of a network and then your voice becomes stronger. And then, together, look at the impact that we can have."
For more information on the Women of Achievement Gala scheduled for November 7, click here.