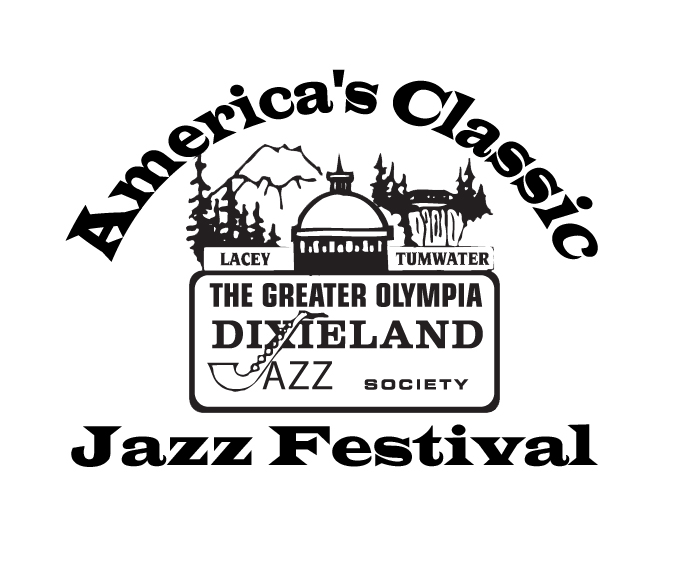 Submitted by the Greater Olympia Dixieland Jazz Society
America's Classic 23rd Annual Jazz Festival is set for June 27 in Lacey, WA.
The stages are set and the dancing floors are in place for all those tapping toes to enjoy  the "Greatest" America's Classic Jazz Festival"  at St Martins University's Marcus Pavilion in Lacey, WA. Set in the shadows of beautiful majestic Mt. Rainer, this University campus is where jazz lovers can hear and dance to the music of 13 favorite and leading circuit jazz bands.
We are proud to present this year four New Bands and a Guest Artist:
Buck Creek Reunion Jazz Band:  Buck Creek Jazz Band is Back!  For thirty years this band was a favorite on festival goers across the country, appearing at all the major Traditional Jazz Festivals from Clearwater,  FL to Olympia, WA and San Diego, CA to Essex CT.  They were a regular participant on Jazz Sea Cruises for 25 years, and produced twenty five recordings during their thirty-three year history.  Slipping out of retirement the band is now appearing as a "reunion "band.  They brought the house down in Chattanooga in 2012, and we expect them to do the same at America's Classic Jazz Festival this year.
Tom Hook and His Terriers:  In 1987 Tom and Eddie Metz were founding members of the Black Dog Jazz Band, as association that led over the years to appearances in most of the major Traditional Jazz Festival s in the US, as well as multiple tours of Europe and in 1989 tour of Communist China, Bobby Durham joined the group in 1990. During that time they formed a splinter group.  The Terrier Brothers. The Terriers are glad to announce the addition of a fourth long lost "brother", the fabulous Eddie Erickson for the 2013 season.  This is an act you will not want to miss!!
Wally's Warehouse Waifs:  The interesting thing about the Wally's lineup is that you have been enjoying these individuals musicians for years.  They have all been notable sidemen in some of "Traditional Jazz" most popular bands.  Their extraordinary talents secured their positions and were vital in establishing their groups as favorites on the Trad Circuit.  With the exception of young Mr. Henry, they've all been playing around the circuit for much of the last half of the 20th century.  With their varied backgrounds and experience, they bring a level of entertainment to the stage unseen in most bands.  Each is masters of their instrument(s) and excels in the art of improvising and creativity; their repertoire is limitless; and they are genuinely fun guys!
West End:  For the past 38 years, The West End Jazz Band has recreated the classic jazz music that typifies the 1920s and 1930s using original arrangements and instrumentation that is true to the style of the era.  The band was organized by Mike Bezin, who had a great love for early jazz.  The repertoire of the West End Jazz Band consists of a broad representation of the music of this golden age:  hot and sweet dance and jazz.  This was back in the days when jazz was the music of the day and permeated America's popular songs.  Come enjoy jazz from the era where it all began with The West End jazz Band.
Brady McKay Guest Artist:   Brady McKay is a versatile and entertaining jazz musician.  Born in Salt Lake City UT, she grew up studying piano, voice and ballet.  In 1992, she co-founded the
Wooden Nickel Jazz Band for which she acted as band manager and lead vocalist for hundreds of jazz festivals for the next 10 years.  Since then, McKay has performed on cruise ships throughout the world and as guest artist at many jazz festivals with some of the best traditional jazz players performing today.
America's Classic 23rd Annual Jazz Festival returning favorite artists include:  Grand Dominion, High Sierra JB, Ivory & Gold, Jerry Krahn & Katie Cavera, Titan Hot Seven, Tom Rigney & Flambeau, Uptown Lowdown, Wolverines, and Yerba Buena Stompers
Director Charlotte Dickison pointed out that several special events are scheduled:    A Pre-Festival dance held in the St Marcus Pavilion on Thursday 27 June, 7:00pm with High Sierra, West End,  and Wally's Warehouse Waifs doing the honors. ; Tom Rigney and Flambeau and Grand Dominion will be performing at our beautiful Farmers Market at 11:00 am Friday June 28.
There will be a special entertainment in the Marcus Pavilion at 12:00 on Friday June 28. The festival gets underway at 12:45 pm Friday June 28 at St. Martins University's Marcus Pavilion.  Sunday June 30 at 9:30 am Wally's Warehouse Waifs will be doing the free Gospel in the Marcus Pavilion and the Grand Dominion will play a Gospel Service at the Olympia United Church at 10 am.
Dickison reports to keep our dancers happy we have Great Dance Floors in 3 of our 4 venues.
We will have dance lessons again this year, with our regulars Hal & Georgia Myers Friday and Saturday mornings, an hour & fifteen minutes before the music starts..
Several special sets are scheduled: Jerry Krahn Quartet with Katie Cavera;  Pieter Meijers Quartet with Brandy McKay; Pieter Meijers will join Uptown Lowdown for their ever popular "Apostles of Sax" set;  Brady McKay will be setting in with several of the bands;  Ragtime set with Jeff Barnhart, Randy Morse and Ross Petot;   and a Clarinet Marmalade set  lead by the Titan Hot Seven rhythm section  they will be joined by Pieter Meijers, and John Skillman; Grand Dominion doing a British Trad Set;  and Uptown Lowdown  a Tin Pan Alley Set:  West End a Tribute Ben Bernie.
The traditional After Glow Party will start rocking on Sunday 5:00 pm at Tugboat Annie's with music by Tom Hook & His Terriers and Grand Dominion.
Badges:   All Events ( till May 31 $90) after that $95;  Kick-off Party (Thursday) $15: Friday $40 after 7:00 pm then $25;  Saturday $50 after 7:00 pm $25;  Sunday $25;  Students 14-22 w/ID All event $15;  Patron of Jazz (includes all event badge) $150; Gold Sponsor $500, Silver Sponsor $350, Individual gold $250; band members $100 ea.  Badges are available at the door.  Check our website for details.
RV Parking:  RV parking is available at Saint Martin's University.  Contact Pat Herndon 360-956-7132, e –mail herndon@reachone.com
Shuttle Service from the hotels to venues commences one hour before the events start.  There is great parking at Saint Martin's University.
Accommodations:  For a listing of the hotel/motel supporting the festival check online here , also for driving directions.  Be sure and ask for Jazz rate.  If flying to the festival, shuttle service is available from Sea-Tac Airport by calling Aeroporter, 360-754-7113
For more information call Charlotte at 360-943-9123 or e-mail charlottedickison@comcast.net