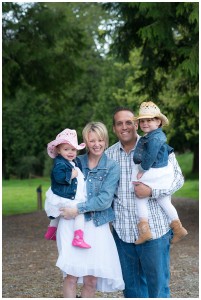 Everyone loves a party.  Big or small, parties allow us to spend time with friends, celebrate milestones, focus on an important cause, and just have some fun.  However, a good party takes careful planning and for many, the time and creativity needed to pull off a truly great event is overwhelming.
Krista O'Byrne is not one of those people.  In fact, she is the opposite.  She lights up at the idea of creating a perfect event from start to finish.  It's her passion.  O'Byrne's interest in special event planning started young and blossomed while assisting in her mother's Lynden, Washington bridal shop, coordinating wedding details for anxious brides.
After college, she worked in the insurance industry, but continued to plan showers and parties while volunteering her time to organize gala events and charity auctions for non-profits organizations.  After marrying Olympia native Josh O'Byrne in 2006 and relocating to Thurston County, Krista began seeking opportunities to feed her passion for event planning.  She joined the Junior League of Olympia and quickly found a perfect match.  She started by chairing JLO's annual fundraiser and moved throughout the volunteer organization to serve as President– a job that requires a high level of organization and attention to detail.
O'Byrne has spent the last 5 years working at Tumwater based Capital Electric.  While working in the commercial electric business with her husband, Krista planned numerous events, on the side.
In February of 2012, O'Byrne turned her passion into a business, launching Hoopla Events.   The business has grown quickly, and while she still keeps the office at Capital Electric running like a well-oiled machine, Hoopla is the realization of a dream.
When asked why she loves it so much, O'Byrne grins and laughs.  "I know some people just hate it – but I truly love it!  It's so exciting working with a client, understanding their vision, and making that vision a reality.  It's fun for me to see it through from start to finish and have it all come together for the event."
Hoopla has planned events of all sizes from large-scale gala fundraisers to creating custom end-of-the-year teacher gifts.  Hoopla will also consult by assisting with locating vendors and planning themes, but leaving the execution to you.  Whatever the service you need, if it has to do with planning a special day, Hoopla can help.  And while O'Byrne can accomplish an amazing amount on her own, she values the help of two party stylists, Heather Myers and Jennifer Longmuir, whose creativity and input are invaluable.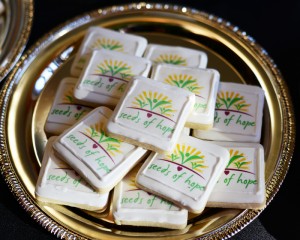 Recently, Hoopla Events was hired to coordinate the first large scale Gala Auction for local non-profit Family Education and Support Services.  Executive Director, Shelly Willis was hesitant to attempt such a large event as the small board was already stretched thin.  Board member Tanya Murray suggested Hoopla Events.
"Krista told me that we could not only pull off a successful event- but that it would be fantastic and she would handle the details.  She was right!  We had hoped to raise $10,000 but were overjoyed when we raised over $25,000.  I was extremely pleased with her diplomacy skills, connections, and attention to detail.  She worked with vendors, donors, negotiated contracts, and thought of special touches that made the event unique to us and memorable.  The event exceeded our expectations.  With Hoopla at our side, I am no longer nervous to attempt an event such as this again."
O'Byrne relishes in helping an organization reach their fundraising goals, whether it is through a golf tournament, spaghetti feed, or auction.   Hoopla also coordinates business grand openings and holiday parties.  Leaving the many details to O'Byrne, focusing on serving their customers instead of planning the event.
While big events hold a certain thrill, O'Byrne, a mom of two little girls, also loves smaller, more intimate events like family birthday celebrations, baby and bridal showers.  These events can range from large scale parties for 50 plus guests to a themed party for 5 or 6 kids during a Saturday afternoon.  And her clients can't say enough about how enjoyable she is to work with.  Being able to enjoy an event, instead of racing around, handling the details, is something people truly value.
As her business grows, O'Byrne plans to add a new component to Hoopla's services – an online store.  The adorable party supplies you see in Hoopla's photos will be available to order directly from her website.  O'Byrne envisions creating décor collections, enabling customers to purchase ready-made parties with a click – a fantastic service for those who want a coordinated event without all the hassle.
One mark of Hoopla's success is their recent feature on the nationally acclaimed (and HGTV affiliated) entertaining blog, The TomKat Studio.  O'Byrne's Pink and Brown Pony Party is gorgeous and TomKat founder Kim Stoegbauer is planning to feature another Hoopla Events party this fall.
After Hoopla planned her daughter's sixth birthday, client Kelly Levesque shared, "Krista has the ability to take an idea and turn it into a beautiful vision.  I had several people say to me it was the best birthday party they had ever been to."  And if you are hoping for "the best" at an upcoming event for your family or business, chances are Hoopla Events can deliver just that.
Hoopla Events
P.O. Box 1696
Olympia, WA 98507
Phone: 360.584.3000
krista@hooplaevents.net