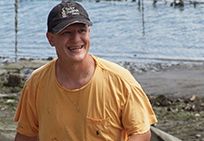 By Amy Riggs

Clams and oysters have been around me all my life; I couldn't escape them if I tried. That is not to say I like them all that much now (I never did have an out-and-out love for them), but they did help pay my way through college so I appreciate them nonetheless.
In the Beginning
I grew up in a house my grandfather, Archie Adams, built on Skookum Inlet, between Shelton and Olympia. The tidelands were bountiful and there were always plenty of naturally set oysters and clams for the greater family and friends.
The beach was pervasive in our life, much as it is now for my brother and his family who represent the third generation in the family home. As kids, John and I ate clams, and my father used to try to trick us into eating oysters (he called them breaded chicken stuffed with spinach) until we wizened up to that game. But to be honest, we had more fun dissecting the shellfish and poking and prodding them than eating them. The clams made particularly good throwing stones, too. Despite our proximity to the beach, we were not born with a taste for oysters.
As I moved into my teen years, my father began to "develop" the beach by experimenting with clam and oyster seed and inventing his own growing practices. His experiments in increased production created high school job opportunities for us and, as I mentioned earlier, covered some college expenses.
We laugh about some of his methods now, but my brother credits my father's inventions for "being the root" of today's current farming practices. While the shellfish beaches I grew up with are now more production-oriented than in my father's days of invention, John acknowledges our father was "fearless about trying new things."
When my parents moved to Olympia around 2003, my brother and his family took over the business. A farm manager for Taylor Shellfish by day (or night, as the tides demand), John calls the family beach "a complete family operation," and is fully aware of the work his wife, Amy, and his children now contribute to the high maintenance of a "teeny, tiny operation."
My Brother's Fascination With Oysters
To be honest, I never imagined my brother would go into the shellfish business. In a recent conversation, he shared that he was drawn to shellfish farming by the culture of it—not just the growing, but also the nature of oyster eating. He marvels how product raised on a small beach in rural Washington can travel to and sell well in New York City's Grand Central Station. "That's pretty cool!," John stressed.
He is equally fascinated by shellfish's humble origins, as so many people don't realize what is in their own backyard. John cited the Barron Point oyster as a prime example of a brand of Pacific oyster grown in Little Skookum Inlet; it is world famous and sold throughout Europe and Asia.
"Thurston and Mason counties are the heart of where so many oyster varieties (varietals) originate but are known to just a local group of aficionados," he says.
"At the core of enjoying an oyster is an appreciation of the sea," John elaborates. "Each oyster is a cross-section of the bay in which it was grown. You won't intentionally take a drink of seawater, but you'll eat an oyster," he laughs.
As wines have a terroir, shellfish has a merroir – a flavor special to its water origin. Each growing area has different salinities and minerals in the water composition and different substrates and algal structure that contribute to the making of an oyster. It is unique to each growing area and Skookum Inlet is an ideal setting for oyster development. An abundance of algae makes the oysters fat, and the swift current brings plenty of food. It also is worth noting that oyster flavors change over the seasons because of different algae blooms, dependent upon season and water temperature. (This contributes to reasoning that raw shellfish shouldn't be eaten in the hotter months of the year—although spawning during these months changes the texture of the oysters as well.)
Get Your Own Shellfish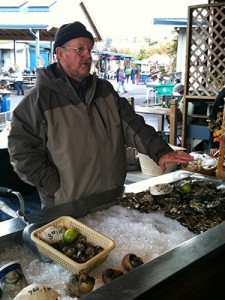 My parents now operate the Sound Fresh Clams & Oysters stall at the Olympia Farmers Market. They have a dedicated customer following as well as people who stop by to purchase their produce whenever they are visiting from out of state. Unless you dig (or pick, in the case of oysters) them yourself, you will not find fresher clams and oysters—from the famous Olympia oyster to such equally local Pacific varieties as Kumamotos and Kushis.
If you want to talk oyster and clam speak, I have never seen anyone outtalk my father on the subject (although my brother may be getting close). In keeping my side of the family connected to the business, my daughters help out in the stall in their free time.
Fresh Clams and Oysters Don't Require Much Work to Enjoy
Nowadays, I wish I craved clams and oysters in the same manner of many friends. Instead, I find pleasure in preparing and sharing them, and receive rave reviews for their great flavor and freshness (not my doing, necessarily, but the great quality of the product). The clams and oysters from my parents' stall at the market are so fresh and flavorful, little needs to be added to them. Eat them raw within one or two days off the beach, then change your approach: bbq or steam them.
Steamed clams and oysters are so quick and easy to prepare.  Infuse them with a favorite flavor. My brother is toying with the idea of baking oysters with scotch.
For more information, visit www.skookumpoint.com.