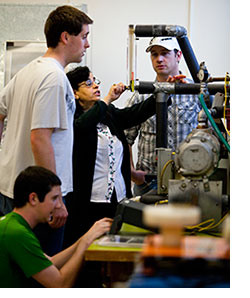 Submitted by Saint Martin's University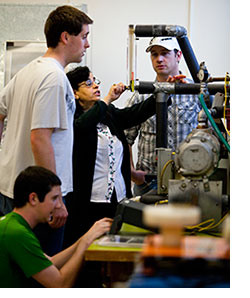 LACEY, WASHINGTON — Today marked a special milestone for Saint Martin's student members of the Society of American Military Engineers (SAME) as they convened with professional members for the first time in the University's brand-new engineering building, Fr. Richard Cebula, O.S.B. Hall.
During the luncheon meeting, students networked with their society's professional members while listening to a speaking line-up that included Zella Kahn-Jetter, Ph.D., P.E., dean of The Hal and Inge Marcus School of Engineering at Saint Martin's, as well as representatives from McGranahan Architects and Sunset Air, Inc. Engineering students then guided their professional peers throughout the building, proudly sharing the interactive teaching and learning tools, including exposed systems and structures.
In 2011, Saint Martin's University launched its Engineering Initiative to build a "green," state-of-the-art engineering building, a new lab facility and a program endowment. The new engineering building — an innovative teaching and learning space in the heart of campus — was constructed with the goal of achieving LEED Platinum Certification and serving a growing body of engineering students at Saint Martin's. This year's incoming class had the highest number of engineering majors in recent history, many of them drawn by progress — including the construction of Cebula Hall — made possible by the successful Engineering Initiative. In addition to the new building, Saint Martin's University recently added a new Master of Mechanical Engineering program and a new study abroad opportunity in Sydney, Australia, for its engineering students.
"This luncheon marks the first event co-sponsored by Saint Martin's and a professional society to be held in Cebula Hall," says Kahn-Jetter. "This is what we've been waiting for — making The Hal and Inge Marcus School of Engineering's Cebula Hall a center of the community, a center of technical excellence, and a center of engineering education for our students, the engineering profession and the public."
SAME, a professional military engineering association in the United States, connects architects, engineers and builders in the public and private sectors to prepare for and handle natural and manmade disasters, and to improve national security. Saint Martin's student chapter currently has 58 members.
Saint Martin's University is an independent four-year, coeducational university located on a 380-acre wooded campus in Lacey, Washington. Established in 1895 by the Catholic Order of Saint Benedict, the University is one of 14 Benedictine colleges and universities in the United States and Canada, and the only one west of the Rocky Mountains. Saint Martin's University prepares students for successful lives through its 23 majors and seven graduate programs spanning the liberal arts, business, education, nursing and engineering. Saint Martin's welcomes more than 1,100 undergraduate students and 375 graduate students from many ethnic and religious backgrounds to its main campus, and 300 more undergraduate students to its extension campuses located at Joint Base Lewis-McChord and Centralia College. Visit the Saint Martin's University website at www.stmartin.edu.