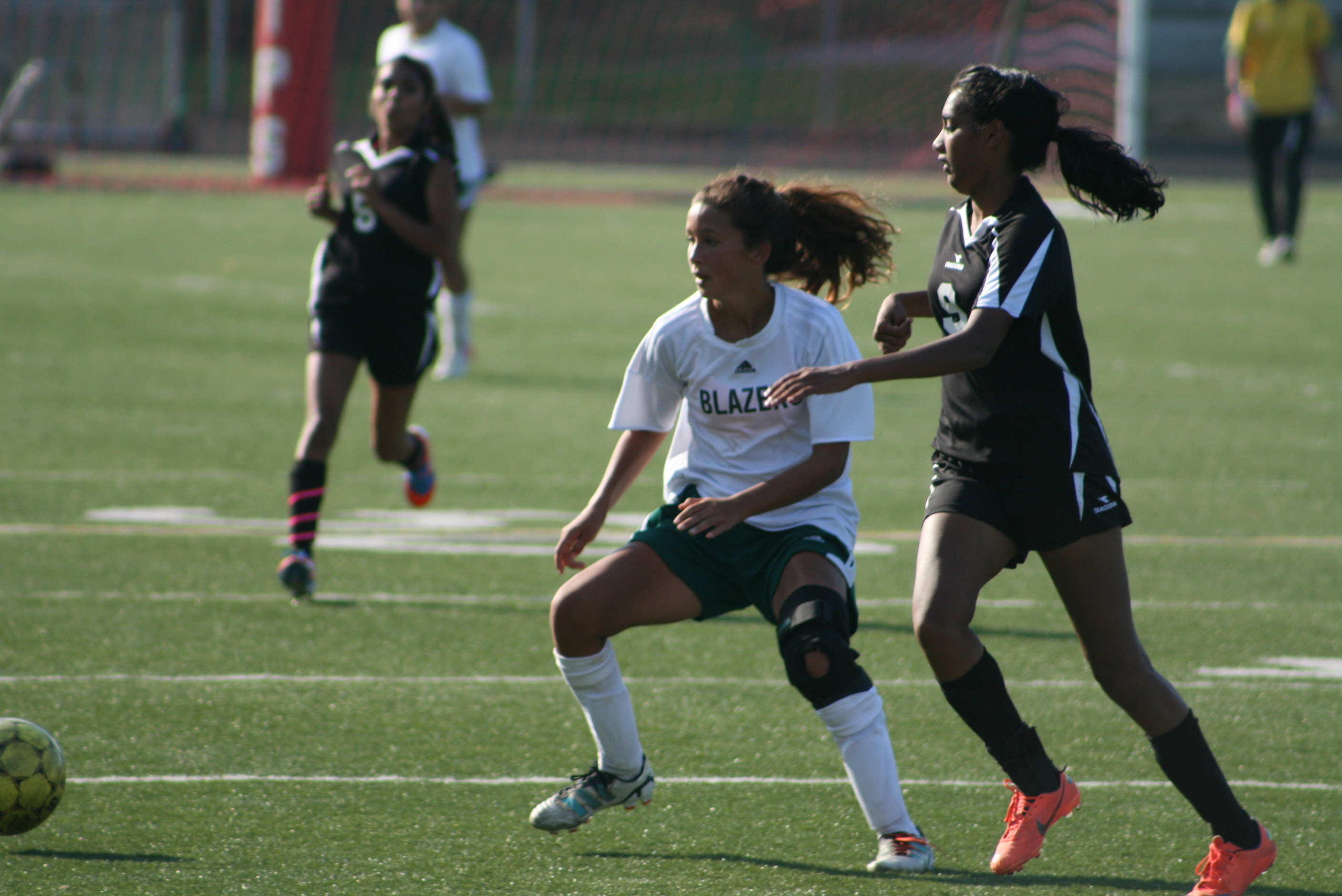 By Tom Rohrer
Success will in turn breed expectations, and the Timberline High School girls' soccer team is learning that at the beginning of their 2012 campaign.
After making the 3A state playoffs in 2011 with a collection of both experienced and young players, the Blazers are ready to make a repeat trip to state, and maybe beyond.
Led by Coach Jeff Peltier, a Timberline High School graduate, the Blazers will rely on a host of young, but now experienced players, to fill the void left by five seniors last year.  It is a task Peltier expects his team to meet head on.
"It's our goal to get back to state again," Peltier said. "We lost five seniors last year, (but) we have a lot of people who've stepped up to fill those positions.  And (now) we have so much experience and so many young players, (including) sophomores and a few freshmen who are filling in some key gaps."
Losing to 3A power Seattle Prep 3-0 in the opening round of the tournament was discouraging to the Blazer's, but they're confident in this year's lineup and the possibility of journeying further in postseason play.
"I think we have a really good chance at state this year," said senior Alyssa Gubser. "I think we're a way better team than last year and we have a lot of good quality players."
However, Gubser knows it's early in the season, and that the team has a long way to go before accomplishing their goals.
"I think we need to step up our game and really concentrate on each other and working together,'' Gubser said.
Peltier credits the upperclassman, both on this year's team, and from year's past, for helping lay the foundation Timberline has seen recently.
"Of course the juniors and seniors deserve some credit.  We've been building this up year after year, and we're finally getting to the point where we just expect that we're going to be able to pull things out and do a good job," he said.
A prime example of Timberline pulling a win out while not playing their best game was the Blazers 3-1 victory over North Thurston High School on Thursday, Sept. 13.  In a hotly contested rivalry game, the Blazers overcame a sluggish start to win over a team bent on defeating a league power and a state participant. (Complete photo set can be found here.)
"These games are always hard.  It doesn't matter who is the better team," Peltier said following his team's victory at South Sound Stadium. "It's a rivalry game…and when we play these guys, it's one of the most important games we play all year.  I try to press that on our girls."
A slew of underclassman (including freshmen) has had to fill in key positions for the Blazers, a task no easy for a player joining an experienced and talented team.
"I kind of felt nervous at first, (and) it was kind of disorienting," said Timberline freshmen Leah McGee.  "Once you get into the groove and you know everybody, you kind of figure out your way around."
Despite having less than a month of experience with the team, McGee is confident in the Blazers ability going forward, and is thankful she has a coach who supports her and the rest of the team.
"I think we are (on the right path)," McGee said. "We have a lot of players who really know what they're doing.  I think we have a good chance at anything and any game."
"It's really encouraging actually to hear him cheering you on," she said of Peltier.
Like all talented teams, the Blazers will not be satisfied until they have a strong showing in post-season play.
For more information on Timberline High School, click here.