Therapy can come in a variety of shapes, sizes and species.
For the two-year-old program HeartStrides Therapeutic Riding and Horsemanship, therapy comes on the back of a powerful equine.
Located at Healing Hearts Ranch in Tumwater, HeartStrides is a 501(c)3 non-profit organization which provides hippo-therapy – therapeutic and recreational riding for adults and children with cognitive and physical disabilities.
Modeled in part after Little Bit Therapeutic riding in Woodinville, the program has seen increased participation and tremendous changes in those participating.
"It's been a pretty amazing two years," said Marlo Martinez-Lynch, the Public Relations Director for HeartStrides.  "I've seen dramatic changes every time I watch a rider during session, regardless if they are younger or older, they have a smile on their face."
"There is a need for horse-based therapy in our area," explained physical therapist Cynthe Slaybaugh.  "When HeartStrides was beginning, I had already started my certification process through the American Hippotherapy Assocation and had always wanted to add this type of treatment to my practice."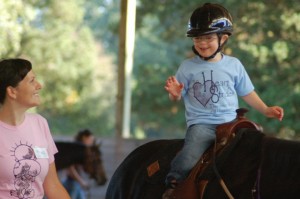 Martinez-Lynch says she can relate to parents and loved ones of those receiving therapy, as her own son has Asperger's Syndrome, and she has seen first-hand how positive the treatment can be.
"It makes (the students) feel self-confident and empowered," Martinez-Lynch said. "Being on top of a thousand pound animal, helps them feel physically and emotionally better on so many levels."
Slaybaugh explained the role of a horse in physical therapy for children.  "I use the horses to help patients reach goals such as improved sitting balance, coordination, flexibility and core strengthening which all help with increased functional abilities," added Slaybaugh.  "Horses provide a unique triplanar motion that moves the pelvis just like it would in normal walking.  In a sense, the horse's legs become the patient's legs and the rest of the body has to respond accordingly."
"It's rewarding to be a part of HeartStrides, and that is the reason I'm involved," Martinez-Lynch said. "My own son was involved when he was very young with a different program, and it helped him so much. I'm so proud of him. I can totally relate to the parents and it just makes me feel so grateful that we can help so many families".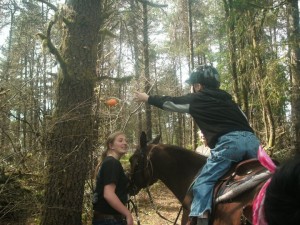 Due to the unforgiving weather in the area during the winter months, HeartStrides has to stop offering treatment for the winter season.  However, after seeing increased exposure recently, the group is hoping to build a new addition to the facility, a completely enclosed indoor arena and add even more talented volunteers.
"We want to be visible and see increased clientele.  The next step is to campaign to get another arena built for more students to have opportunity to ride all year," explained Martinez-Lynch.  The group is also hoping to add a well-financed scholarship fund so that more riders can participate.  Oftentimes, health insurance does not always cover hippotherapy or therapeutic riding.
While the future looks even brighter for the organization, the present day success is in large part from a group of dedicated volunteers.  "At any given time, we have 50 – 100 volunteers and we continue to attract more," commented Martinez-Lynch.
"Everyone is there for the right reason – to help the kids," summarized Slaybaugh.  "For the kids, it's just fun!  We all work hard during a session, but the time flies when you are having fun."
For more information, make a donation or to arrange a tour of HeartStrides Therapeutic Riding and Horsemanship visit www.heartstrides.info.  Follow HeartStrides Therapeutic Riding and Horsemanship on Facebook.