By Natasha Ashenhurst
Every year, for the past 20 years, Thurston County has shown their support of YMCA sports when they attend the Annual South Sound YMCA Tailgate Party and Auction.  The Auction provides much needed financial assistance to youth and teens in need in the community. As a leading nonprofit for youth development, healthy living, and social responsibility, the Y works in the community every day to make sure that everyone, regardless of age, income or background, has the opportunity to learn, grow and thrive.  To do this important work, the Y relies on support from members, donors, volunteers and community leaders.
"The Auction is a great way to have fun and to make a difference at the same time," said Susan Callender, Marketing Director for South Sound YMCA.
This year, the 21st Auction, the community is once again invited to join an evening of food and entertainment, starting at 5 PM on Thursday, September 20th at the Lacey Community Center.
"The Tailgate Auction is casual and fun. Every year we alternate between a Cougar and Husky speaker. Jack Thompson, also know 'The Throwin' Samoan' is this year's speaker," said Callender. "Thompson is considered one of the best quarterbacks in the history of Washington State University Football," Callendar said. "He was the starting quarterback for the Cougars from 1976-78 and was ninth in the voting for the Heisman Trophy his senior year. He was also one of two to have his number retired,"
Quite a few attendees will show up wearing pride wear from their favorite schools. "We see a lot of Husky and Cougar jerseys and gear at the Auction," Callender said.
The evening will start at 5 PM with a silent auction and appetizers. The tailgate theme extends to a popcorn bar, a lottery tree raffle, balloon pop, jar of dreams, and beer and wine will be available. Next on the agenda is dinner catered by Ramblin Jacks, followed by a live auction, with Neil Woody as Master of Ceremonies.  A Lifetime Achievement Award will be presented, followed by speaker, Jack Thompson, and then music by Dan Lundberg & The Capital High School Musicians.
Included in the catalog of auction items, available on-line for previewing, is "The Ultimate Staycation", that includes two days of fun activities in Olympia, a one-night stay in a King Spa Suite at the Phoenix Inn with breakfast, two tickets to a Washington Center event, dinner at Anthony's, a half dozen cupcakes from Sweet Charley B's, and Meconi's and Swing gift card.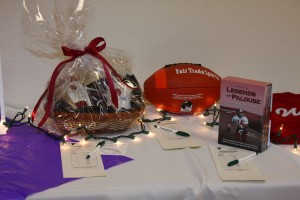 Other packages are available to bid on as well, like "For the Kid in You" that includes a remote-control helicopter and shark, a gift basket and $20 gift card from Wind Up Here, two passes to Silverwood Theme Park and a $90 Puetz Golf Certificate. Interested in home improvement? Bid on a "Get Your Yard Looking Gorgeous" package that offers five yards of beauty bark, four hours of help, and a brand new Husqvarna weed-eater…and a wheel barrow filled with Fish Tale Ale.
Some attendees may want to get out of town, so they can bid on a get away to Carson Ridge Cabins near the Hood River. This item has a value of $598 and is being donated by Olympia Federal Savings, the Presenting Sponsor of the evening. "This event has gotten a lot larger over the years. We have a lot of fun with the tailgate theme," Callender said. "Anyone who loves the Y and wants to support the Y should come on over and have a good time."
When: Thursday, September 20th  at 5 PM
Where:  The Lacey Community Center located at 6729 Pacific Avenue SE
Tickets are $75 and can be purchased by clicking here.