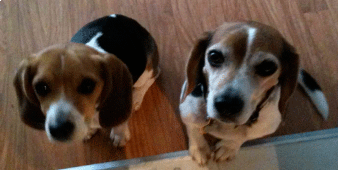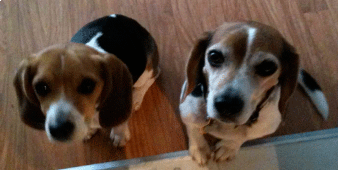 It started in the kitchen. Nhi was baking cookies for her family, not just any cookies, but gluten-free cookies made with only the freshest, local and natural ingredients. Nhi and her husband, Jerry, care about their health and feel it is important to nourish their bodies with nutritious food.
One day, while she was baking, her Beagles, LeeLiu and Lily, who are very picky about what they eat, sat and stared at the cookies, perhaps they even drooled a bit. It was then that Nhi decided to try her hand at baking some high-quality dog cookies. After a lot of research, she invented a dog cookie that LeeLiu and Lily went wild for, a combination of gluten-free whole grains, peanut butter, and eggs. "They couldn't get enough," Nhi said.
Soon, Nhi was baking dog cookies for her friend's dogs. The response was always the same "My dog loves your cookies! You should start a business and sell them."  Bone-Jour Pet Treats was born.
Local, Natural and Environmentally Aware
"Our lifestyle is local," said Jerry. "We want to reduce our personal carbon footprint, as well as the footprint of our business.  We found a manufacturer in Woodinville to create our packaging, which led to a label supplier in Seattle. Ingredients for the cookies are sourced at the Olympia Food Co-op. We put a lot of time and care into our product.  We want minimally processed food and treats for our pets.  This is the main reason that we got into this, to provide products that we were looking for, that we couldn't find: gluten-free, local, and natural."
The Bone-Jour Peanut Butter Cookie is unique and fun, it even looks like a cookie any child (or adult) would want to eat. The Irwin's have added on a commercial kitchen to their home, and are regulated by the Department of Agriculture. Plans are in place to become a commercial bakery by the end of the year. This will allow them to expand into a few, carefully chosen, retail outlets.
Business Strategy: Start Small for Conservative & Steady Growth
For now, their business strategy is simple. They sell cookies from their website, as well as in small boutiques and spas. "We are particular as far as where we want to go," Jerry said. "The retailer needs to fit our product. Our goal is to slowly grow and produce larger volume capability.  We don't want to overextend ourselves, and we are willing to go where the dogs are. Gig Harbor is extremely dog friendly, for example, and we have our product in a spa there. We'll also have a presence at the 10th Annual Harbor Hounds Dog Walk on September 15th."
Dog Products and Services: A Growing Market
The market for pet products is growing. According to the Humane Society, there are approximately 78.2 million owned dogs in the United States, and thirty-nine percent of U.S. households own at least one dog. Household spending on pets is on the rise, according to American Pet Products Association. In 2002 Americans spent $29.5 billion on their pets; in 2012 that number is estimated to rise to $52.8 billion.
The APPA website includes a 2011 Pet Product Trend Report that states, "We pamper them. We bring them wherever we go. We surprise them with something new on special occasions. They even get holiday presents. They are our pets! From high-end items to high-tech items, products for our companion animals now extend beyond traditional necessities."
The Olympia Pet Scene
Thurston County residents are crazy about their pets too. Increasingly, dog lovers are seen taking their dogs to dog parks, cafes, and even the grocery store. Jerry says their target market is simple "Bone-Jour caters to people who love their dogs. Dogs are considered a part of the family, and for some, dogs become their kids. In general, people care for their dogs more than they used to. We pamper them now. In addition, we want a healthier lifestyle, and we want the same for our pets. Our pets are important to us and we want the best for them."
Bone-Jour Pet treats can be purchased in Olympia at Preen, 219 Legion Way, Suite 202, at Obscurities Hair & Art Studio in Gig Harbor, 3006 Judson St, Suite 202, and at www.bonejourpettreats.com.