Chances are you've marveled at Georges Seurat's pointillist masterpiece, "A Sunday Afternoon on the Island of La Grande Jatte." This iconic scene of people strolling along a sunny waterfront with parasols, top hats, curious children and playful puppies is made up of tiny individual dots. These blend into a piece of art that can be found everywhere from coffee table books to picture postcards. It's also the focal point of the award-winning musical "Sunday in the Park with George" being presented by the South Puget Sound Community College Theatre Collective from May 26 through June 4.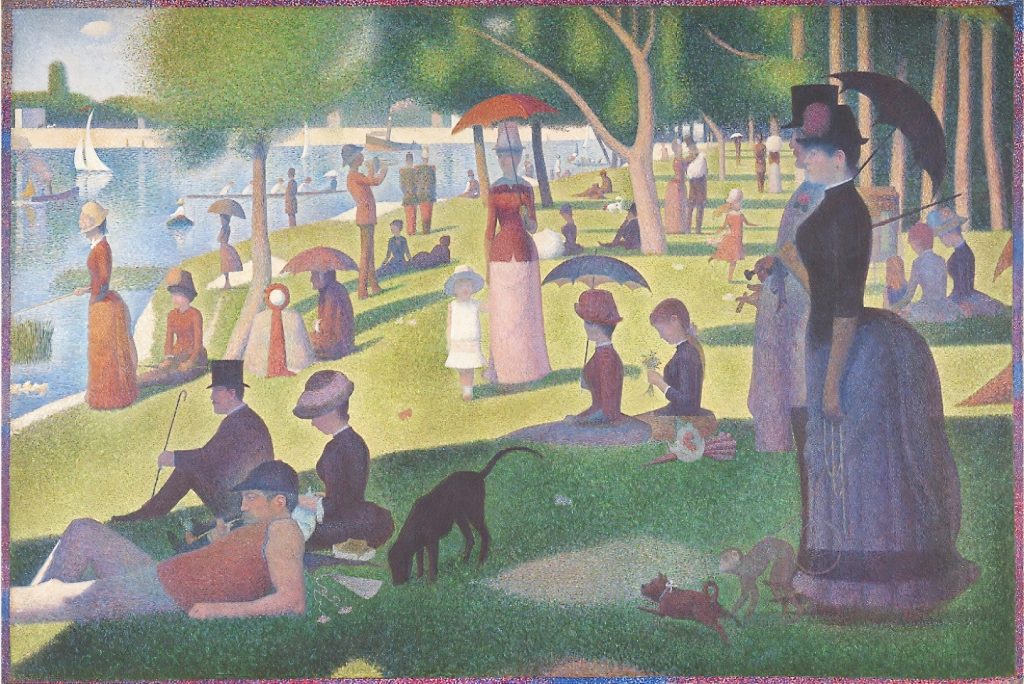 SPSCC's Sunday in the Park with George Showcases Sondheim, Lapine and Seurat
The musical has captivated audiences since it opened off-Broadway in 1983. Based on a book by James Lapine, it showcases the music and lyrics of Stephen Sondheim and won the 1985 Pulitzer Prize for Drama, two Tony Awards for design (and a nomination for Best Musical), numerous Drama Desk Awards, the 1991 Olivier Award for Best Musical and the 2007 Olivier Award for Outstanding Musical Production. It also earned a London revival in 2006 and came back to Broadway in 2008 and 2017.
SPSCC drama professor Lauren Love explains that their musical director John Guarente first suggested the choice. Love and Guarente put their heads together and "knew that we had strong possibilities to fill the lead roles of George and Dot," she says, "and we decided this was a perfect time to contemplate art, creativity and legacy through a production of Sunday in the Park with George."
"Folks might not know that this show has a fun second act that takes place 100 years after the first," says Love. "People recognize and focus on the first act, which focuses on the painter George Seurat and his famous Sunday Afternoon at La Grande Jatte. The second act imagines his descendent, George, also an artist, struggling to recapture his creative spark in the 1980s. So, it's really a double period piece!"
The SPSCC Theatre Collective: Collaborating, Creating and Caring
This production's cast includes 13 community members and 3 students. Nine more students are working on costumes and scenery under the leadership of five experienced designers as well as staff Technical Director Adam Michard. Seven students will work backstage during the performances as deck crew, projections operator and spotlight operators. There is an orchestra of 14, which includes student, staff and community members. "It definitely takes a village," says Love.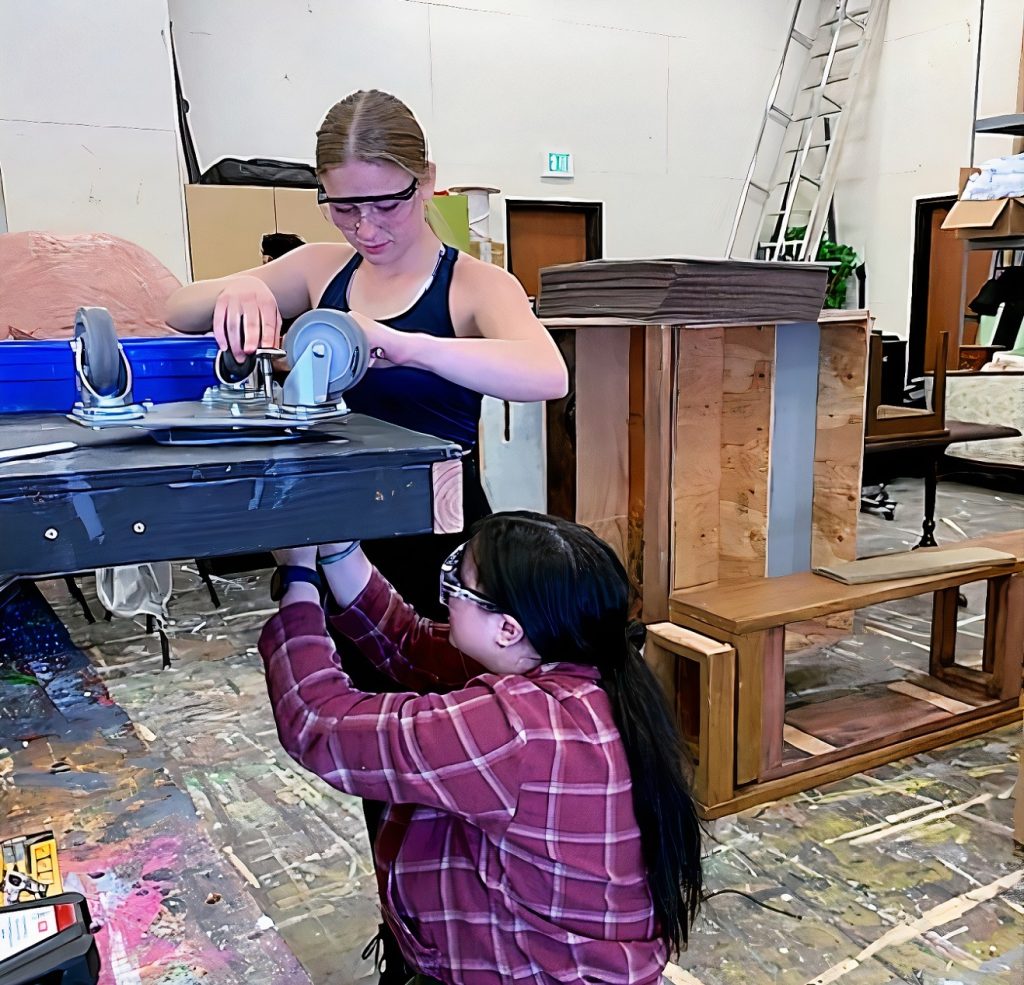 Such partnerships are par for the course with the Theatre Collective. "Our productions are made possible by a collaboration among students, staff, faculty and community professionals and volunteers," Love explains. "We run theatre laboratory and theatre production courses that correspond to our shows each quarter. In these classes, students build and paint sets, create stage properties, work on wardrobe and take positions on crew – from running sound cues to assistant stage managing – so the shows are very student fueled. Students are also encouraged to audition, particularly our acting students who benefit from the experience of auditioning itself."
For "Sunday in the Park with George," the show was chosen months in advance. Auditions were held in January, rehearsals started in February, and May's opening day is just around the corner. There will be six performances in all. Shows take place at 7:30 p.m. on Friday and Saturday nights, May 26-27 and June 2-3, and Sunday matinees at 2 p.m. on May 28 and June 4.
Come Share the Joy of Live Theater at SPSCC
All SPSCC Theatre Collective shows are by donation only, no prior ticket sales required. There is a suggested donation of $15 per seat for this production. This show, in particular, is special. "We are dedicating our production to the memory of Don Welch," explains Love. "Don dreamed of, facilitated and manifested our current theatre program at SPSCC, and we would not be here without him."
To find out about this and future performances, follow the Collective on Facebook for up-to-date information. You'll also find posters up at businesses across town. Shows are typically presented in November for the fall quarter, a winter play in late February or early March and a spring musical in May or June.
We can't all visit the Art Institute of Chicago to see the real painting or travel back in time to explore the work's creation. But we can spend a sunny "Sunday in the Park with George" to explore, muse and wonder at the timeless greatness of art.
Sponsored