It's a practice of mine to spend my food and drink calories, especially in a restaurant, only on deliciousness. That's easy to do at Cynara Restaurant & Lounge. I also appreciate learning a thing or two. This makes Christian Skillings' downtown restaurant a logical choice for a splendid experience. He has been expanding his repertory on bourbons and whiskeys, and he's sharing that knowledge.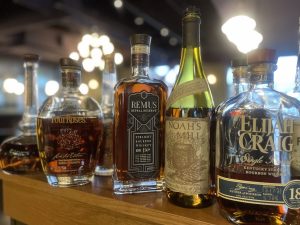 Indulge in Flavorful Bourbons & Whiskeys in Olympia
Cynara invites you to dive into the world of bourbons and whiskeys. With over 100 varieties from around the globe, you won't lack for choices. Adam Boldt, a man with a passion for bourbons, discovered the restaurant through friends and immediately noticed that they are, "One of a very few restaurants in the area that prides itself on a robust bar program, including an extensive selection of whiskeys including many that are hard to find such as Bomberger's, Elijah Craig 18 year, and Remus Repeal Reserve."
But don't be daunted by the labels. You aren't required to be a connoisseur to begin your journey.
The Characteristics of Bourbon
Bourbons are American. "The flavor and mouthfeel of bourbons are influenced by many factors and can vary significantly from barrel to barrel. The factors that influence the final product include mash bill (corn, rye, wheat, and barley), the yeast used, the amount of char (time of burn on the new oak barrels), where the barrels are placed in the rickhouse to age, and the weather during the aging process and the amount of time the bourbon ages in the barrel," explains Adam.
If you are already a bourbon lover, that is excellent news. Let your server know the brands you usually drink and ask for a suggestion for a shift in perspective. My husband's choice for a winter cocktail is a Manhattan with top notch bourbon or whiskey. For a spicy splash he uses rye instead. A bourbon's distinctive characters make each cocktail different.
"Cynara is a great place to explore different whiskeys and try some hard-to-find products before hunting at the liquor store," says Adam.
For those who prefer their sipping bourbon unadulterated, Adam chooses high rye bourbons in the 8- to 12-year range. He doesn't have a specific favorite. "I do really enjoy many of the Elijah Craig Barrel Proof selections which are 12-year bourbons, and Bomberger's which is a Michter's product," he adds.
All Bourbons are Whiskeys but not all Whiskeys are Bourbons
Technically speaking, Bourbon's mash, the mixture of grains from which it is distilled, must contain at least 51% corn. The rest can be wheat or rye and malted barley. There can be no additives to the mash. It must be no higher than 160 proof and put into a barrel no higher than 125 proof. Distilled Bourbon must be aged in new charred oak barrels. White oak is often used because it makes a secure, watertight container. Straight Bourbon must be aged at least two years in the new charred oak containers. This is all good information, and ultimately it matters how it tastes to you.
I wondered if I would ever be old enough, sophisticated enough, or mature enough to drink bourbon. It seemed beyond my capabilities, though I seem to have done fine with other spirits. It simply took the right drink. I was introduced to a Man O' War, purportedly named after the history-making racehorse. Shake together bourbon, sweet vermouth, orange liqueur, lemon, and simple syrup – or forget the syrup and double the orange liquor. It's also lovely with rye. My tastebuds are now open to the many possibilities that whiskey and Bourbons offer.
First Time Taster Suggestions at Cynara Restaurant in Olympia
Here are Adam's recommendations for those initial forays to the less experienced. "For those who are new to whiskey I suggest lower proof, sweeter products. I usually start tasters with Michter's US*1 American Whiskey. For Bourbon: Eagle Rare 10-year, Elmer T. Lee, and Larceny are great places to start. For Rye: Sazerac Rye. For Scotch: Monkey Shoulder. For Japanese Whiskey: Nikka Coffey Malt. Cyanra has the Larceny Barrel Proof, Remus Reserve, all six W.L. Weller products, Bomberger's and others." It's a journey that can lead to wonderful new places.
Cynara's casual atmosphere, dining specials and knowledgeable servers are the ticket to a pleasant sit-down with friends and family. On any day from 3:30 p.m. to 5:30 p.m. take seating in the bar for the new Happy Hour Eats. Settle in with mac-and-cheese or patatas bravas, a Spanish-style tapas of seasoned potatoes. Are you hungry for the Cynara grilled onion burger? Oh yes, it comes with fries…ones I am happy about eating.
Follow Cynara on Facebook for the latest specials and use the Cynara Restaurant & Lounge website to book a reservation or order take-out.
Cynara Restaurant & Lounge
500 Columbia Street NW, Olympia
360.764.7326
Sponsored