Kids and families put many activities on hold during COVID-19. But now, youth sports programming is back in full swing at the South Sound YMCA and ready to provide a vital, safe and supportive environment for them to engage with healthy mentorship and plenty of interpersonal development.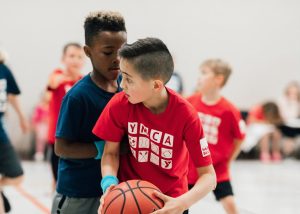 Thurston County Youth Sports: Building Healthy Habits While Having Fun
Team sports are like sneaking veggies into your kiddo's dinner. They're healthy and a great habit to start when they aren't even paying attention. Tell your children to exercise and you'll likely be met with eye rolls. But sign them up for the wild fun of a volleyball or basketball team and you quickly earn parent of the year.
Chris Swanson is the YMCA's Program Director of Youth Sports. He says that being active teaches kids things without them consciously knowing it. "At a basic level, being active and improving social skills are core functions of youth development," he adds. "Youth sports allow participants to build healthy habits alongside peers while having fun and the youth sports environment allows players of all interest, skill levels and backgrounds to learn together."
While basketball and volleyball are typically the YMCA's biggest programs, Swanson's personal favorites are tennis or track and field. Starting in 2023, they'll add in early learning clinics and basketball camps in partnership with local high schools and colleges as well as programming from pre-K through middle school.
Youth Sports at the South Sound YMCA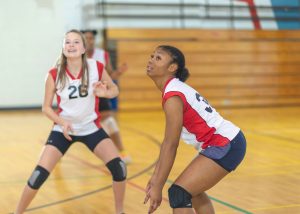 In and around Thurston County, youth camps, classes, clubs and clinics are notorious for filling up quickly. At the YMCA, no membership is required, anyone can participate and they operate out of local schools in the area, so sign up now. The Y also offers financial aid to eliminate the cost barrier for families. Call 360.753.6576 with questions or to learn more.
Want to help teach or mentor? The YMCA is always looking for volunteer coaches to lead programs. Simply email youthsports@ssymca.net and find your place to shine. "Our programs are a reflection of our community and success depends on our amazing volunteers and families," says Swanson. "Our goal is to continue to run programs well while also expanding opportunities for different activities and age groups."
One such volunteer coach is Patrick Woods. He works with youth basketball and appreciates how inclusive and encouraging things are for players of all ages. "A big part of the reason that I enjoy volunteering and working with kids are the values YMCA promotes," says Woods. "Team sports are a great way for kids to learn about life by relying on each other to achieve a common goal. The YMCA's leagues are developmental, and it allows us to focus on foundational skills as well as encouragement and fun."
YMCA Sport Program Volunteers
Maribel Vilchez is a teacher, volunteer coach and parent who has worked with the YMCA's programs for the past five years. She agrees with Swanson and Woods that kids truly need this type of physical programming. "Practicing sports is one important aspect that helps all human beings not only practice physical exercise and be healthy, but also to develop social skills. I believe that families may not be aware that sports through the Y may provide their kids with the opportunity to find a passion they would not have known otherwise."
As a girls volleyball coach, Vilchez loves seeing her team members blossom and share positive interaction. "In volleyball you need to communicate and be a team player, which my outgoing girls would easily do, but my shy girls would not so much," she admits. "However, as time went by, they could see themselves talking out loud to either pass the ball or even to cheer their peers. The Y continues to provide access to opportunities to so many kids and is making a difference in many people's lives."
Thurston County Youth Sports Sign Up
To sign up for youth sports simply choose the location and specific sport then register online. The portal also includes payment options, financial assistance, registration, volunteer information and answers to other frequently asked questions. Find information about other youth programs like Y Care, swimming lessons, day camps and other enrichment classes as well as a detailed—and super busy—events calendar. There's something for everyone at the South Sound YMCA and they welcome newcomers, returning families, guests and visitors to share in the fun.
Sponsored