New businesses are moving in, and Olympia is growing upward with mixed-use buildings acting as hubs of activity. New visitors-turned residents fill the shops and restaurants. Energy from new business ventures, urban design principles and organized support keep it thriving.
The concept is not entirely new to Olympia. Many historic Olympia buildings have mixed-use attributes, such as street-level entries with a mailbox bank and stairwell inside. From the street, look up to see the apartments above the storefronts. Proprietors and employees could live close to work and services. The changing face of downtown is a reinvestment in one of its earlier forms but on a level that meets the needs of a growing population while also preserving downtown historical characteristics.
Walkability Brings Residents and Visitors to the Olympia Waterfront
Sidewalks and boardwalks make the ease of moving among business, residential and recreational spaces downtown flow well. Intersections along Franklin Street have new sidewalks with curbs edging out wider at intersections keeping pedestrians visible and slowing cars with narrower passages. Crosswalks in the area are brighter and more visible. Street front businesses with large glass entries, public art, new planter areas and trees are inviting to pedestrians.
"Living and having housing downtown is key for any city throughout the country," Greene Realty Group agent and co-owner of Cove restaurant Justin Hjelm says. "I'm excited for people to live their lives in an urban setting like that, who want to stay in the Olympia area. The Harbor Heights building, just north of us there, they are a huge percentage of the restaurant's customers in the first month we have been open. It's great to see." 
"A lot of people have complemented us, 'Hey, it's a great vibe and atmosphere!'" Hjelm says about the Cove Restaurant. "Our chef is great and really put together what we are looking for. I try to focus more on the front of the house and let the back of the house be between my chef and my partner in this, and they've knocked it out of the park in my opinion." 
"The people see the transformation of the space," he continues. The building was once occupied by The Royal club and later Rhythm and Rye. "For the last 15 years, a lot of us spent a lot of time in that space, enjoying our 20s. It's kind of nostalgic for them to come back and see the transformation."  
Mixed-Use Building Lurana at Percival Landing
Overlooking Budd Inlet and the marina, the Lurana building stands where a Les Schwab previously stood at State and Columbia streets. Lurana hosts 44 apartments and 1,500 square feet of retail and office space with ground level parking below and a bus stop across the street. Retail space is included, featuring Row Restaurant, which offers a walk-up window, indoor or patio dining and Bittersweet Chocolates on an easy to access, corner location.
Efforts were also made to make Lurana, and other new mixed-use buildings, reflective of downtown traditional styles. Similar to many pre-existing buildings, their facades do not run long like mini malls but rather have divisions in design after every unit or two. Brick exteriors and second story windows, just above awnings are imitative of downtown historical building characteristics.
Views on Fifth Mixed-Use and Futuristic Parking
The shimmering, glassy blue Views on Fifth building by Capitol Lake draws many looks for its art and adaptive, progressive design. Two new structures at its base, exhibit traditional brick and temper the height smoothly down to street level. Sidewalks, a passage between buildings, ground level retail spaces and a broad wooden canopy all express a welcoming walkability.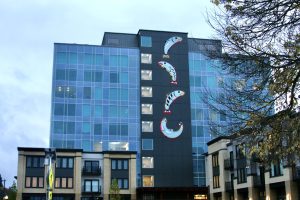 Street level businesses, Shear Barber Shop, Taylor Ray's Café , Van Tuinen Art gallery, Full Spectrum Chiropractic and The 411 on 4th serve visitors as well as the residents of the 140 apartments above. Furthermore, some of the units are live-work spaces. The four-story, automated parking garage eliminates the need for swaths of asphalt parking.
"A lot of locals walk over from the Oyster House, along with visitors from out of town," Community Manager Kevin Chase at the Views on Fifth says. "They are always drawn to us by our fish on the side of the building and our blue glass windows along with our 'Tours this way' sign. Residents love the convenience of being in a building where they can walk anywhere they want, go over to the grocery store, take a leisurely stroll around Capitol Lake, or maybe even explore downtown. Not only do we have the Taylor Ray's Café here on site, but we are also going to have our steak house restaurant coming soon." 
The right layout and organization are elements of creating and maintaining a thriving and functional urban space. In addition, Downtown Olympia Alliance is an active voice for their downtown member businesses. Inquiring about what businesses need in order to thrive there equips the organization with concerns to present to local and state leaders.
For more information about shopping, dining and experiences you can get to on foot and the support provided for a clean, safe and vibrant downtown to visit, check out the Downtown Olympia Alliance website. Then head out for a walk to see what is new and changing.
Sponsored