Thurston County will soon have an additional supporting-housing asset. The City of Lacey, Washington State Department of Commerce, and Thurston County are partnering with the Low Income Housing Institute (LIHI) to purchase, convert and operate the hotel located at 8200 Quinault Dr. NE, Lacey as an enhanced shelter. The property, acquired with state Rights of Way Initiative funds, will provide housing, safety, and a sense of community for unsheltered people who are currently living in the state's rights-of-way. The plan is to transition the shelter into permanent, supportive housing in the next few years.
Rights-of-Way Initiative Funding for Enhanced Shelter
The State developed a financial package to quickly move people out of state rights-of-way and into better living situations. For Thurston County, that financial package totals $37 million. In addition to purchasing the hotel, part of the funding will go toward the operations and management of this enhanced shelter for two years, with additional funding to be secured for years 3 and beyond.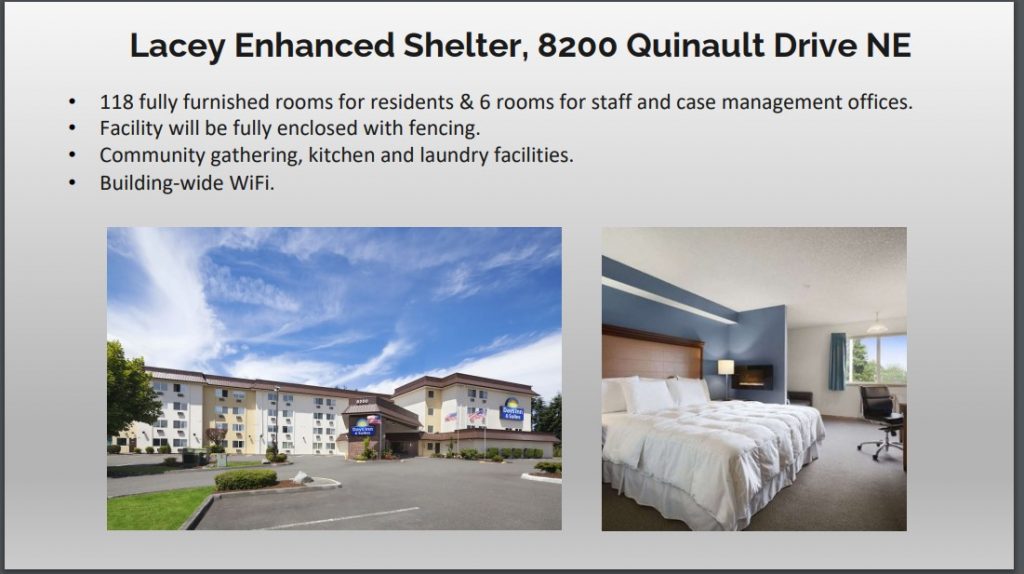 The hotel property is currently under contract with LIHI and is scheduled to close in January 2023. There will be a deed restriction on the property dictating that this property must be operated as a shelter for 40 years, so this is a long-term effort.
Remodeling improvements to the site will result in a fully secured site with perimeter fencing and gate, up to 118 fully furnished rooms, and 6 rooms for staff and case management offices.
Part of the funding will go toward the operations and management of this enhanced shelter for two years, with additional funding to be secured for years 3 and beyond.
Rights-of-Way Initiative and Hotel Acquisition
Interim Lacey City Manager, Rick Walk, acknowledges that the growth in the number of unhoused individuals in our communities and the difficulty in trying to address and provide services, including shelter, for those individuals is primarily due to lack of available resources.
"This hotel acquisition will help meet long-term goals of housing and support more of these individuals by helping them to transition into permanent housing within 2-5 years," Walk shared.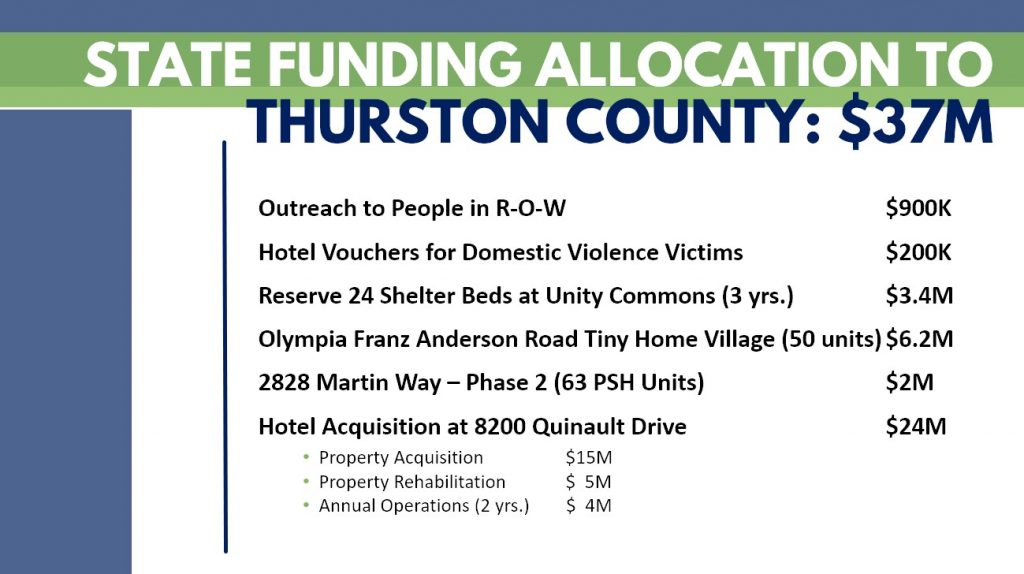 Enhanced Shelter Management and Operations: LIHI
The City of Lacey and Thurston County will enter into contract with LIHI for management of operations of the enhanced shelter. LIHI's operational approach to the enhanced shelter will include 24/7 staffing and security and a shelter operations manager who manages the site and provides support to the shelter. This will include perimeter checks, site monitoring, and monitoring of individuals coming and going. Services include three meals a day; helping individuals get proper identification; access to health care and treatment; and getting folks thinking about what their futures look like. The ultimate goal of this acquisition is to use it for the initial enhanced shelter and eventually convert it to Permanent Supportive Housing (PSH).
While this facility is designed to be a low-barrier facility, there is a priority of placement for the enhanced shelter, with individuals currently residing in state rights of way to take priority over others, except those already being housed currently in the hotel through other programs. These individuals will not be displaced. This facility will not be available to registered sex offenders or minors.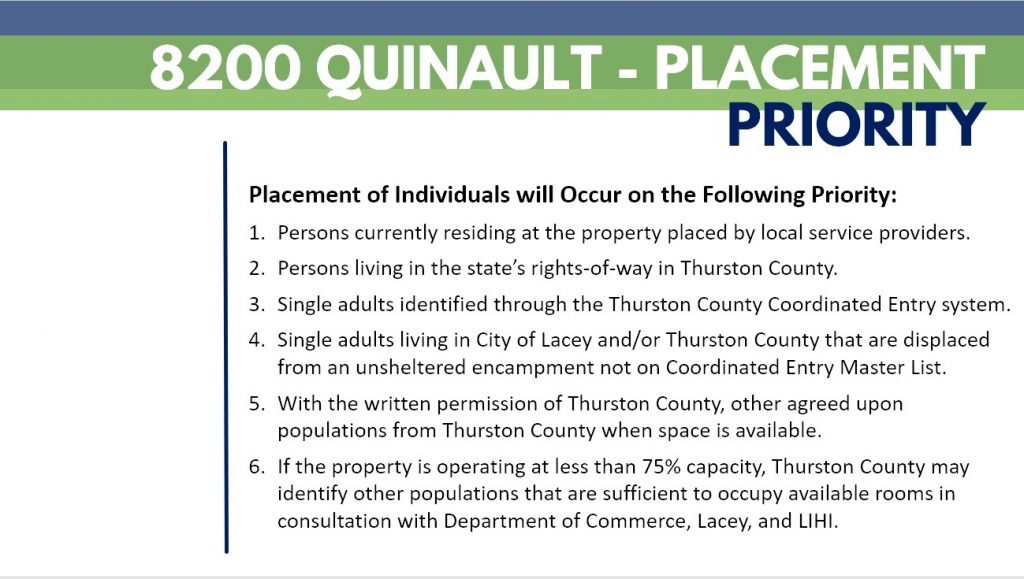 Code of Conduct for Residents at Enhanced Shelter
LIHI will uphold a code of conduct for all residents of the enhanced shelter. Residents will be expected to check in with case managers on a regular basis. They will be expected to be respectful to neighbors within the facility as well as in the neighboring community, and the enhanced shelter strictly prohibits violence of any kind, as well as the use of alcohol and drugs in public spaces. Residents will be upheld to safety and cleanliness standards, and everyone will have chores to participate in.
LIHI Community Engagement and Outreach
LIHI will form a Community Advisory Group (CAG) in partnership with the surrounding community, including business and property owners, faith communities, schools, and other interested individuals to provide community oversight, input and support. The CAG will meet regularly with LIHI to talk about operations, discuss and resolve any issues, and help community members gain a better understanding of what services are being provided by the facility.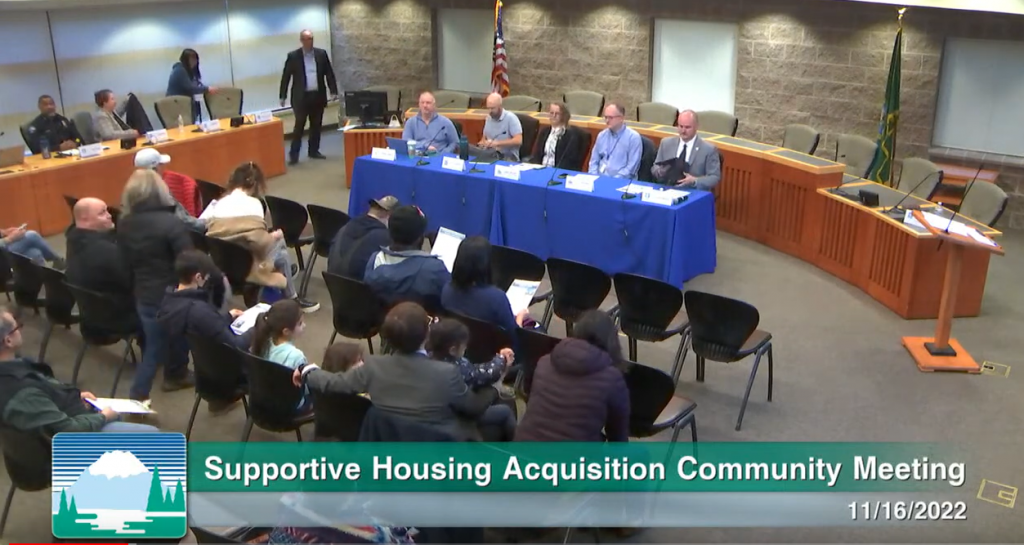 There will also be an Operations Council made up of representatives of the City of Lacey, Thurston County, the Department of Commerce, and LIHI to meet regularly to discuss ongoing operations and develop strategies to resolve issues as they arise.
LIHI and the enhanced shelter are committed to being a good neighbor and an asset to the Lacey and surrounding community.
To learn more about the Enhanced Shelter, including videos of the community meetings held on this topic, visit the City of Lacey website. To learn more about LIHI, visit the Low Income Housing Institute website. To join or learn more about the Community Advisory Group, please contact LIHI Community Engagement Director Josh Castle at  josh.castle@lihi.org or 206.334.0508. To volunteer to help set up, provide welcome baskets or donate meals, clothing, or other items, contact LIHI Volunteer Program Manager Kyle Lane at kyle.lane@lihi.org.
Sponsored