Love it or hate it, fruitcake is a traditional part of the holiday season. This cake, made with dried or candied fruit and nuts – and sometimes alcohol – has long held a secure place in American culture. Although it has now fallen from its throne as the ideal holiday dessert, it still holds a special part of festivities for many Olympians.
Fruitcake's Origins
Many cultures have similar desserts, but the popular American version traces its origins to medieval Britain. Olympians were dinning on fruitcake since the community's founding. The Washington Standard even published a fruit cake recipe as early as February 6, 1869. This "modest fruit cake" included raisins, currants and no alcohol.
Fruitcake was not originally a holidays-only dessert, but was something special to serve the whole year round, especially at weddings. Later it became a holiday specialty.
Baking Fruitcake
Those who wanted to bake their own fruitcake were encouraged to start early. "In the lull that comes after the fall cleaning and preserving are finished," advised the Daily Olympian on November 1, 1929, "the housekeeper should bake her holiday fruit cake." Making it early allowed the alcoholic version of the cake to age, giving it a flavor that many liked, in time for Thanksgiving and Christmas.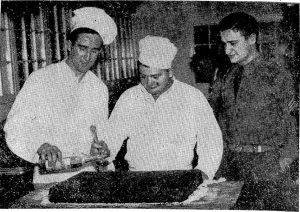 By the early 20th century, Olympia grocers offered special fruitcake ingredients and later mixes to home fruitcake bakers. For inspiration people could turn to local newspapers, which published dozens of fruitcake recipes over the decades. While dark fruitcake and white fruitcake were the most popular, other variations included candy, chocolate, eggnog, mincemeat, raisin, tropical and no-bake, which used evaporated milk and graham crackers.
Some of the published recipes were sent in by readers rather than syndicated columnists. As for leftovers, the Daily Olympian suggested on January 13, 1952 they could be crumbled and served "topped with a custard sauce and maraschino cherries in your best sherbet glasses."
Buying Fruitcake in Olympia
Most bakeries, grocers and supermarkets offered their own fresh-baked fruitcakes. Some, like the Daylight Bakery, tried to stand out from the crowd, boasting in 1941that their fruitcake had 16 types of fruit and nuts. Some home bakers sold fruitcake at the Woman's X Change, promoting it as "delicious golden fruit cake such as you dreamed of but never tasted" for 60 cents per pound. This being 1934, they also charged for samples.
For those eating out, fruitcake was almost sure to be on holiday menus at local restaurants and hotels. The Spar, for example, served theirs with hard or rum sauce at their Thanksgiving dinner in 1947.
Fruitcake is King
Fruitcake held its crown as a holiday favorite during the early to mid-20 century. Local stores marketed it as an "ideal dessert" and "perfect Christmas gift." The cake was economical to make, even during the Great Depression, and its durability made it easy to have on hand for holiday entertaining and to give as gifts, shipped both near and far.
"Most people prefer it to any other kind," wrote the Morning Olympian in 1913. "Christmas just does not seem complete without fruitcake," agreed the Daily Olympian in 1938. For soldiers far from home, fruitcake symbolized home, family and better times. It was included in each Red Cross Christmas package sent from Olympia during World War I.
Nothing had changed by World War II. "Fruit cake with a sprig of holly on it," wrote a columnist on December 17, 1942 with a recipe for British Berkshire fruitcake, "certainly belongs in the Christmas picture despite war and turmoil." People could send tinned fruitcake overseas or have their homemade cake canned at Ucanum Foods. To congratulate his son James for his promotion to corporal, J.D. Schirmer sent his son sardines and fruitcake "somewhere in the Aleutians."
Fruitcake With a Cause
Fruitcake was on the menu for holiday parties and events held by organizations. It was included in Christmas gift baskets for families in need by local clubs in the 1920s. After World War II, the Olympia Army Mothers Club served it to patients at Madigan Army Medical Center at their annual Christmas parties.
Olympia groups also held fruitcake fundraisers. Girl Scouts, for example, sold fruitcake during the holidays instead of cookies door-to-door in 1961. The Civitan Club held an annual holiday fruitcake sale at local stores in the1950s and 1960s, raising money for a camp for underprivileged and disabled children at Black Lake. They sold over 1,600 pounds of fruitcake in 1958 alone!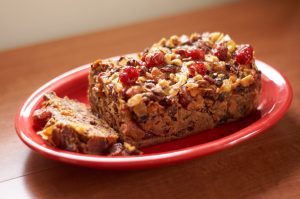 The Everlasting Fruitcake?
But while fruitcake has its fans, by the end of the 20th century, fruitcake had often become a joke. "If you're tired of having Santa slide down your chimney," quipped the Olympian in 1990, "why not forget the cookies and set out a few slices of fruitcake?" When the Olympian asked people about the worst Christmas gift in 1992, 14-year-old Elizabeth Higley minced no words to describe fruitcake: "They're sick," she said, "and they taste gross. It doesn't take a lot of thought or care to get somebody a fruitcake."
Some have joked that there is only one fruitcake, given from person to person but never eaten. In the 1990s, my elementary school even sang the song "The Everlasting Fruitcake," about a fruitcake that managed to survive unscathed after being run over with a lawnmower by a family desperate to be rid of it.
While fruitcake may have lost its crown, it is still an important holiday tradition. There are countless recipes and it is available at local stores. Why not give one a try for the holidays this year?